8 Outlook Alternatives: Best For Windows, Free, Mobile and Mac
Posted by Christin on June 8, 2021
Is Outlook not working for you? If the technical issues are getting out of hand, you might be wondering: is there an alternative to Outlook? The answer is yes, and you've come to the right place to learn more.
"I'm done with Outlook. Too many glitches."
"I tried to provide feedback on how much I HATE what they did, but even the feedback tab does not work."
"Second time locked out of my Outlook email when I'm trying to apply for jobs, what a waste of time answering the same security questions again…"

– Armando
We have seen a lot of comments from unsatisfied Outlook subscribers. We hear complaints about the countless technical issues. People are looking for an email software that will be innovative and evolve with its users.
Many email programs outshine Outlook by regularly releasing new features and tools. We think Outlook has fallen behind. Despite huge resources they have not been at the forefront of email for a long time.
That's why we decided to update this page with our latest research to help you find a tool that strives to innovate and offers a better user experience.
We have studied and tested software for several email programs. We compared policies and prices and read hundreds of reviews. In the end, we chose eight products that we are confident can replace Outlook in 2022.
If you're ready to find an Outlook alternative, this article will help you make an informed decision. Our top four highlight the best of the bunch, and if you'd like a few more email programs to review we have four honorable mentions.
If you're short on time, have a look at our handy chart below for a summary of the best alternatives to Outlook for 2022.
Note: This article was originally published in 2015 and last updated in 2020. In light of recent news from Microsoft about changes to their webmail, we decided to update this page once again in 2022.
| | | | | | |
| --- | --- | --- | --- | --- | --- |
| | Mailbird | Thunderbird | Spike | Spark | Outlook |
| User Experience | | | | | |
| Easy Configuration | | | | | |
| Unified Inbox | | | | | |
| Advanced Customization | | | | | |
| Seamless App Integration | | | | | |
| Affordability | | | | | |
Email clients comparison table
Our Criteria For Selecting The Best Alternatives to Outlook
There are a number of things to consider when you adopt a new email program. Whether you are using one for business or personal reasons, there are essential standards that must be met. Here's what we have used to measure the best alternatives to Outlook.
Price
The price is not the only factor to consider for finding an Outlook alternative. That being said, we did compare platforms against the original price to give you the whole picture.
Starting at $19.95 yearly, Outlook for desktop is affordable. It becomes more expensive if you also need Office 365 business plans, which range between $5 – $20 a month per user.
Built-in Features
Your email client should help you eliminate any stress surrounding unread emails. The built-in features of Outlook like file management or the junk folder often lack functionality, so inboxes remain disorganized and emails get missed.
A stellar built-in feature should:
Be intuitive for a new user to adopt. The onboarding experience shouldn't take weeks.
Help consolidate digital communication. The tool should offer a unified inbox and many ways to label and store your emails. It should also be proactive against spam and phishing attacks.
Be empowering. An email client should give you access to additional data and tools you can use to analyze your work. A tool like email tracking can help paint a picture of how well you're managing your communication.
Be beautiful. Your inbox can be visually appealing. The layout should be lightweight, customizable, and even fun to use, if you can believe it.
Integrations
Integrations are key to both personal and business use. These are tools that enhance your email client experience because you save time opening up other programs and having to re-input information.
Users need integrations like an alternative to Outlook calendar, communication apps like Slack or Microsoft teams, and project management apps like Asana or Trello.
Integrations should be readily accessible, otherwise there is no point in offering these tools. While Outlook has many integrations, it doesn't rank well for ease of implementation.
We looked for email software that gives access to popular products without the hassle of repetitive password prompts or out-of-sync notifications.
Security
The contents of your inbox should never be vulnerable to a breach. Any Outlook alternative we highlight discloses how they collect their data, offers two-factor authentication, and does a good job of filtering spam before it lands in your email.
Added security considerations we looked into: end-to-end encryption, open source, where the servers are located, and how metadata is handled.
Support
There is nothing worse than having an issue and there isn't anybody around to help you resolve it. We looked at each alternative to understand how accessible they are.
If an email client can't offer 24/7 live support, what they offer in the interim is important too. Do they have other resources like a strong knowledge base or intelligent AI that offers quick responses?
We also looked at what happens if you're not happy with your software. The steps the company takes to listen and create a better product shouldn't go unnoticed.
If you're more of a visual learner feel free to check out the video version of this article.
Top Alternatives to Outlook in 2022
Mailbird – Best For Managing Your Emails All In One Place
Why Mailbird stands out:
Filters and Advance Search
35+ Integrations
Multiple Email Account Support
Capterra

4.5/5
(282)
G2

4/5
(60)
CNET

4.1/5
(42)
Developed specifically as a solution for Windows users looking for a better email client, Mailbird is one of the best email programs for managing multiple accounts. It supports any IMAP enabled email address, as well as POP3 and Exchange.
When it comes to being intuitive, Mailbird is leaps and bounds ahead of Outlook. Configuration support from Microsoft has been a constant pain point for users. Mailbird automatically adds any email such as Gmail, AT&T, AOL, Brighthouse, Outlook and many more. This gives you the ability to work offline on your desktop right away.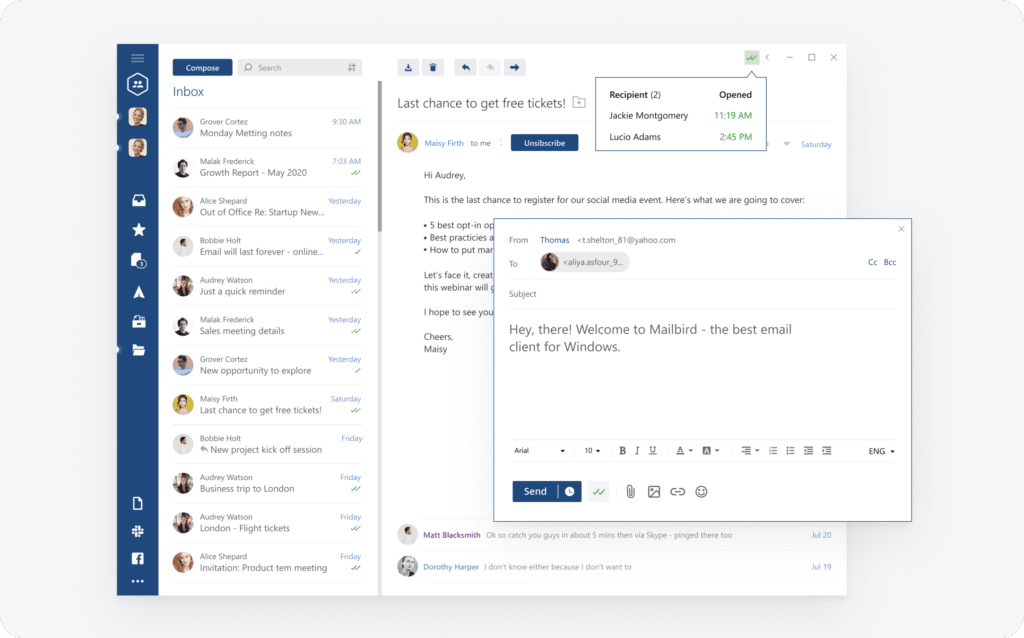 Price
Mailbird offers a subscription at $39 a year or you can pay once at $99 for a lifetime subscription. For a business plan the annual fee is $59 and the pay once option is $399.
Built-in Features
There are many benefits related to the user experience of Mailbird. For starters, to view all of your messages in one place, you simply log-in and select "Unified Inbox". With Outlook you have to create a special search to make this possible.
Mailbird is always adding new features and trying to offer tools to advance your productivity. For instance, the email tracking extension was added so you can gain a better understanding of when your emails are being read.
It's a stylish email program that works with your individual style. As you specify the layout, notification sounds, colors, themes, you won't compromise the speed or compatibility like with Outlook's add-on customization features.
The address book is intuitive enough to merge duplicate contacts for you, and offers a drag and drop option to import your lists.
Integrations
Mailbird's long list of integrations is also a huge productivity perk. Outlook provides a lot of integrations, but they often conflict with one another causing a crash or that dreaded "Not Responding" message.
Security
Mailbird works as a local client on your computer, and all sensitive data (such as emails, folders, contacts, attachments, account details etc.) is stored only on your computer — it is never shared with Mailbird or anyone else.
You can also request that Mailbird does not automatically show remote images, or only enable this display for specific contacts.
Support
The knowledge base resource covers any quick troubleshooting queries. Mailbird offers support in 17 different languages and a two-week money back guarantee to test out the product.
Personal – $39/ Year or Pay Once for a lifetime subscription at $79.
Business – $59/Year
Unified Inbox
Supports IMAP, POP, SMTP, Microsoft Exchange
Email tracking
35+ Integrations to apps like Teams, Trello, Asana, Slack, Chrome, Google Drive and Google Calendar, Evernote, etc.
Personalize the layout and color scheme.
Custom notification sounds
Preview attachments before downloading
Look up Linkedin Contacts
Unsend emails
Snooze feature
Speed-reader to help scan emails
Touchscreen support
Customer support available in 17 languages
"It's been over a year since I made the leap to Mailbird as my full-time email client. Over that time, I have peeked back over my shoulder at the latest version of Outlook but found that Mailbird was still the best solution for me with my Gmail accounts."

– Matthew Mombrea, Founder and CTO at Cypress North for computerworld.com
Mailbird vs Outlook
Fewer technical issues than Outlook
More intuitive setup for multiple accounts
Cleaner user interface and customizable layout
Wide variety of integrations for productivity
Not currently available for Mac, iOS or Android
Thunderbird – Best of the Free Alternatives to Outlook
Why Thunderbird stands out:
Most popular free alternative
Easy to enhance with Add-Ons
End-to-end encryption
G2

4.2/5
(255)
CNET

3.8/5
(1,235)
Trustpilot

3.1/5
(6)
Thunderbird is one of the best alternatives to Outlook for two reasons: it is free, and there are many advanced customization options.
Price
Thunderbird is 100% free.
Built-in Features
A cool feature is the Tabbed Email option. This allows you to click through tabs to read your emails. When you close Thunderbird, it will save the tabs you had open for you for next time.
You can also create your own personalized email address, allowing you to move freely between ISPs.
Integrations
Users customize via the extensive library of add-ons. For example: if you like the ability to schedule emails with Outlook, you can look for an add-on to install on Thunderbird like Send Later.
Security
It's a secure, open-source email client with end-to-end encryption. The program also does not display html or images by default, and quickly detects spam and phishing schemes.
Support
The user experience and general look and feel of the interface can be a turn-off for some. The email app also uses volunteers for their support resources, which is not ideal if you have an urgent technical issue.
There may not be any visual appeal and its support is sub-par, but Thunderbird can do a lot of what Outlook offers. We recommend this free email client as a low risk alternative to Outlook.
Supports IMAP, POP, SMTP, Microsoft Exchange
Setup Wizard
Personalized email address
Integrated Lightning calendar and task manager
Open Source
End to end encryption
Phishing protection
Open PGP
Tabbed Email
Large file management
RSS feed reader
Quick archiving hotkey
Dark theme
"Now, Thunderbird, under MZLA, is charting its own course. The latest version, Thunderbird 78, comes with many minor improvements. Its biggest feature is its Lightning calendar, and tasks add-on has finally been completely integrated into the program. Within the next few months, in the forthcoming Thunderbird 78.2, the program will finally get the long-anticipated power to encrypt end-to-end email messages via OpenPGP."

– Stephen J Vaugh Nichols, Contributing Editor at ZDNet.com
Thunderbird vs Outlook
Better for managing large files
More secure
No financial commitment
Less built-in features, more reliant on add-ins, which can slow down the software
Interface is less user-friendly
Support service is unsubstantial at times
Spike – Best Outlook Alternative for mobile users
Why Spike stands out:
Great mobile UX
Responsible Disclosure Program
Designed for teamwork
Capterra

4.7/5
(24)
G2

4.7/5
(82)
Trustpilot

4.1/5
(5)
Spike is a modern email client that presents your emails to you like instant messages. For those who manage most of their emails using their phone, this app is for you.
As a competitor to Outlook, Spike has a more modern feel and is a great alternative if you are working with a team. It's also available cross-platform so Android and iPhone users can give it a try.
Price
The personal account at Spike is free. A business plan will vary depending on the size of your team. It starts at $144 for a yearly subscription.
Built-in Features
The most remarkable thing about Spike is their "reinvented" unified inbox. You can read your messages without headers, signatures, or other extras. This keeps things so concise that many teams using Spike find they don't need a messenger app like Slack.
The Priority Inbox screens your emails to only show you important emails. Your newsletters and non-urgent notifications go to a folder labelled "Other".
Another highlight from Spike is the Groups feature. Users can add everyone involved into a group and quickly chat or share documents.
Integrations
Spike falls short as an option if you're looking for a lot of integrations or a robust calendar. They do have a calendar, but it's nothing to write home about.
Their sleek audio and video calling experience and voice messaging really bring the app all together. Spike could be the best option to replace Outlook if your phone is hard to step away from.
Security
Spike shares their auditing process here, which highlights how they manage to be a very secure email app that respects your privacy. They also have a bug bounty program that helps them minimize vulnerability.
Support
Spike has a comprehensive resource page for troubleshooting common technical issues. It includes youtube tutorials and a blog. They're also available to help via email.
Personal – Free
Business – starting at $144/Year
Windows, Mac, Android, iOS, Web
Unified Inbox
Supports IMAP, POP, SMTP, Microsoft Exchange
Notes feature within email inbox
Groups feature
Priority inbox
Custom email templates and canned responses.
Special features for group collaboration
Voice messaging
Audio and Video calling
Dark Mode
"Spike is an email app that is wanting to rethink what email would look like if it were invented in 2020. If it were, it would look like Spike."

– Bradley Chambers, 9to5mac.com
Spike vs Outlook
Feels more like instant messaging
Easier for group collaboration
More ways to contact with audio and video call options
Less robust calendar compared to Outlook.
Spark – Best Outlook Alternative for Mac
Why Spark stands out:
Integrates with 20+ apps
Free to start
Savvy tools for teams
Capterra

4.7/5
(24)
G2

4.7/5
(82)
Trustpilot

4.1/5
(5)
According to Litmus, the Apple Mail client and Gmail are the most popular apps for iPhone and iPad. So it was nice to see an Outlook alternative that also ranks well among two other giants.
Spark, our pick for best alternative to Outlook on Mac made our list because they have many integrations, a reasonable price and cool built-in features.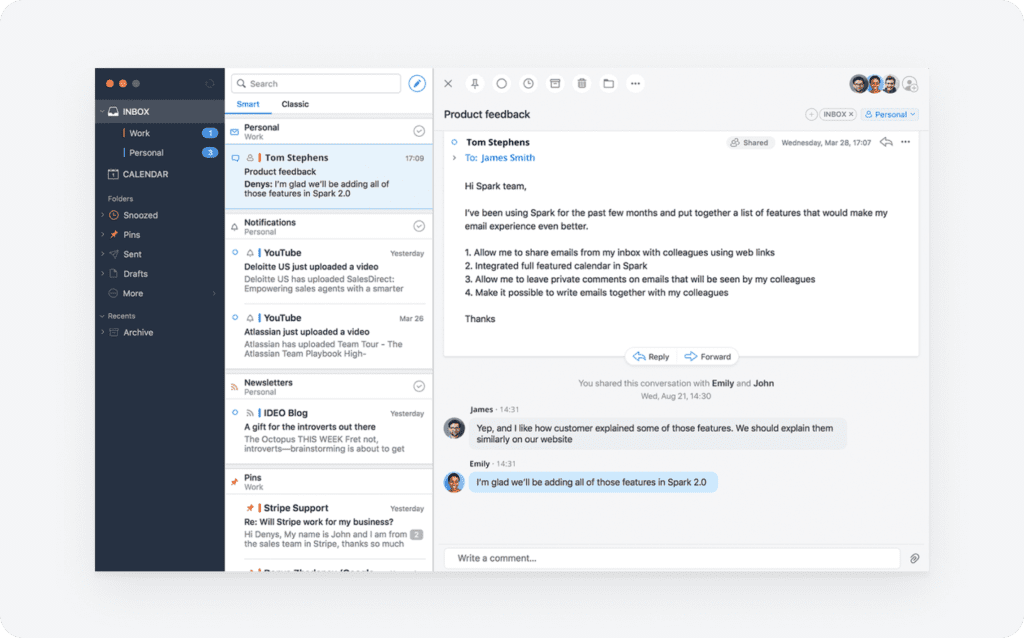 Price
Free for personal use, Spark often makes itself onto lists of the best free email clients available in 2022. The features really open up with the business plan, starting at $7.99 per user, monthly or $6.99 if billed annually.
Built-in Features
The platform syncs incredibly well across different platforms and devices. If you sync your email address to Spark on your iPad, it will do the same as soon as you login on your iPhone.
Their search feature understands natural language, so you can quickly find messages and attachments.
There are a lot of customization options, including for your notifications, email signatures, swipe gestures, and templates.
Another interesting built-in feature is the ability to generate a link to an email. If you're sharing communication with your team in Asana or another project space, you can easily share a link to any VIP emails.
Integrations
Spark collaborates with a wide range of apps like Asana and Zoom. Spark for iOS also connects to Google Drive and a few others.
Security
In the past, Spark has been put on blast for collecting data. We found that they are transparent with their policies and that they use a server considered to be very secure (Google Cloud). Take precautions as you would with any app.
Support
Spark has priority support for business plan users and a help center for frequently asked questions. You can also reach them by email to get help or provide feedback.
Overall, Spark is very easy to use and reduces a lot of the noise that a busy inbox can create.
Personal – Free
Business – $76.68/Year per user
Unified Inbox
Supports IMAP, SMTP, Microsoft Exchange
Automatic email signatures
Smart Search
Swipe gestures
Snooze
Email reminders
Send later
Pin emails to the top of your inbox
Shake to Undo
Dark theme
Emoji Reactions
Integrates with : Google Drive, Dropbox, Reminders by Apple, Things, 2Do, OmniFocus, Wunderlist, Todoist, Trello, Asana, Evernote, OneNote, MeisterTask, Bear, GoToMeeting, and Zoom.
"Email delegation — along with improved rich text formatting are two of Spark's latest feature updates. These features, combined with Spark's extensive inter-app communication, have facilitated my own switch away from Outlook recently."

– Josh Ginter , managing editor at thesweetsetup.com
Spark vs Outlook
Syncs up across devices better than Outlook
Easier integration with apps.
Better email formatting
Doesn't support POP3
Not available for Windows
---
Bonus Content: A Few More Alternatives to Outlook
The four email clients we shared with you above are all great alternatives to Outlook because they surpass Outlook in more ways than one.
Lucky for you, we've selected a few bonus email programs to cover a few specific reasons you might be looking for a new email client.
If you need a quick setup, or a classic interface, check out eM Client and Evolution. If you don't need a desktop app, check out Gmail. If you have big plans for your email templates, we say consider Postbox.
Also, if any of these are your preferred email app, let us know why in the comments.
eM Client – Best for a quick setup process
eM Client is one of our top honorable mentions because like our top four, they also offer a lot of cool features such as a unified inbox and a theme editor.
eM Client works on both Mac and Windows and supports IMAP, POP3 and Exchange. It's fast and imports multiple inboxes seamlessly.
Once you're set up, you can easily use tools from Google Workspace or Zoom. Users can also use eM Client in their own language and quickly translate emails with their translation tool.
It's a solid option if you don't mind paying a little extra. In return for top dollar, you get a quick onboarding process.
Free for 1 device with limited access.
Personal – For 1 individual, pay once at $74.95
Business – For up to 10 individuals pay once at $284.95
Unified inbox
Supports IMAP, POP, SMTP, Microsoft Exchange
Chat function
Theme editor
Snooze button
Automatic archiving
Translation tool
Localized to 20 countries
Auto Backup
Touchscreen supported
Compatible with Google Workspace and Zoom
Dark Theme
Gmail – Best alternative if you don't need a desktop app
As the industry leading email service, we must consider Gmail an Outlook alternative. The mobile app allows you to manage multiple inboxes. The built-in features on webmail are fantastic.
Gmail has file import capabilities that are much more user-friendly than what you will get with Outlook. They also offer 15 GB of storage (including Google Drive) to make use of whereas Exchange only offers 5 GB.
Gmail experiences far fewer blackouts and technical glitches than Outlook.
Google's advanced technology provides superior spam filtering and antivirus protection.
The downside with Gmail is that it doesn't technically have a desktop app. There is a little hack where you can pin a shortcut to the Windows 10 taskbar. But this option is not convenient if you have multiple email addresses to manage.
We recommend using Mailbird in tandem with Gmail, which is very easy to set up. You'll have the best of Gmail's spam filters and access to Google Workspace and the joy of a clean, customizable UI from Mailbird.
Personal – Free
Business – Starting at $72/Year
15 GB storage
Accepts multiple inboxes
Strong anti-spam filters
Smart Compose
Chat
Dictation
Translation tool
Keyboard shortcuts
Schedule emails
Snooze
Confidential Mode
Unsend
Dark theme
Postbox – Best for HTML and templates
If you're sending the same emails over and over again, Outlook enables you to save canned responses using the Quick Part gallery. While that is a nice tool, this doesn't outweigh the need for a less temperamental email client.
Enter Postbox. It's a solid email client for those needing templates and high quality email designs. Their drag and drop clips are an excellent way to enhance newsletters and image rich emails.
Compared to Outlook, Postbox has fewer technical issues and lots of customization options. It's fast and has a clean interface.
One License – $29.99 / Year
Unified Inbox
Supports IMAP, POP, SMTP, Microsoft Exchange
Speedy
Clean user interface
Cross Platform
PGP Encryption
Customizable Themes
Clips – preformatted HTML blocks
Email reminders and pinning
Supports macOS multitouch gestures
One click archiving
Focus Pane
Keyboard shortcuts
Email signature templates
Domain fencing
RSS Reader
Evolution – Best for a classic interface
Email has a lot of bells and whistles these days and that may not be your thing. Outlook's latest interface is difficult to navigate. Said to be reminiscent of Outlook circa 1997, Evolution is an open-source email program from Gnome.
The email client offers all of the basic tools you need for work and personal use, and is compatible with Google Calendar and Microsoft Exchange.
Celebrated for a classic interface, Linux users seeking a free alternative to Outlook are happy with Evolution.
Supports IMAP, POP, SMTP, Microsoft Exchange
Widescreen view available
Integrated with SpamAssassin
Calendar
To-Do List
Memos
Email encryption with S/MIME
Contact Management with local address books
RSS and News Reader
---
Taking Everything Into Account
Here is a quick recap of our favorite email programs.
| | | |
| --- | --- | --- |
| Best for Windows | → | Mailbird |
| Best price | → | Thunderbird |
| Best for mobile | → | Spike |
| Best for Mac | → | Spark |
| Easiest Setup | → | eM Client |
| Best web based | → | Gmail |
| Best for HTML & Templates | → | Postbox |
| The most classic interface | → | Evolution |
Best email client per category
We have been preaching about alternatives to Outlook for a long time. Frustrations with Outlook is actually one of the reasons why we started Mailbird in the first place. So, if there's one thing we know, it's what is a good replacement.
Perhaps you're looking for ways to power-up your inbox or maybe you want to reach inbox zero with ease. We are satisfied with our list of the top alternatives because we know they offer our core criteria.
We hope that this list was useful, and that you find yourself an email client that offers a unified inbox and custom options to de-clutter your life.
---