Choose Your Outlook Alternative: Six Best Picks of 2020
Posted by Christin on August 6, 2020
Microsoft Outlook has earned its reputation as a comprehensive email client loaded with several features that make it a powerful application. However, unless you're a tech geek who can invest a significant amount of time and patience into mastering the app and all of its features, it may not be the best email client for you. So, are you looking for a great Microsoft Outlook alternative?
In this article, we will cover:
Limitations of Outlook
Before we get into comparing Mailbird vs. Outlook and the other alternatives, let's look at why you need to shift from Outlook in the first place.
Cost
Outlook's free email option is limited to webmail, iOS, and Android. On the other hand, the Outlook desktop app is part of the Microsoft Office Suite package, which is priced at $100+ per year. You can also get it as a standalone app for $69.99.
While you do get a lot of additional software and functionality for that price point, a lot of it isn't really useful to regular users.
It doesn't really make sense for you to go in for features that you wouldn't end up using, right?
Plus, if you want Microsoft Exchange — the pro version of Outlook — you'll need to pay extra to access the Microsoft Exchange server.
Limited Integrations
Integrations are a super-important criterion for choosing software.
However, Outlook can't integrate with most other non-Microsoft software, which can pose several limitations.
For example, you don't have the ability to integrate your WhatsApp account with Outlook without external integration tools – something that most email clients should be able to do.
Difficulty with Onboarding
The problem with Outlook's numerous features is that they can be quite overwhelming.
Features aren't presented to you in a way that's easy to understand. As a result, trying to get used to Outlook can be difficult.
Whether it's setting up the mail server or even using their features, grasping the functionality of Outlook can take some time.
Reliability Issues
One of the downsides Outlook has been known for in recent years is its bugginess.
From syncing problems with the Exchange server to the application just randomly freezing, Outlook is no longer the premier mail service provider it used to be when Windows Live Mail and Windows Essentials were around.
While Microsoft does release regular updates for Outlook, it's still not enough to iron out most of their bugs.
If you're looking for a simpler interface with better reliability, we've included a list of email applications to consider below.
Support Issues
The reliability issues wouldn't be as big a problem if Microsoft had a great support team to address your concerns.
The problem is, Microsoft doesn't have great customer support. So, if you're having difficulty with Outlook, you might have to resolve it on your own.
Top Alternatives to Outlook
Outlook Alternative #1: Mailbird
If the complicated layout and user interface is your biggest qualm with Outlook, then Mailbird is definitely a top Outlook alternative.
Mailbird is designed around the user — a clean user interface, intuitive user experience, and simple design that allows for quick navigation through the app. It's because of this that most people can master the application within five minutes, whereas Outlook can take days to get used to.
A common concern of those not familiar with Mailbird is that it doesn't have as many features as Outlook.
This is not true.
In fact, in many ways, Mailbird's features are more sophisticated than Outlook's, and they are delivered in a way that doesn't clutter or complicate your experience of using the app. Some of the most popular features are listed below.
Key Mailbird features:
Integrate with third-party apps, including messaging apps (e.g., Slack, Facebook, Twitter, WhatsApp), task management (e.g., Todoist, Evernote, Asana), Google Calendar, and more.

Integrate all of your email accounts into one user interface using the

Unified Inbox with color indicators

.

Reply to emails in-line

with automatically color-coded formatting and name.

Personalize your inbox with layout and color theme customization options.

Search for attachments using keywords and preview attachments before downloading.

Snooze

emails or correspondence from a particular person until you're ready to respond.

Connect your email to LinkedIn to look up your contacts on the networking platform.

Both the Personal and Business versions are affordable, and a free trial is available.
Let's dig a bit deeper into some of these features and how they can help you.
1) Unified Inbox
One of Mailbird's core features is the unified inbox.
With it, you can view all your emails — from all your accounts — in one combined space!
This way, you're not shifting through accounts to check your emails – they're all waiting for you in your Mailbird inbox.
Color Codes
One of the problems of a unified inbox in a mail client is losing track of which emails came from which account.
If they're all coming to one inbox, it's hard to distinguish between these emails, right? With Mailbird, though, you won't have that issue.
You can assign colors to each email account so you can easily identify where your emails came from.
2) In-Line Replies
When you go through hundreds of emails in a day, it's easy to overlook questions and tasks. You may have missed a question in an email or simply forgot to reply to it.
To make replying to emails easier, Mailbird gives you an In-line Reply feature.
In-line replies place answers directly underneath each question or statement.
Notice how Mailbird's In-line Reply feature color codes your responses and adds your name too? This makes it far easier for the recipient to read your answers individually – not together in one paragraph.
It also makes a great impression!
3) Easy Attachment Search
Suppose you need to locate a file you've sent or received as an attachment but can't seem to find it. We've all been there.
It's time-consuming and frustrating to manually dig through all your emails and files.
With Mailbird's Attachment Search feature, you won't have to worry about that again.
Whenever you need to find any sent files, just type part of the file name in the search box, and the software will pull it up for you.
4) Snooze Emails
Not every email needs your immediate attention.
You can always reply to some emails later. Others you have already replied to still need additional actions on your part.
If you let these emails clutter your inbox, you may overlook the important emails that do need your attention right away.
That's why Mailbird has a Snooze feature that allows you to hide an email for a few hours or days. You can specify exactly how long.
For example, if you set the snooze until tomorrow, the email will disappear from your inbox and return the following day. In the meantime, your inbox will remain uncluttered, and you can respond to priority emails without distractions.
But what if you need to see the email sooner?
Mailbird will tuck all these emails away in a Snooze folder. Just go to that folder and open your mail! You can send out responses with ease.
If you want to overcome email overwhelm or even take an email detox, Snooze is perfect for you!
5) Easy Contact Management
Well-organized contacts help you send emails faster.
That's why it's super easy to add contacts from your address book to Mailbird through the Contact Manager.
Importing Contacts
You can select and import contacts from your Gmail and Outlook accounts within seconds!
You also have the option to drag and drop selected contacts into your Mailbird contacts list if you wish.
Merging Contacts
Also, in case there are some duplicate contacts, the Contact Manager will merge them automatically for you.
If two contacts in your address book aren't 100% similar, you can choose which one remains the default contact. This way, you're not looking at someone twice in your list!
Linking Contacts
Another unique feature of Mailbird is the ability to link contacts.
Say you have three contacts for a particular person – his personal details, his work details, and another set of details.
With Mailbird, you can link all three of these contacts into one unified space so you have all the information you need in one place.
6) Tagging Feature
Want a super-quick way to add recipients to your emails?
Mailbird now offers you a unique tagging feature where it'll automatically pull up the email address of any contact mentioned in an email.
Whenever you type "@" in the composer window followed by a name in your contact list, the app will automatically add the person to the recipient list – be it in the "to" tab or in the "cc" tab.
Here's how it works:
It's a useful feature that can save you the trouble of manually adding email addresses or even safeguard you against forgetting to add someone to the email!
7) Speed Reader
It's a known fact that we spend a lot of time reading emails. Unfortunately, a lot of those emails aren't really relevant, and we waste a lot of time on them.
But what if there was a way to breeze through your emails and cut the time you spend on them?
Mailbird's Speed Reader feature helps you with that.
It shows you each word in an email one at a time so your brain can process it faster.
It's a useful feature that can save you the trouble of manually adding email addresses or even safeguard you against forgetting to add someone to the email!
7) Speed Reader
It's a known fact that we spend a lot of time reading emails. Unfortunately, a lot of those emails aren't really relevant, and we waste a lot of time on them.
But what if there was a way to breeze through your emails and cut the time you spend on them?
Mailbird's Speed Reader feature helps you with that.
It shows you each word in an email one at a time so your brain can process it faster.
You have a choice of viewing 100 WPM (words per minute) to 1000 WPM.
You may be wondering about how much this actually helps. Interestingly, it's been shown to triple the speed of your reading process! You can find out more about it in this Techcrunch article.
8) Loads of Customizability
An email client can have all the features you need, but if you're not comfortable using them, what's the point?
That's why Mailbird gives you tons of customization options to suit your needs and preferences. You have complete control over the themes and layout in Mailbird.
You can use a dark or light theme for your entire app if you wish. You also have the option of adding a custom theme/background to give your Mailbird a more personal feel.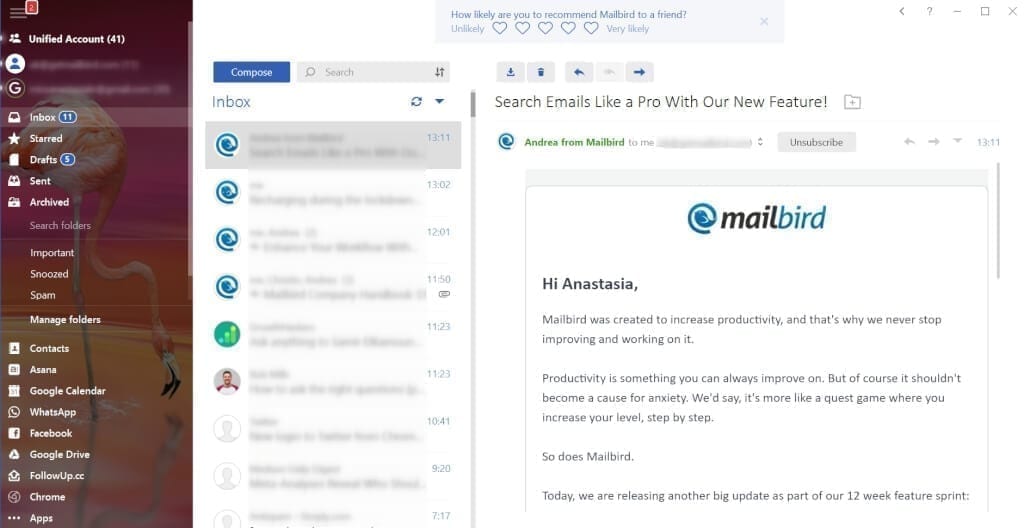 There are also three-column, small screen, and preview layouts available for you to choose from.
Don't believe the Mailbird vs. Outlook assessment here?
Look at what some of Mailbird's customers have said about it:
"I've purchased Mailbird for my old mother as well, as it's easy to use. She's not in any way computer savvy, but last weekend I actually got an email from her – the first-ever, imagine my (very pleasant) surprise! For me, Mailbird is a keeper – easy to use and most importantly easy to configure!! My 80-year old mom is a testament to that." Lars (May 12).
When it comes to Mailbird vs. Outlook, Mailbird outperforms Outlook in most departments.
Outlook Alternative #2:

Gmail
As far as brand names go, Gmail and Outlook are equally well-recognized.
Gmail is one of the most popular email clients around, but it has a distinct difference from Outlook and the other alternatives on this list – it's primarily a web-based email client.
There are some obvious advantages to webmail: you can access it from anywhere and on any computer, and you won't need to install a separate app.
However, some disadvantages include not being able to access your email offline and fewer features and functionalities than a desktop app.
Key Gmail Features:
Integrated with popular Google apps, such as Google Drive, Google Calendar, and Google Photo

Customizable themes and layouts to organize your email your way

Inbox sorting based on message type, such as inbox, promotional, and social

Labels and filters to sort and organize your email communication

Advanced inbox searching features

Fully functional apps for your mobile device – be it an iOS or Android device

There is no paid version of Gmail – you get all the features on their free version
Why Use Mailbird and Gmail Together?
You can use Gmail and Mailbird together. Here are the top benefits:
A) Desktop Access
While Gmail is one of the best webmail clients out there, it's still web browser-based. So you'll have to log on to a web browser to check your Gmail account.
With Mailbird, there's no need to open a web browser. You can manage, send, and receive Gmail emails from the comfort of your own desktop!
B) Unified Inbox
Mailbird offers you a unified inbox where you can connect an unlimited number of email accounts in one place.
These could be a Gmail account, an Outlook/Yahoo one, or any other POP or IMAP account — it doesn't matter.
Mailbird can support them all.
This way, you won't have to separately log into multiple accounts to check your mail anymore.
Outlook Alternative #3:

eM Client
eM Client is on the opposite end of the spectrum from Outlook as far as user interface and experience goes.
It offers a simple interface that is not complicated by too many bells and whistles. The layout is also customizable to your preferences, which makes the experience even easier.
It has a built-in calendar and instant messaging app, and it supports all the main mail server providers (e.g., Gmail, Outlook, Hotmail, etc.).
Key eM Client Features:
Built-in calendar that integrates tasks and to-do lists

Contact manager that includes communication history and a merge feature for syncing contacts from various addresses

Real-time chat function with the ability to send attachments instantly

Contact and attachment search function

Free option available, with Pro upgrade
Why Is Mailbird Better Than eM Client?
A) Added Functionality
While eM Client is still a good option when it comes to desktop email clients, Mailbird can offer you so much more. You'll get tons of helpful features on Mailbird that you wouldn't on eM Client, such as email Snooze, speed reader, account tagging, and more.
B) Integrations
Mailbird offers you a huge list of integrations and apps for Windows, such as Slack and WhatsApp, to make it more than just a mail client. With these integrations, you can make Mailbird a unified communications dashboard for your team.
Outlook Alternative #4:

Thunderbird
Mozilla Thunderbird is very commonly cited as one of the best alternatives to Outlook because of its advanced customization options.
While it has many of the standard features, there are also tons of add-ons you can install to expand its capabilities.
Key Thunderbird Features:
Highly customizable with a robust add-on library

Advanced security features and email encryption

Instant messaging function included

Import/export features.

Integrated RSS management

Free to use
Mailbird vs. Thunderbird
A) Always Innovating
While Thunderbird is a solid offering when it comes to desktop email clients, one drawback is a lack of regular updates. In fact, it hasn't had a major update since 2012. Mailbird, on the other hand, frequently releases innovative feature updates that make managing emails easier and faster.
B) User-Friendly Interface
While Thunderbird is long due for a rehaul, Mailbird can adapt to your preferences, such as custom themes. This way, you can make Mailbird uniquely yours within a step or two!
Outlook Alternative #5:

Windows Mail
The Windows Mail app is a contender for an Outlook alternative due to its simple setup and use.
While it won't have as many features as the other email clients on this list, it comes built into the Windows 10 operating system and therefore requires much less effort to start using.
Windows Mail is best for people with simple needs, focusing primarily on basic email communication.
(Note: If you are not a Windows user, the nearly identical alternative on Mac OS would be Apple Mail.)
Key Features of Windows Mail:
Easy to set up and use

Sleek, simple user interface with minimal interference from complex features

Support for iCloud, Office365, Exchange, POP, and IMAP

Free to use with the Windows operating system
Why Is Mailbird Better Than Windows Mail?
A) Loads of Functionality
If Outlook was too feature-loaded, Windows Mail is too limited in terms of features. Just like Apple Mail, Windows Mail is geared towards users who want the bare minimum when it comes to their email.
While this is fine, why settle for the bare minimum when you get loads of functionality on the latest version of Mailbird?
B) No Server Issues
As Windows Mail is a free version — just like Apple Mail — there are a few issues with the server settings of this email client.
It does what it's supposed to do well, but why run the risk of server issues when you can get top-of-the-line specifications at Mailbird?
Outlook Alternative #6:

Zimbra Desktop
Zimbra Desktop is an email client that has been around for quite a while. But unlike Thunderbird, Zimbra still receives regular updates. While the latest version may appear very retro on the surface, it's still a powerful email client suited for modern needs.
Zimbra follows the same three-pane layout your average Outlook alternative on the market uses. This allows you to access your address book and your calendar in seconds. It also syncs easily with major email services like Gmail and Outlook to make onboarding easy.
Key Features of Zimbra Desktop
Easy to set up and use

Can support multiple operating systems such as Windows, Linux, or Mac

Frequently updated

Feature-filled free version
Why Is Mailbird Better Than Zimbra Desktop?
A) Customizability and Languages
Zimbra limits you in terms of themes and layout. It's not very user-friendly when it comes to languages.
As the default interface is in English, using it in any other language might possibly result in errors and mix-ups in your mail account.
With Mailbird, you won't have this issue. You can natively configure Mailbird in 17 different languages, rather than it just being translated, so you won't have to deal with any linguistic snafus.
B) Tons of Integrations
Mailbird gives you an unlimited list of integrations and apps for Windows to make sure your mail client can be as productive as you want it to be.
Whether it's a calendar application, a messaging application, a social media application, or a video call application — Mailbird can do it all!
Maybe Mailbird can't quite solve the New York Times Crossword for you — but we're working on that too!
C) Difficult to Import Contacts
One of the issues with Zimbra Desktop is that it's very hard to import contacts from Outlook.
You'll need to adopt a complicated workaround that involves using an open-source version and a virtual machine to copy contacts in. It's a lot of effort for a task that should be relatively simple.
Conclusion
While Microsoft Outlook is a professional-grade mail client — mostly used for businesses or super email users — it's not for everyone. But you may not be aware of all the other alternatives out there or why you should choose something else. Hopefully, this list provides you with some new options to consider for your mail client.
Editor's Note: This post was originally published in June 2015 and has been revamped and updated for accuracy and comprehensiveness.
Get Mailbird for your Business
What is the best alternative to Outlook?
Mailbird is the best alternative to Outlook for a number of reasons. For example, it integrates much better with non-Microsoft programs. Mailbird also has a less-cluttered interface and more straightforward features, such as the Unified Inbox and advanced search.
What is the best free alternative to Outlook?
Gmail is the best free alternative to Outlook if you're looking for a completely cost-free experience. There are also a lot of great alternatives that come with limited features on the free package and affordable email clients that have a free trial period, such as Mailbird.
Is there a free version of Microsoft Outlook?
Yes, there is a free version of Microsoft Outlook for web and mobile use. However, if you want a desktop version for your Windows or Mac, you'll need to upgrade your Outlook account to Premium, which costs close to $100.
Is Thunderbird better than Outlook?
Thunderbird isn't better or worse. It is a good alternative to Outlook that certainly has some strong points that make it an equally good email client.
---