5 Best Free Alternatives To Outlook in 2019
Posted by Christin on January 17, 2019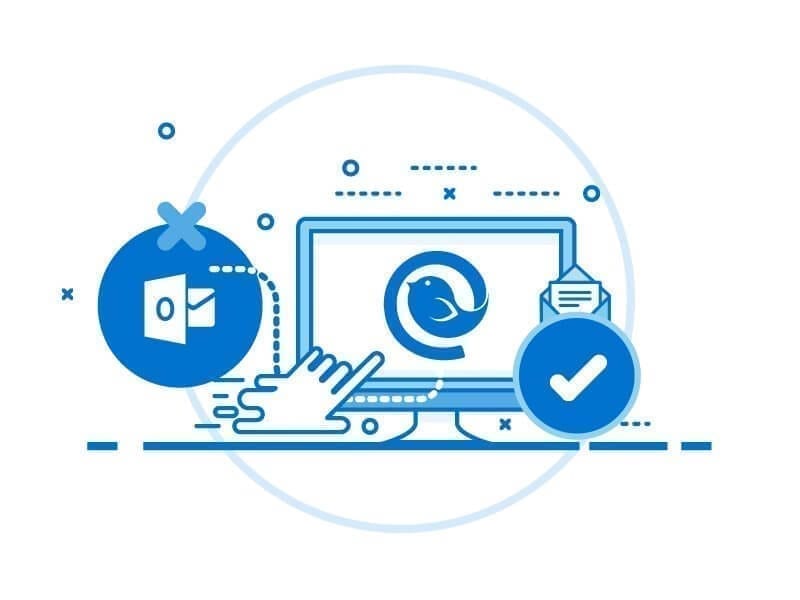 Microsoft Outlook has made its reputation as a comprehensive email client loaded with (a LOT of) features, settings and extras that make it a powerful application. However, unless you're a super user that can invest a significant amount of time and patience into mastering the email app and all of its features, it's probably way more than you need. It can be overwhelming when you try to navigate an email client with a user interface packed with extra features. For this reason, people who only need basic email client capabilities, such as email and tasks/calendar, are searching for less complex alternatives to Outlook. Plus, many of the alternatives we are about to share are also free—or at the very least, less expensive than the $100+ Outlook price tag for the app.
If you're looking for a simpler interface, but still require some of the main Outlook features, we've included a list of email applications to consider below.
Top Alternatives to Outlook
1. Mailbird
If the complicated layout and user interface is your biggest qualm with Outlook, then Mailbird is definitely one of the best alternatives to Outlook out there. Mailbird is designed around the user—a clean user interface, an intuitive user experience and simple design that allows for quick navigation through the app. It's because of this that most people can master the application within 5 minutes, whereas Outlook can take days or longer to get used to.
A common concern of those not familiar with Mailbird is that it doesn't have as many features as Outlook. This is not the case. In fact, in many ways, Mailbird's features are more sophisticated than Outlook's, and they are delivered in a way that doesn't clutter or complicate your experience using the app. Some of the most popular features are listed below.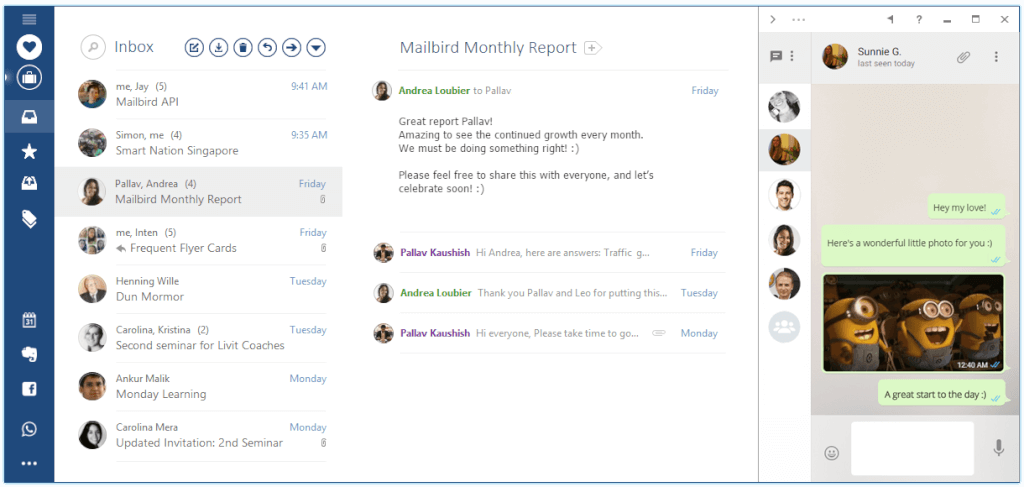 Key Mailbird Features:
Integrate with third party apps, including messaging apps (e.g., Facebook, Twitter, WhatsApp), task management (e.g., Todoist, Evernote, Asana), Google Calendar, and more.
Integrate all of your email accounts into one user interface using Unified Inbox with color indicators.
Reply to emails in-line with automatically color-coded formatting and name.
Personalize your inbox with layout and color theme customization.
Search for attachments using keywords and preview attachments before downloading.
Snooze emails or correspondence from a particular person until you're ready to respond.
Connect your email to LinkedIn to lookup your contacts on the networking platform.
Free/Lite and Pro versions available at a low cost.
"I've purchased Mailbird for my old mother as well, as it's easy to use. She's not in anyway computer savvy, but last weekend I actually got an email from her – the first ever, imagine my (very pleasant) surprise! 🙂 For me Mailbird is a keeper – easy to use and most importantly easy to configure!! My 80 year old mom is a testament to that." Lars – May 12.
Mailbird is a lightweight alternative to Outlook. Give it a free try now.
2. Gmail
As far as brand names go, Gmail and Outlook are equally recognizable. Gmail is one of the most popular email clients around, but it has a distinct difference from Outlook and the other alternatives on this list—it's primarily a web-based email client. There are some obvious advantages to web mail: you can access it from anywhere and on any computer, and you won't need to install a separate app. However, some disadvantages include not being able to access your email offline and less features and functionalities than a desktop app.
Key Gmail Features:
Integrated with popular Google apps, such as Google Drive, Google Calendar and Google Photo.
Customizable themes and layouts to organize your email your way.
Inbox sorting based on message type, such as inbox, promotional and social.
Labels and filters to sort and organize your email communication.
Advanced inbox searching features.
Free to use.
3. eM Client
eM Client is on the opposite end of the spectrum from Outlook as far as user interface and experience goes. It offers a simple, user-friendly design that is not complicated by too many bells and whistles. The layout is also customizable to your preferences, which makes the experience even easier on the user. It has a built-in calendar and instant messaging app, and it supports all the main email provider (e.g., Gmail, Outlook, Yahoo, etc.).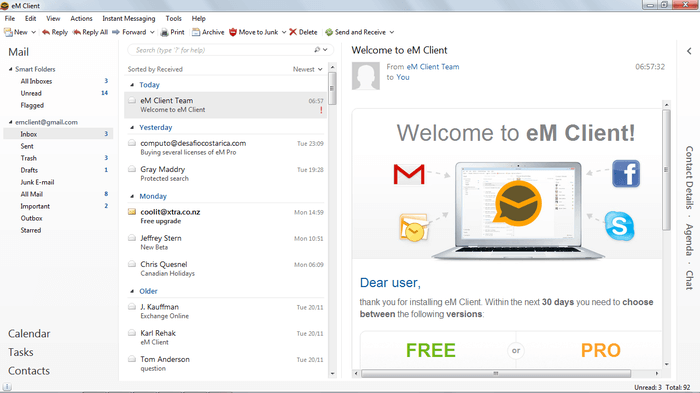 Key Em Client Features:
Built-in calendar that integrates tasks and to-do lists.
Contact manager that includes communication history and a merge feature for sync contacts from various addresses.
Real-time chat function with the ability to send attachments instantly.
Contact and attachment search function.
Free option available, with Pro upgrade.
4. Thunderbird
Mozilla Thunderbird is very commonly cited as one of the best alternatives to Outlook because of its advanced customization. While it had many of the standard features, there are also tons of add-ons you can install to expand its capabilities. One of the most popular benefits of Thunderbird is its strong security system. For those concerned with privacy, Thunderbird allows for email encryption.
Key Thunderbird Features:
Highly customizable with robust add-on library.
Advanced security features and email encryption.
Instant messaging function included.
Import/export features.
Integrated RSS management.
Free to use.
5. Windows Mail
The Windows Mail app is a contender for an Outlook alternative due to its simple setup and use. While it won't have as many features as the other email clients on this list, it comes with a Window 10 operating system, and therefore requires much less effort to start using. Windows Mail is best for people with simple needs, focusing primarily on basic email communication. (Note: If you are not a Windows user, the nearly identical alternative on Mac would be Apple Mail.)
Key Features of Windows Mail:
Easy to setup and use.
Sleek, simple user interface with minimal interference from complex features.
Support for iCloud, Office365, Exchange, POP/IMAP and more.
Free to use with Windows operating system.
Conclusion
While Microsoft Outlook is a professional-grade email client—mostly used for business or super email users—it's not for everyone. But you may not be aware of all the other alternatives out there or why you should choose something else. Hopefully this list provides you with some new options to consider for your email client.
What Microsoft Outlook alternatives have you tried or considered? Tell us about your experience in the comments!
Editor's Note: This post was originally published in June 2015 and has been revamped and updated in 2016, 2018 and 2019 for accuracy and comprehensiveness. 
---
Subscribe to our newsletter
Free e-books
Productivity tips
Technology articles