What Is The Best Gmail App for Windows in 2018?
Posted by Christin on January 10, 2018

The list of "Best Gmail App for Windows" is growing constantly. No wonder. People are dealing with more email than they ever have. According to in 2017, Radicati on average we receive 90 emails. Every Day!
While Gmail is among the most popular web email clients, many people prefer to manage their email from their desktop on a desktop email client of their choice.
Especially for people managing multiple accounts the advantages of using a desktop client seems obvious. We have listed the main advantages of using an app to manage your emails in our post " Should you be using a Desktop Email Client?"
The Windows market is still said to be underserved in terms of email clients, especially compared to what is being offered to Mac users. Nevertheless, there already is a great choice of apps to help you manage your gmail (and other) accounts from your Windows desktop.
Below is the list of apps that we find are definitely worth a mention. 
1. Mailbird 
Of course, we could not publish a list, without mentioning ourselves in it.  Mailbird is more than a gmail app for Windows. We are designing Mailbird to become your app to unify all online communication. Not only are we working on providing all major email client features to make multiple account management a breeze. We have also implemented many features for you to literally fly through your inbox. 
Productivity enhancing features or email tools such as: clean Inline Reply, Quick Compose shortcut, Unified Inbox, LinkedIn Look-up, feature, the first integrated Speed Reader, quick action bar, snooze, undo send just to mention a few.
Mailbird also integrates super easily with different apps, for you to save time by not having to clicking back and forth the different browser tabs.  Or even having to change between your PC and mobile i.e. You can easily activate the Apps in your Mailbird Appstore and either open the webview of it from the left hand menu or in the Mailbird sidebar. 
Currently supported Apps:
Apper.In

Asana

Chrome

Contacts Manager

Daily Social

Degoo

Dropbox

Evernote

Facebook

FormSwift

Google Calendar

Google Docs/Drive

Lifehacker

Moo.do

(Sunrise Calendar)

Slack

Tech Crunch

Twitter

Veeting Rooms

WhatsApp

Weibo

WeChat

Wunderlist

The Verge

Todoist

Trello
Unify all your communication tools into one beautiful desktop app.
And that's by far not the end of it. We are constantly working on improving Mailbird and the experience we provide. Requested features are implemented step by step. The next big feature to come are our new contacts manager, that will unify ALL of your contacts from across all accounts! We can't wait to finally launch it. Exchange support, Filter and Rules etc.
Do you have any questions regarding Mailbird? Let us know in the comment section below or shoot us an email and we will get back to you asap.
2. Foxmail 
Is a simple and effective mail management app for Windows. Foxmail has a pleasant interface and useful features. It reminds a lot of Outlook, it does not feel as heavy and cluttered though. Foxmail has undergone a complete overhaul with a fresh and more clean design. It is also said to be faster and more responsive than it was before. 
Smart integrations like Foxmail notepad feature lets you record while working to organize useful information very easily. Compose, reply, delete and forward buttons are placed at the top of the inbox perfectly visible and accessible to use for the next email. 
The major drawback about this software is that the installer is not in English. Also, in order to for any changes to take effect, you need to shut it down once you have configured it. 
3. Opera Mail
Initially, it was known as M2 and was developed by Opera Software. That's why it was merged within the Opera web browser from version 2 to 12. Now, since the release of Opera 15, it's no longer an integrated component of Opera web browser. It is now its own, great product, Opera Mail, that runs on Windows and OS X.
It features a good contacts manager and spam filtering. Besides, it supports IMAP, POP3, Atom, and RSS feed. This software uses a database that stores the index of all data. So, reading, labelling, and filtering of emails is very easy. You can read several emails at once, thanks to the use of efficient tabs.
Opera Mail threads will help you to organize your email smart. So, you can easily go through your previous email conversations and keep up with any context of an email thread. Using the label feature, sort through your messages fast. Finally, it has an inbuilt feed reader that will notify you of any update.
4. Inky
Inky is a simple and yet very effective email client. It's similar to Mailbird great for managing multiple accounts. This Gmail app for Windows works with any POP account including Gmail, Yahoo, AOL, and others. Also, it works with IMAP and Microsoft Exchange.
One feature making Inky great for business use, is the ability to exchange encrypted and digitally signed emails with anyone. Apart from this, it has a classic design, a speedy search feature, and syncing between tools. 
Inky is available as a basic program and as a premium version. The premium version is split into Inky Pro and Inky Enterprise. The basic version is free and supports gmail, iCloud, and outlook email accounts.
With the pro version, you get access to Microsoft Exchange, Office 365, Google Apps, and other IMAP accounts. Also, you get to enjoy Calendar support for Office 365/Exchange and customer support. 
The enterprise program features all features of Inky pro. In addition, it offers customised solutions, volume discounts, phone support, MDM, MAM, and EMM solutions. In conclusion, Inky offers a lot of variety depending on the users need and that's why it is on the list of our "Best Gmail app for Windows".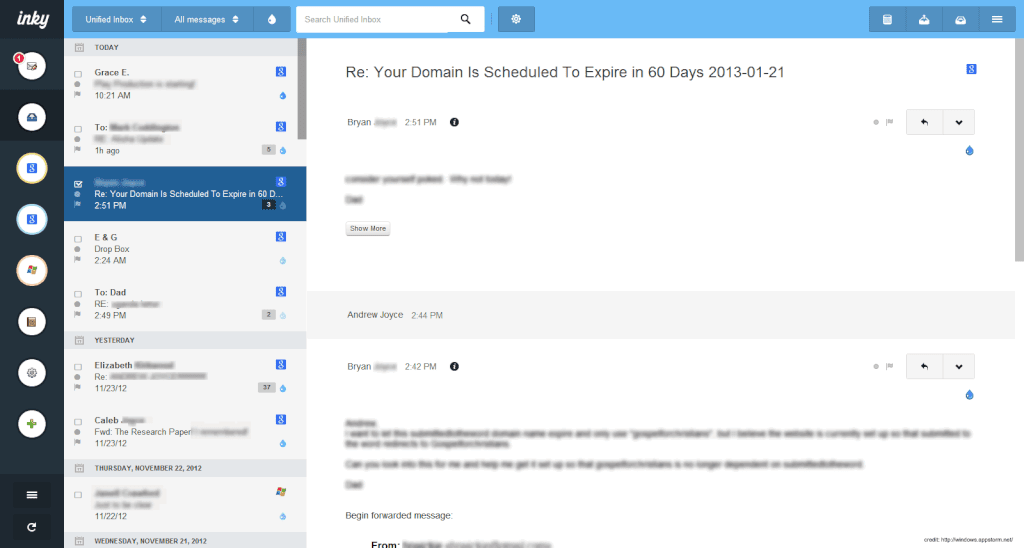 5. eM Client
Is a great, Outlook look-alike app to manage your multiple accounts from our desktop. This program was developed as an alternative to the primary e-mail clients and calendar options. The new eM Client 7 supports touchscreen devices.
It has a conversation view feature, that groups your messages into the relevant conversation. This helps to keep your in box clean. In addition to that, you can customise the theme of your mail, just like in Mailbird. If you work till night and you feel there is need to rest your eyes, customise your screen using the so-called dark theme.
One feature that is really worth highlighting is the translation feature. If you receive an email in any language, eM Client will do the translation for you.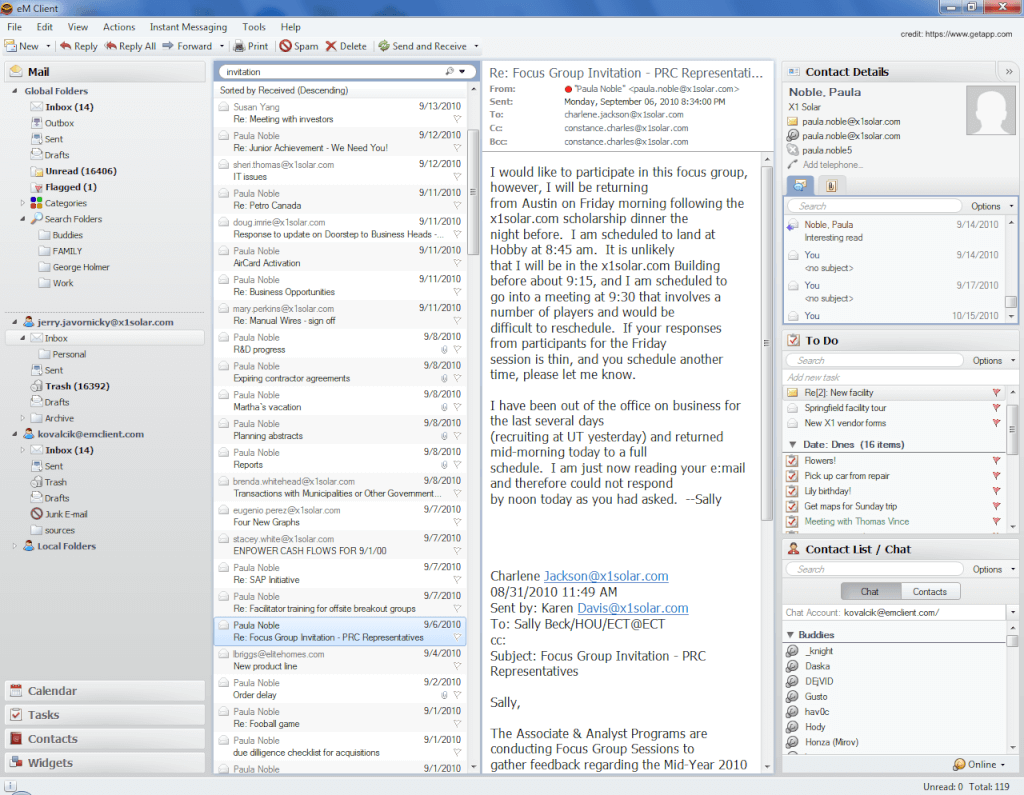 Final Thoughts
Perhaps you have used one or two of the mentioned apps. What are the pros and hiccups you encountered? Also, what app is your favourite Gmail App for Windows?
Still looking for the Best Gmail App for Windows? Search no more.
 Editor's Note: This post was originally published in February 2017 and has been updated for accuracy and comprehensiveness.
---
Subscribe to our newsletter
Free e-books
Productivity tips
Technology articles