The Best Mozilla Thunderbird Alternatives for Windows in 2018
Posted by Jason Ephraim on January 22, 2018
Mitchell Baker, Mozilla's Executive Chairwoman, announced Monday that Mozilla would prefer to stop supporting Thunderbird, their popular email client, as it represents a continuing "tax" on other development projects within Mozilla. She stated that it is constantly in competition for resources that the leadership feels should be "laser-focused on activities like Firefox that can have an industry-wide impact".
It's no secret that Firefox's support has been waning in recent years. In a recent post about Mitchell Baker's announcement, Ars Technica's Andrew Cunningham wrote "Mozilla's recent support for Thunderbird has been limited—it still receives security updates and basic changes imported from Firefox, but adding major features hasn't been a priority for Mozilla for several years now despite some efforts from the development community. In fact, Thunderbird is currently only updated on Mozilla's "extended support release" (ESR) schedule, originally implemented to help IT managers deal with Firefox and Thunderbird's then-new rapid-release cycle." Source
Since we anticipate many Mozilla Thunderbird users will be looking to switch to another email client, we compiled a review of some of the best email clients for Windows. Since Thunderbird is a downloadable program for PCs and Apple OS, we won't be including purely online applications or mobile apps in this review.
The 3 Best Alternatives To Thunderbird: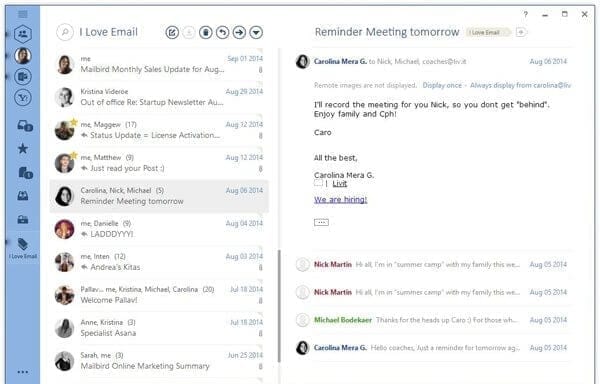 You can think of Mailbird as the swiss army knife of email apps. Like Microsoft Office Outlook, we designed it to allow you to connect all your email accounts, manage your schedule, and organize contacts. However, unlike Outlook or Thunderbird, we included a lot of the communication tools you are probably already using elsewhere. Mailbird allows you to access your Facebook, Twitter, Evernote, and a growing list of other apps right alongside your emails.
Although it's in the works, Mailbird does not come with any apps to check email on mobile devices.
You can think of Mailbird as a more consumer/normal user friendly version of Outlook. Sure, it incudes a ton of things like app integrations, tools, and so on. But, these are all features that can be activated or deactivated so you can focus on the tools you use, and not slow down your machine with those you don't.
Mailbird also enjoys constant development updates and features. In fact, we are set to release a big update including features our users have been asking for just in time for the holidays.
Cost: Free, Pro, and Lifetime Plans available more info here
Microsoft Office Outlook
Not to be confused with the webmail service, Microsoft Outlook, Microsoft Office Outlook is a feature packed powerhouse for enterprise users. It also boasts some of the best security features available in any email client, including office IT administrators to set permissions remotely, such as requiring a password lock screen for any mobile device with a corporate account.
Speaking of mobile devices, Office Outlook also includes companion apps that allow you to sync your emails, contacts, and more across all your devices.
If you need to do anything regarding emails, scheduling, managing contacts, Microsoft Office Outlook will probably have what you need. That being said, if you just want something to email and maybe schedule, this tool is going to be overkill for you. All that functionality is also not what you would call lightweight and, depending on your email retention settings, can take a bite out of slower PC's performance.
Cost: $6.99/ Month for 1 PC or Mac & 1 Mobile Device.
Postbox
Are you just looking for  a clean (beautiful, thanks to the v4.0 update), easy to use email client? Maybe all you need is something to check a couple email accounts? Give Postbox a try. We were really impressed with the latest update to Postbox, and it has alot in common with Mailbird, including Evernote and Dropbox integration.
Like Mailbird, Postbox does not include any companion apps for mobile devices.
If Mailbird is a swiss army knife, Postbox is a pairing knife; designed with laser focus on managing your email accounts. That being said, there are a ton of similarities between Mailbird and Postbox. There are also some unique features to Postbox like a Favorites bar, and multiple tabs to help you organize your emails and accounts into groups.
Cost: $15 per user (Free trial available).
Do you have another alternative to Mozilla Thunderbird you would like to share? We'd love to hear about it!
Editor's Note: This post was originally published in December 2015 and has been updated for accuracy and comprehensiveness
---
Subscribe to our newsletter
Free e-books
Productivity tips
Technology articles