The Best Alternatives to Mozilla Thunderbird Email for Windows in 2020
Posted by Christin on January 3, 2020
Thunderbird — created by Mozilla, the organization behind Firefox — has been a popular email client with a loyal following over the years, despite threats of halting updates and further development of the application. While Mozilla no longer supports Thunderbird email, it still remains a powerful app with a robust library of add-on features that allow for full customization of your email experience.
While some may enjoy the added functionalities, others may find this difficult and complicated to set up. Also, Thunderbirds interface may not be as user-friendly as other email clients out there, including those that have just as many (if not more) advanced features.
For these reasons, you may be considering alternatives to Mozilla Thunderbird mail. Whether you're looking for an entirely new email client or switching from Thunderbird, we've compiled a review of five Windows options below to evaluate instead of Thunderbird.
Since Thunderbird mail is a downloadable program for PCs and Apple OS, we won't be including mobile apps in this review.
The 5 Best Mozilla Thunderbird Alternatives
Mailbird is a well-known email client for Windows that has quickly developed a reputation for being a powerful, feature-packed application that's beautifully designed for a quick, easy user experience.
Set up is simple and it only takes 5 minutes to learn how to navigate the app. You can also customize your layout and color theme to design an experience that's ideal for you.
The reason Mailbird has become the top Thunderbird alternative is the many third-party app integrations. Users can connect Mailbird to Facebook, Twitter, WhatsApp, Google Drive/Calendar/Photos, Dropbox, Evernote, Asana, Veeting Rooms, and a whole host of other apps. This level of connectivity turns Mailbird into more than just an email client—it's an all-in-one communication platform.
Beyond this, Mailbird also has many email features worth mentioning:
These are just a few, there are so many more! If you're looking to increase productivity and communicate more effectively, Mailbird is the way to go.
eM Client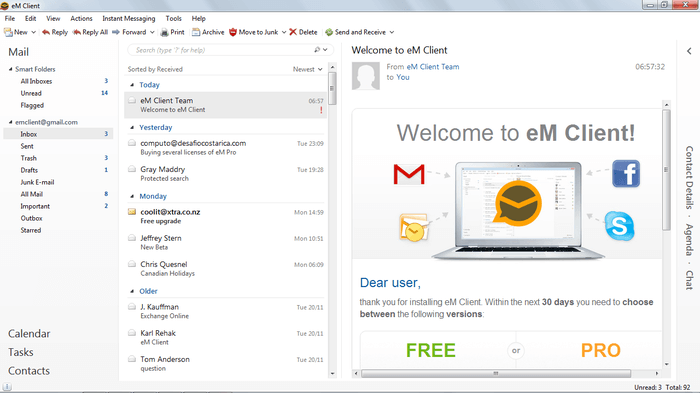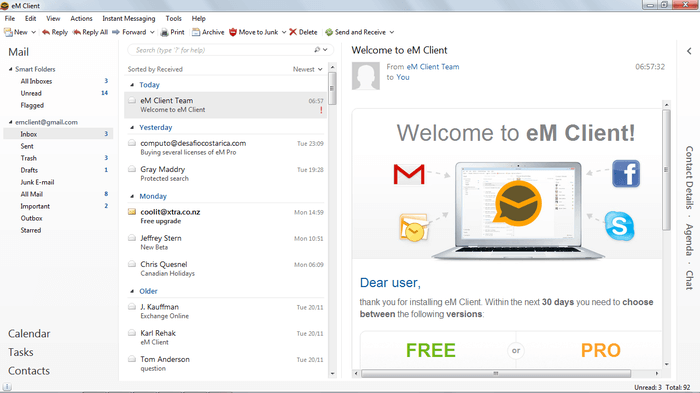 eM Client is another highly-rated alternative to Thunderbird mail. Users praise its simple design and user-friendly interface that allows for customization of layout and theme. It offers the most features for free compared to other options; the only differences are that the Pro version lets you connect an unlimited number of accounts and includes tech support. The free version only supports two email accounts.
Migrating to eM Client is quick and easy, and it can transfer your messages and contacts from a variety of common other email clients, including Gmail, Exchange, iCloud and Outlook.com. It also has a real-time chat function for instant messaging—you can even send attachments through it! Some other notable features include automatic translation of emails, a fast search function, and encryption options.
Postbox
Postbox is one of the easiest-to-use email clients on this list. It works with any POP/IMAP account, including Gmail, Hotmail, Yahoo, and more. Once you've added your accounts, you can group them, in "personal" and "work" groups for example, to keep your email organized.
The application's filtering and tagging features allow you to get even more organized—all on a beautifully designed interface. You even have emoji support, 25 email signature templates, and 70 professionally written email response templates at your disposal.
It's important to note that Postbox also includes a number of integrations with services like Evernote, Slack, Todoist, and more.
Inky
Inky is another great Thunderbird replacement that simplifies email management and organizes your inbox. Users can quickly set up Inky with the username and password from their email addresses. It's best for personal use, as it lacks some of the advanced features that a business user might appreciate, but you can definitely use it as one location to track all of your emails (whether work or personal).
Inky attempts to sort and filter your emails, so that you see only what's most important to you in a clutter-free user interface. That's how it keeps your inbox organized and allows you to streamline email management.
Web Mail
In any assessment of an email client, web mail is always worth mentioning. What do we mean by web mail? Gmail, Yahoomail.com, Outlook.com (not to be confused with the Outlook APP) are the most popular options.
Most email providers have some sort of web-based email offering that have a few advantages over email applications. Most importantly, you can access your inbox from any computer and on any browser. You don't need to download an app to your computer.
On the other hand, you cannot access your email offline and web-based email clients don't typically have as many features as desktop apps. It will be important to weigh the benefits and drawbacks of web mail against your needs before deciding to go this route.
Conclusion
Whether you're a current Thunderbird email user, or someone considering Thunderbird but interested in your other options, there are many viable alternatives to Thunderbird.
If you're a light user, Postbox, Inky, or even web mail might be the best choice. For more advanced users, consider Mailbird or eM Client. If you need to manage multiple email accounts together with events, tasks, and other tools, Mailbird will help you turn your email app into a productivity workstation with many useful features and intuitive interface.
At the very least, it can't hurt to try a few options to see which one you like the best!
Editor's Note: This post was originally published in December 2015 and has been updated for accuracy and comprehensiveness.
---