Is Mailbird the Best Windows Live Mail App Alternative?
Posted by Alexis Dolle on August 9, 2021
Whether it's due to a lack of audience or gaps in development, some email clients simply wither away and eventually disappear.
It happened to Mailbox, Turnpike, Microsoft Entourage, and Windows Live Mail. If you enjoyed Windows Live Mail and want a version that's as good, if not better, here's a review of an awesome Windows LiveMail replacement – Mailbird.
If you like uncluttered, straightforward email software, Mailbird is truly a contender. It has a pleasant user interface and is a powerful application with many useful features for the modern user.
Let's see how Mailbird and Windows Live Mail compare in different aspects and get into the nitty-gritty of each one.
Short on time? Check out Windows Live Mail and Mailbird compared side by side in the chart below.
| | | |
| --- | --- | --- |
| | Windows Live Mail | Mailbird |
| User Experience | | |
| Easy Configuration | | |
| Email Account Management | | |
| Advanced Customization | | |
| Seamless App Integration | | |
| Affordability | | |
Mailbird vs. Windows Live Mail
In this guide, we'll take a look at different aspects of a gmail email app for windows , such as quick and easy configuration, customizable layout, email management, integrations, and affordability. We'll also compare how Windows Live Mail fares against Mailbird.
User Experience
A program you use on a daily basis should be easy to navigate, no matter how simple or advanced its interface is. Even if you receive 10 – 20 emails a day, an email management app can enhance or spoil the user experience.
Windows Live Mail 2012 – UX
Windows Live Mail was originally envisioned as a successor to Windows Mail on Windows Vista and was doing pretty well up until 2013 when users started noticing several hiccups. Slowly and steadily, Windows started shifting towards making tech-induced, feature-loaded software, and Live Mail started receiving fewer and fewer updates.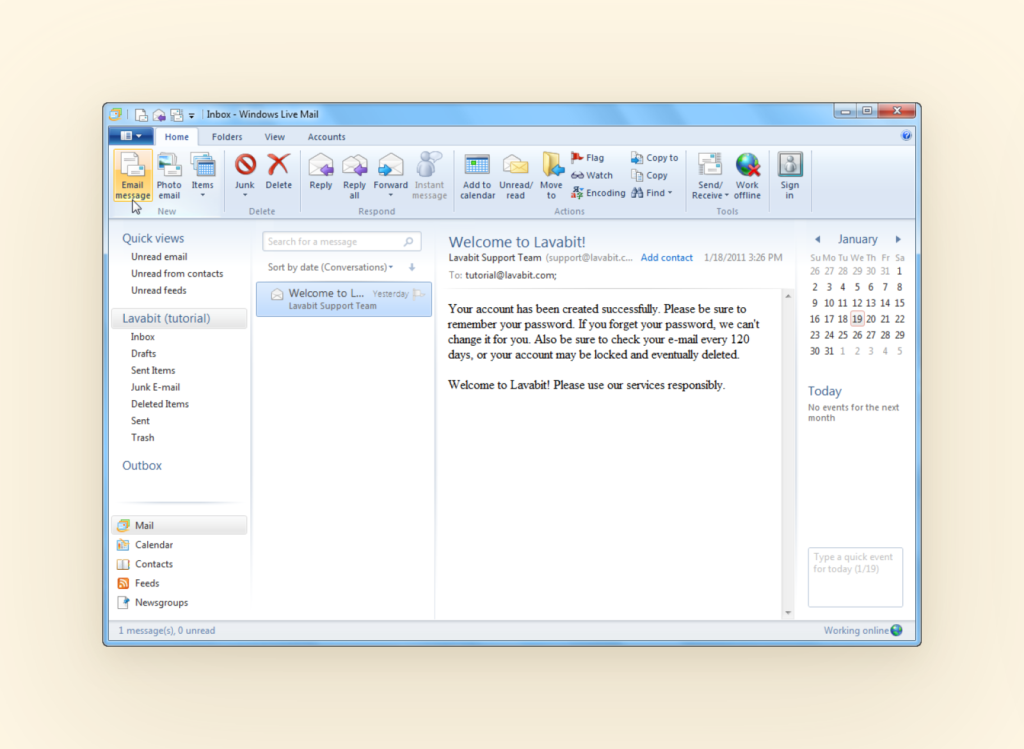 However, one thing that cannot be denied is the fact that Live Mail was one of the cleanest and most user-friendly email programs formulated by Microsoft. In addition to this, at its peak performance, Live Mail offered:
A seamless experience: It was one of the very first email platforms that allowed you to view all your emails from a single inbox.
A photo-edit feature: It came with its own set of preloaded features like the photo email, which sent good quality, high-resolution images without overloading the recipient's inbox.
Easy operation: If you knew how to handle a computer, you could pretty much navigate through the platform easily.
Windows Live Mail lost its relevance because Microsoft never got back to updating it. It became slower, prone to more bugs, and a hassle to handle. It definitely became problematic for Microsoft as it ended Live Mail's official support in mid-2016.
Mailbird – UX
Mailbird offers you the same and more, especially when it comes to user experience. One of the biggest reasons is that we value your sanity and want to help you create a healthy relationship with your email—and tech in general—through easy-to-use and handy features.
Unified inbox: Mailbird offers a unified inbox that enables viewing of all your emails in one inbox. Also, you can seamlessly check all of your email addresses separately, by switching between them in just one click.
Clean design: Mailbird has a sleek and simple interface that is easy to understand. There's no unnecessary clutter and therefore it allows for easy navigation.
Feedback-induced updates: We listen to users and regularly incorporate new and improved changes based on that feedback.
Seamless integration: You can integrate different apps, such as Google Drive, Asana, or Slack and navigate through all your folders while keeping an eye on the Slack chat.
Personalization: You can tag your folders according to your personal preferences and change themes when arranging your folders and multiple inboxes.
Speed reader: Another feature that makes Mailbird's user experience hassle-free is the speed reader that lets you skim through your mails with ease. And you can improve your reading speed at the same time.
Undo send: A simple mistake in typing can result in a major error. The Undo Send feature comes to the rescue and saves you from embarrassment. You get up to 30 seconds of leeway to get an email back into drafts and fix any errors or typos.
While Mailbird has a multitude of features and a clean design to enhance user experience, it's not yet available on Mac and mobile platforms. But be sure to stay tuned for that.
Easy Configuration
Configuration is pivotal when choosing a reliable email management platform. Especially because you could potentially waste a lot of time. It shouldn't take a whole day for you to set your email accounts and neither should it take a lot of loading time.
Windows Live Mail – Configuration
Windows Live was a fast piece of email software, but looking at the way technology has changed in the past few years, it didn't stand a chance. That is also why Microsoft stopped the updates and eventually ended the program altogether.
Inbox setup: Windows Live worked with both IMAP and POP accounts.
Tedious setup process: You would need to configure IMAP or POP settings in your email provider's webmail, not in Live Mail itself.
After the updates stopped rolling out, it did become quite troublesome for the users. Nonetheless, this was software that was quite easy to configure, at the time it was introduced.
Mailbird – Configuration
Email client setup should be simple and take just a few steps. That's exactly what Mailbird has to offer – simply install the software and start adding your email accounts.
Multiple account management: Mailbird doesn't believe in limiting users when it comes to the number of accounts you can set up. You can configure multiple accounts and each one of them will follow an easy setup. The setup wizard at Mailbird will automatically detect the settings for your POP, IMAP, and SMTP servers and do the job for you.
Contact manager: The Contact Manager feature in Mailbird will smoothly and speedily import all your contacts, reducing the time and effort involved in doing this task one by one. Then, in the contacts app, you can add profile pictures to better distinguish the incoming emails.
Regular updates: Mailbird is continually adding more features and updating to newer models. More updates mean better usability. These also include new Windows releases.
At the same time, some users find that there are too many updates, but you can customize their frequency.
Email Account Management
It's a no-brainer that having all your accounts in one place definitely increases productivity and reduces time-wasting. Busy workdays leave you with no time to go back and forth between different software just to get one email read, delivered, and sent.
The more to-and-fro exchanges you have, the higher your chance of creating silly errors that look unprofessional.
Windows Live Mail – Account Management
Windows Live Mail offered a very basic plan when it came to managing all your accounts in one place.
Limited accounts: Windows Live Mail supported most of the common email providers like Outlook, Gmail and Yahoo! But, it was a step behind in being able to integrate all kinds of email providers, including the ones like Rediffmail, which was a fairly popular provider at the time.
Lengthy setup process: Adding an email account was a daunting task. The troubleshooting process also lagged and wasn't as fast as users today would expect when selecting an email platform.
Mailbird – Account Management
More than 70% of people revealed that they prefer Mailbird to any other email software because it allows them to navigate between their personal and professional space with absolute ease.
One inbox for everything: First things first, Mailbird lets you connect almost any kind of email provider. You can add as many as you need and connect them under the unified inbox tab. You can also access these inboxes separately and also customize them in different colors of your choice.
Shortcuts: You can go back and forth between inboxes, add-ons, and integrations with a click of a key. The ability to use and personalize multiple hotkeys shortcuts can help you draft, send, and receive emails in seconds, which is a definite boost to your productivity.
Email tracking: One of the newer features, email tracking gives you information on which recipients have read your email and when. This information comes in handy when you want to group your emails according to priority.
Snooze email: Another feature on somewhat similar lines is the snooze feature that lets you concentrate on the task at hand, rather than having to read and archive emails immediately.
Unsubscribe link: Get to your goal of having zero unread emails in your inbox faster with Mailbird's unsubscribe button. There's no need for newsletters to clutter your inbox if you don't read them.
One thing to note, though, is that email tracking is limited for Exchange accounts. You can find out more about it in our support article.
Advanced Customization
Creating a healthier relationship with email is also about making sure your email client is a tool, not a nuisance. Sometimes, this boils down to customizing the app layout to fit your needs or changing the theme color to a more eye-pleasing one.
At other times, it's about receiving notifications and replying on time, or muting them so you're not disturbed when doing complicated work.
Windows Live Mail – Advanced Customization
While Windows Live Mail did offer the feature to customize your toolbar and status bar and arrange your emails in a sequence you wanted, the feature was pretty basic in its approach.
Basic customization: Windows Live Mail offered the option of customizing the status bar, but there was no option to assign colors to differentiate inboxes or group your email to keep track of priority emails.
Overall, it was an underwhelming experience.
Mailbird – Advanced Customization
Mailbird is more new age and technologically advanced, paying attention to what customers want. We work towards implementing the most pressing features, with both personal and work demands in mind.
Themes for layouts: You can change the theme according to your mood and preference. You can switch to a light theme, which is a blanched and bright theme, or choose a dark theme that is more structured and sophisticated. You can also change the background picture.
Color-coded inbox: You can assign color indicators to different accounts so when you're using the unified inbox, you'll know which address an email came to without opening it. This reduces the chances of developing a blind spot which in turn enhances your efficiency.
Group email: Grouping your email into folders automatically, thanks to rules/filters, makes your workflow so much smoother. Looking for an email you received from a partner company a week back? Try searching for it in the related folder. Headed to an important meeting with a long-standing client and want to revise the agenda? Head to the folder with the client's name on it.
Do not disturb: There are times when you really need some me-time while working. Switch off the notification alerts if you don't want to be disturbed and enjoy some peace and quiet.
Language localization: Mailbird caters to more than 20 languages. If you're more comfortable with Spanish, why not switch the interface to your language?
On the downside, Mailbird doesn't have templates (canned responses) at the moment. However, you can use the Evernote or Google Drive integrations as a substitute.
Seamless Application Integration
It is always a great idea for email clients to offer application integration as one of its basic features because it goes a long way in pacing your productivity. You save so much time by bringing all your favorite platforms into one place where you can reply to and view messages without switching between applications.
Windows Live Mail – App Integration
For the tech-savvy crowd, Windows Live Mail was an extremely bland software. It offered reduced scope to move around and integrate your workspaces into a unified software.
Limited options: Windows Live Mail was extremely redundant when it came to application integration. It only serviced email accounts.
Time-consuming: There was no easy way to sync your calendar or bring in other messenger applications to make your days at work even more productive.
Mailbird – App Integration
You could say that Mailbird acts as a web browser – you can quickly access a calendar, messenger apps, or Google Drive from the app or in the sidebar.
Imagine having a plugin where you can make notes while going through emails. No more shifting between your Evernote notepad, copying a section, and then pasting it into the document. Skip all that and simply concentrate on the task at hand.
More than 30 integrations available: Mailbird offers 30+ app integrations that can be used to make your workflow smoother and more efficient. Time and task management, calendars, documents, messengers – all you need will be right on hand.
All your tools in one place: Remember when you needed a different application for every communication tool? Whether it's Slack, Facebook Messenger, or other chat applications, Mailbird will integrate everything into one, so you can read, draft and send everything from one application.
Google Workspace: Business plan users get the option of syncing their Mailbird accounts with their workspace subscription to have a Google desktop application which is just the most convenient thing in the world. Punch in your details, enable the desktop notifications, sit back, grab your coffee, and let technology take the lead.
On the downside, you can only integrate apps that are on the list. For example, if you use Proofhub instead of Asana, you won't be able to add it to your Mailbird sidebar.
Affordability
The price point is one of the biggest determining factors behind choosing a particular software. While having free software sounds like hitting the jackpot, it is mostly all shimmer and no substance.
Most email software offers a basic plan that starts from anywhere between $5 to $10. This is because a certain amount of value needs to be associated with the platform. After all, you need to churn resources to keep it up and running. It is the general belief that free software ends up costing us more because the features and scope are limited, and that only increases effort from our end.
Windows Live Mail – Price
In the case of Windows Live Mail, there is no price point as it was free. Windows Live Mail was an extremely popular email service particularly because it was free. It was started to replace Windows Mail and entailed limited features which subsequently became irrelevant.
Eventually, people who were still closely associated with the platform were encouraged to sign up for Outlook.
Mailbird – Price
This is where we explain how important it is to move beyond the basic conversation of "does this software cost a lot?" and concentrate on "let's make the most out of the resources on hand." Paying for software means that the company has a budget to maintain a great user experience, provide more advanced features, security updates, and support.
No free version: You don't get a free version with Mailbird, but what you do get is a plethora of services that can streamline your daily work. Mailbird packs quite a punch for the price tag and is invested in helping make your workflow smoother.
Free trial: Also, Mailbird comes with a 14-day trial period. So if you don't like what you see, you always have the option of going back and canceling your subscription.
Features

Windows Live Mail
Mailbird
Price
Free version only
Personal – $39/year or Pay Once at $99
Business – $59/year or a one-time payment of $399
Account Setup
IMAP, POP
IMAP, Office 365, Exchange, POP
Auto-detects email settings for quick setup
Email Management Features
Unified inbox
Customizable interface
Automatically synchronized with Windows Live contacts
Multi-line message lists
Photo-edit software
Unified inbox
Shortcuts
Advanced search
Email tracking
Auto-unsubscribe button
Snooze
Send later
Speed reader
Custom Settings
Basic interface with limited options for customization
Themes
Layout
Mail rules
Shortcuts
Notifications
Language
Signatures
Integrations
Integrations
Could integrate other email platforms like Gmail, Hotmail, and Yahoo!
30 +apps are easy to integrate almost instantly
They include:
Task management apps
Chat and video conferencing
Calendars
Google Workspace, and more
Looking for a Good Replacement for Windows Live Mail? Download Mailbird
Windows Live Mail was a great email client, but now that it's gone, it can be easily replaced by Mailbird.
Mailbird can offer the same experience and much more. It is loaded with features that are formulated specifically to help you maintain a balanced relationship with your email. It is not a cluttered application, it's extremely smooth to interact with and can be easily understood thanks to its seamless UX.
Plus, the price at which these features are available, and the amazing customer service, make it all the more attractive.
The installation is simple, so go ahead and book your free trial. Once you are on it, there's no turning back.
What Is a Good Replacement for Windows Live Mail? FAQ
Does Windows 10 support Windows Live Mail?
No, it doesn't. After Windows Live Mail was terminated in 2014, all Microsoft email services have been moved to Outlook.com. Although you can still download an installation file for WLM from unofficial resources, Microsoft doesn't support it and hasn't provided any updates since 2016.
Does Windows 11 support Mailbird?
Of course. Mailbird is ready for the updated operating system, so you won't have trouble using it when you switch to Windows 11.
What should I use instead of Windows Live Mail?
If you're looking for a good email client, try Mailbird. It's a great WML alternative in a number of aspects, including its ability to handle multiple email accounts, compatibility with Windows 10, 8, 7, and XP, and an all-around enhanced user experience.
Can I still install Windows Live Mail?
Yes, you can download it from archive.org. As mentioned earlier, Windows Essentials 2012 is no longer supported by Microsoft, and that includes Windows Live Mail 2012. Most of the software embedded in Windows Essentials 2012 still functions. However, it's no longer available for download from Microsoft.
How do I reinstall Windows Live Mail?
First, you'll need to uninstall Live Mail. To do that, click on the Windows search bar and type "Apps" to find and launch the Apps and features menu. Then, select Live Mail and click Uninstall.
Once the process is complete, go to archive.org and download the Live Mail installation file. While installing the software you might need to turn off your firewall or add an exception because the installation file is not from Microsoft's official store.
Restart your computer once you're finished for the changes to take place.
---