Is Mailbird the best alternative to Windows Live Mail? 2020 Reviewed
Posted by Jason Ephraim on January 3, 2020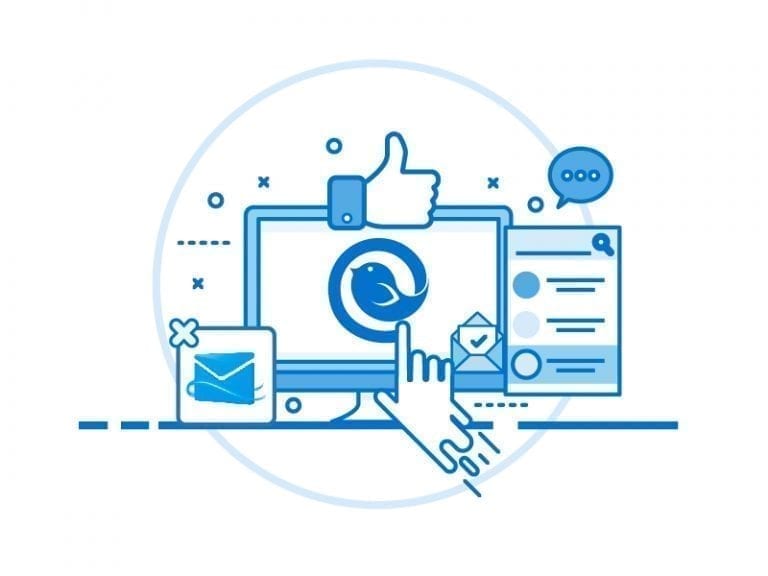 Windows Live Mail is essentially dead. Microsoft finally pulled the plug on it and their Windows Essentials software.
So what could you use instead?
In this article, we will cover:
Why People Are Leaving Windows Live Mail
Microsoft released a statement that Windows Live Mail would no longer be able to manage Outlook.com email accounts. They said that being an older client, LiveMail couldn't handle the synchronization protocol used by the Outlook incoming mail server.
It's one of the reasons the Windows Essentials Suite died out too — it was too outdated for current user needs.
Trying to use Windows Essentials now would be like trying to access Youtube through a flip-phone. It's just not practical. As a result, many of the 3.5 million users are now looking for alternatives to Windows Live Mail to solve their problems.
Mailbird – The Best Windows Live Mail Alternative
Windows Live Mail users needn't look far for a LiveMail replacement as Mailbird is the ideal software for them to switch to.
It works with your current version of Windows
It's compatible with all your email accounts
It's super easy to configure server settings and setup
In this article, we'll go into detail about why switching to Mailbird is a great option for you.
But What About Outlook?
Outlook may seem like the most obvious choice to switch to if you're a Windows Live Mail user since you already have a Microsoft account.
But it isn't the best choice.
There are a host of reasons why Mailbird is a better tool for you than Outlook (and any other email program such as eM Client or Claws Mail).
Here are just a few of them:
Outlook is error-prone when it comes to its outgoing server settings and incoming server settings
It's not very customizable
It's expensive
It doesn't have a lot of additional features
You can find a more detailed comparison here.
Now that we've got that out of the way, let's go into why so many Windows Live Mail users switch to Mailbird — and why you should too.
But first — what is Mailbird?
It's a common situation today, and some easy inbox management tips may help you not only sort out your emails more efficiently but boost your overall productivity at work.
Get Mailbird, the best alternative to Windows Live Mail
What Is Mailbird?
Mailbird is a desktop email client. It allows you to access all your mail account from the comfort of your desktop, in the same interface.
This way, you won't have the trouble of logging onto a web browser every time to check your emails and switch between. Additionally, you can add multiple email accounts to Mailbird to get all your emails in a unified space.
As a result, managing emails from all your email accounts is now a piece of cake!
Sounds great right?
That's why it's no surprise that a lot of LiveMail users are switching to Mailbird now.
Let's take a look at why —
Why do so many Windows Live Mail users switch to Mailbird?
1. Unified Inbox for Multiple Email Accounts
Mailbird works with any email address. Moreover, you can view emails from multiple email accounts in a unified inbox.
In fact, you can even import your mail account info from other clients so that installation and setup only takes a few clicks. It 'll automatically detect the server settings and smtp of your email address to add it to your Mailbird program.
Here are some of the popular email accounts Mailbird supports. Emails from all these multiple accounts are visible in a single unified inbox.
Hotmail
Yahoo Mail
POP3
IMAP
No matter the account, Mailbird allows you to send and receive email messages on your desktop instead of logging into a web browser.
2. Layout and User Experience
Windows Live Mail users have been flocking to Mailbird for years, and with good reason. It's clean and advanced interface feels right at home on your desktop.
Moreover, Mailbird has more customization options than the Windows Live Mail app including:
Color
Layout
Sidebar Images/Patterns
Font/Size
Mailbird's interface is also easier to use thanks to its ability to be customized to suit you.
Do you like to preview your messages? Do you prefer not to? Do you usually reply, or reply all?
Everything is customizable, and better still – Mailbird's interface makes it easy to understand everything.
3. Mailbird Works With Your Version of Windows
When looking for an alternative to Windows Live Mail, you want a tool that will work even if you're using previous versions of Windows.
Luckily, Mailbird does just that.
Don't worry about compatibility issues if you're using these versions of Windows listed here –
Windows Vista
Windows 7
Windows 8
Windows 10
This way, you can rest assured that Mailbird will easily work with any versions of Windows that you have. And many people consider it as the best alternative of Windows Live Mail for Windows 10, in particular.
However, we are constantly updating Mailbird to ensure you can send and receive email messages from whichever version of Windows you use.
Finally an email client worth downloading
4. Mailbird Has Loads Of Powerful Features
When looking for a replacement for Windows Live Mail, a lot of users look for a program that has the same features.
The problem with that approach is that you'll be facing the same problems you did with your old email client too.
To help you with that, Mailbird has integrated the standard features that users expect from Windows Live Mail alternatives along with features unique to Mailbird.
A lot of these features aren't even there on some of the other leading email clients such as eM Client and Claws Mail.
Our features are intended to help boost your productivity when dealing with emails and make the process as smooth as possible.
Attachment reminders, speed reader, in-line replies, snooze are just a few of the many unique features that Mailbird offers you.
The problem with additional features is that they're usually part of a premium package.
For example, most of the additional features on eM Client are only part of their paid version.
This way, you can experience the power of Mailbird without having to spend a thing!
Let's have a look at the most popular features on Mailbird that you wouldn't find on Windows Live Mail:
A. Native Calendar
Mailbird has its own calendar app that unifies all your calendar accounts and events in the same interface. Its simple and intuitive design makes it easy to find any feature or setting you need.
A clear design creates an uncluttered environment that doesn't distract you from the contents of your calendar. Every feature was designed to make your work with the calendar easy and save you time, whether it's when you view your schedule, create or edit an event, or send out invitations.
B. In-Line Reply
Forgetting to respond to a question in a mail is easy when you receive over 100 of them in a day. Going through so many emails can take a toll on both your eyes and your mind.
As a result, you may mistakenly overlook a question asked in a mail or forget to respond to it in your response. To help limit the chances of that happening, Mailbird offers you an in-line reply feature.
With it, you can respond to questions immediately right below them.
As you're responding to each question separately, the likelihood of you forgetting to respond to something is minimal!
Additionally, as you're responding to each question individually, it's easier for the recipient to understand your answers too!
C. Snooze Inbox
Sometimes, managing all your emails can be just too much to handle. You have a lot of important emails to address, but there are too many unimportant ones in the way!
So what do you do?
With Mailbird, you can snooze these unimportant emails for the time being! You can specify how long they're snoozed for – it could be a week, a day or even an hour!
Mailbird will tuck these unimportant emails away from your inbox so that you can respond to your priority emails with ease!
Don't worry about those snoozed emails disappearing forever though! Once the time period you specified is up, all these snoozed emails will reappear in your inbox.
But what if you want to access one of those snoozed emails before the time period is up?
No problem!
Just go the Snooze folder in your inbox and you'll find all of them there! This way, you're taking a mini email detox from these unimportant emails to help you breeze through your inbox in no time!
D. Speed Reader
Since we're speaking about breezing through emails, we have to mention our speed reader feature. With it, you'll be able to go through your emails with thrice the speed that you usually would!
Here's how it works –
Mailbird shows you one word of clear text at a time to make it easier and quicker for your brain to process. You'll have a choice of 100 WPM (words per minute) to 1000 WPM to suit your own capabilities.
This is what it looks like in action –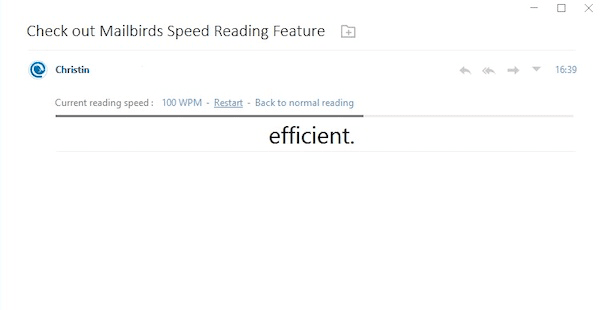 Neat right?
If you want to know more about this feature, you could check it out in this TechCrunch article.
E. Attachment Reminders
There's a lot that can go wrong with emails.
You could send something to the wrong person, add an outdated email address or cc someone by mistake. But there's one mistake that leads to more embarrassment and frustration than all these (at least for me) – Forgetting to add attachments that I mentioned in the mail.
It's incredibly embarrassing and makes you look really foolish.
With Mailbird though, you won't have to worry about that. Mailbird will detect whether a mail was supposed to have attachments with it and will remind you of the same in case you forgot.
For example, if you mentioned the word "attach" in your mail and clicked send before attaching anything, here's what you'll see –
This way, you can send and receive email messages without worrying about forgetting to add attachments!
F. Contact Management
Mailbird knows the importance of contacts when it comes to emails.
That's why Mailbird operates as an address book of sorts. It's super easy to import your contact list from Gmail or Outlook into Mailbird –
You could either let the software do it automatically for you
You could also manually drag and drop selected contacts into your address book
If you opt for the first option, your entire contact list can be all ready for you within minutes!
Additionally, in case two contacts in your address book aren't 100% similar, Mailbird will allow you to choose which one remains as the default one.
This way, you're not going through people twice in your list!
G. Tagging Feature
Need a quick way to add recipients to your email?
With Mailbird's tagging feature you won't have to worry about forgetting to add someone to the recipients' list in an email, or wasting time manually searching for email ids.
When writing an email, just add "@" followed by the name of the person and Mailbird will automatically pull up their email address from your contacts list.
You also get to choose if this email address is added in the "to" recipient box or added as "cc".
This feature saves tons of time when you're talking about something important in your mail and need to keep a lot of people in the loop!
H. Integration with Third Party Apps
One of the plus points about Windows Live Mail was that it was associated with the Windows Live Essentials package.
The Windows Live Essentials package was essentially a suite of different apps to make your whole life easier – not just your emails.
Mailbird tries to do the same – it doesn't want to be just another email client for you.
That's why it's able to integrate with a variety of popular apps to make it an all-in-one communications hub for your team!
Mailbird has tried to combine email, messaging apps, task management apps, a calendar app and a video meeting app to create the most comprehensive solution for you and your team.
Imagine working through your email while also being able to jump on a call without having to manually switch to another software or web browser.
Sounds great right?
It's not just convenient but also way more efficient.
With Mailbird, you'll have all your communication and productivity tools in one place to help you perform better.
This way, you get most of the features you'd get from the entire Windows Live Essentials package – all in one place!
Featured Apps Include:
Messaging Apps –
Mailbird can integrate with messaging and social media apps like Facebook, Twitter and WhatsApp to ensure that you and your team have a steady line of communication at all times.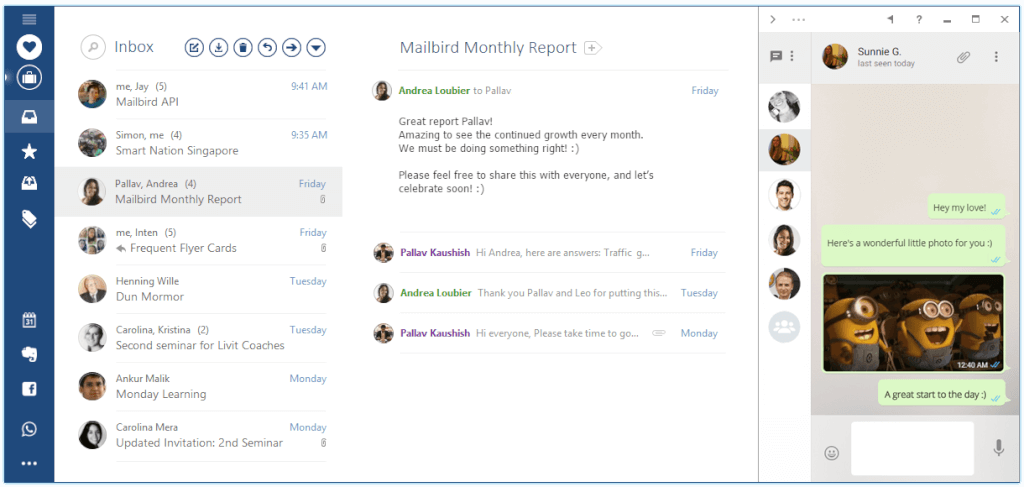 Task Management Apps–
Mailbird can integrate with tools like Todoist, Moo.do, Evernote and Asana to keep you and your team on top of all aspects of Project Management.
Get Mailbird, the best Windows app to manage all your email accounts
Video Meeting Apps – There's nothing like interacting with your team face to face right?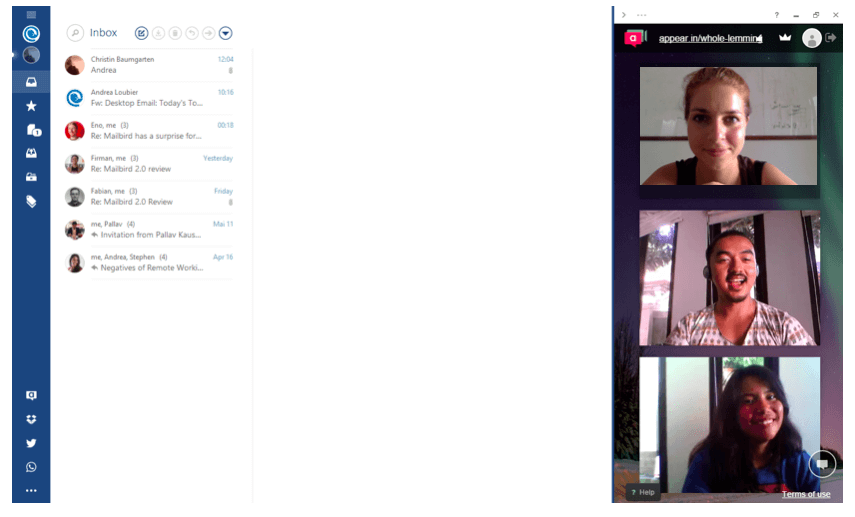 That's why Mailbird can integrate with video calling apps like Whereby and Veeting rooms to ensure that you and your team can communicate face-to-face!
File Storage Apps – One of the benefits of Outlook was its ability to store data as a pst file. A Pst file is personal files such as a copy of a message that can be stored on your computer. The problem with a pst file is that it's quite large in size and can only be opened through Outlook.
Additionally, storing calendar data and email conversations is far easier now than it was – you don't need a specialized file format anymore for your Windows Live Mail data. Mailbird can integrate with Dropbox so that you can store and add your Windows live mail files easily without having to worry about compatibility.
Don't see an integration or feature you want in this list? No worries. Mailbird's all-star developer team continues to add and improve on these features requested by you. We have Mailbird Feature request forum where you can submit your request and we'll get down to working on it immediately!
5. Setup
The process to set up and configure server settings Mailbird is super easy, unlike most other email clients.
With Mailbird, you'll be up and running in just about 10 minutes!
Here's how easy the process is –
Step 1: Download Mailbird
You'll have to download Mailbird from our site as it's not available on any other app store at the moment.
Step 2: Add Your Details
Once you open up the tool for the first time, you'll be prompted with a pop up on the screen asking you to input your server address details.
Click the "Add Account" button and add your name, email server address and password.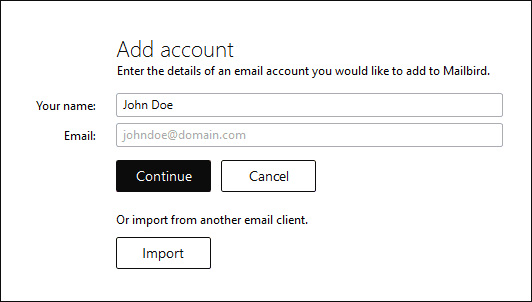 The app will then automatically detect the type of incoming mail server you're using.
This way, you won't have to waste time manually inputting a type of incoming mail server such as IMAP or POP. Mailbird does it for you!
Step 3: Add Multiple Email Accounts
In case you want to add multiple email accounts, go to the Menu tab on your screen.
When there, you'll see a bunch of tabs such as the General tab and the Composing tab.
If you look further down your screen, you'll see an Accounts tab.
Click that button and you'll see an Add button to the right of your screen.
Once you click on the Add button, follow the steps mentioned earlier and input your server address and you're all set!
You've managed to configure server settings and add all your email accounts in Mailbird in just a few minutes!
Also, don't worry about changing your mind about these additional email accounts.
They can be deleted from your Mailbird app in no time too!
Step 4: Customization
You can now customize your Mailbird experience by choosing your own theme, profile picture and layout.
All these customizations can be easily reversed and deleted in case you ever get bored of them.
6. Cost
Microsoft Outlook can run you upwards of $110.
Mailbird, however, has a few options for you to choose from that can enable you to manage all your email accounts for a fraction of the cost – or you could opt for our free version.
Mailbird Personal: $19.5 / year  (includes all future updates)
Mailbird Personal Lifetime: $39.5 once  (includes all future updates)
Mailbird Business: $29.5 / year  (includes all future updates)
Take it for a Free Test Drive
Not sure about Mailbird yet?
Why not give Mailbird a try and check out its amazing features? Download your free trial here.
Get Mailbird, the best alternative to Windows Live Mail
Editor's Note: This post was originally published in May 2016 and has been updated for accuracy and comprehensiveness.

---