Best Windows Apps to Manage Multiple Email Accounts
Posted by Christin on August 10, 2021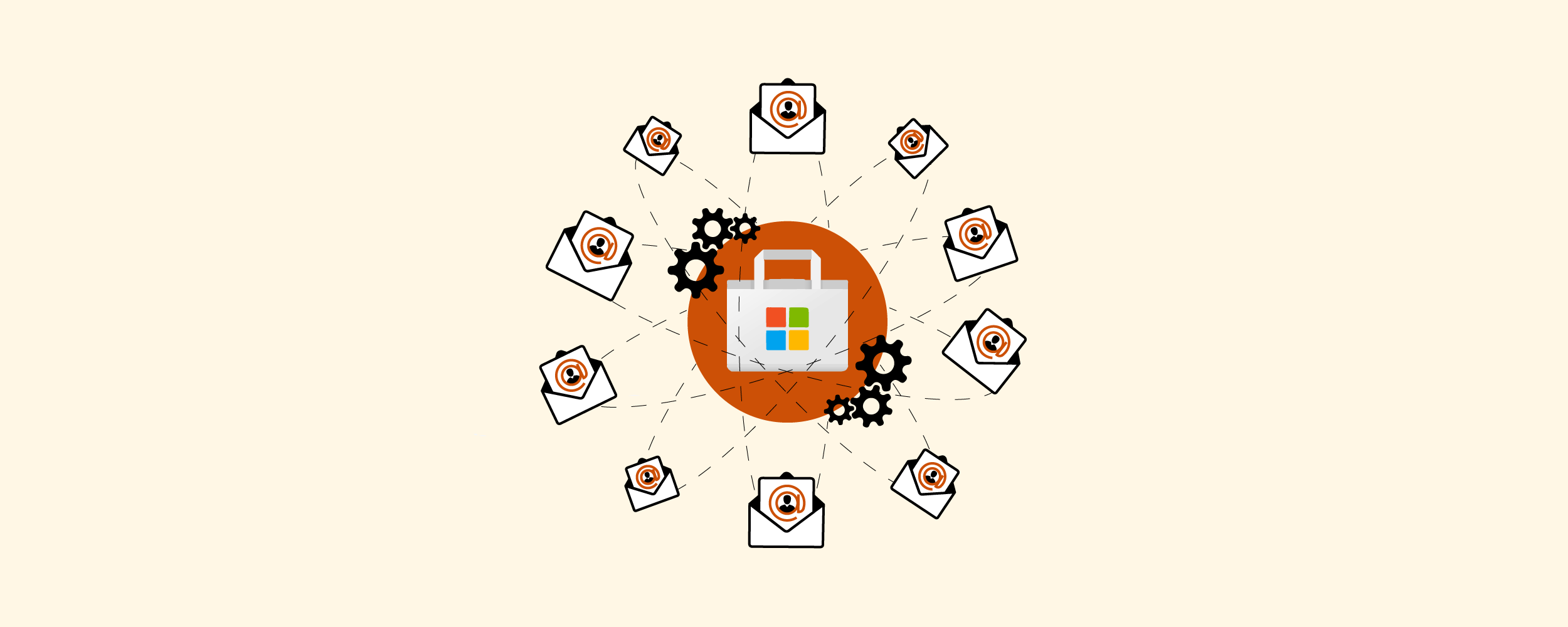 Having more than one email account is sometimes necessary. But are all these accounts convenient to manage? Combining emails isn't a straightforward option with most of the providers and requires switching accounts or setting up forwarding, which isn't the most joyous experience.
Also, how do you conveniently manage all your emails in one single app?
Let's explore some of the best apps for managing multiple email accounts. Our focus is primarily on the Windows platform, although some of these apps are also available on Mac and other platforms.
| | | | | | | |
| --- | --- | --- | --- | --- | --- | --- |
| | Mailbird | eM Client | Thunderbird | Microsoft Outlook | Spike | Mailspring |
| Multiple Account Management | | | | | | |
| User Experience | | | | | | |
| Configuration | | | | | | |
| App Integration | | | | | | |
| Support | | | | | | |
Email clients comparison table
What Makes a Great Email App?
Before diving into the best applications to manage multiple accounts on Windows, how about we look at the fundamentals of what constitutes a great email client to begin with?
Here are several things you should look out for:
All accounts under one roof
The perfect gmail app for pc client enables you to consolidate all of your accounts in one application. This means you'll have the ability to log onto various emails within one profile and be able to shift among them with ease and without running into any functionality issues.
Such an email client enables you to manage these multiple accounts seamlessly, with no fuss, and the efficiency you deserve.
Ability to use a range of productivity tools
Secondly, the perfect email client lets you use a variety of productivity tools across your accounts without limiting functionality from one account to another.
Some of these productivity tools can include but are not limited to inbox management, task organization, contact information, and custom automation.
Having them in your email client and being in a position to utilize them across multiple email profiles is integral when picking out an email client for yourself or your enterprise.
Ability to integrate your favorite apps
Good tools are ones that help you stay industrious and make work easier. It's even better if you can use them along with your email without any interference, like switching between apps and windows.
The best email apps permit you to utilize these applications and make the most out of them while still fulfilling the essential functions: sending and receiving emails.
Easy installation and an array of features
Lastly, the best email client is stress-free to install and packs more power and functionality than web email applications. Adding email accounts, setting them up, and integrating your favorite apps—everything should be easy and intuitive.
With these considerations in mind, let's get to reviewing the top email applications that allow you to manage more than one account.
Criteria for Evaluating All-in-One Email Clients
In the following review, let's compare email clients based on aspects such as:
Multiple-email account management. That's the main topic, right? So, you'll see how the apps deal with multiple inboxes.
User experience. Having several useful features is great, but email software should also be easy to use and navigate.
Configuration. The setup process should be quick and not fry your brain.
Security. Emails often exchange personal data, and this exchange should be secure.
Integrations. It's essential that your email client allows you to add other apps and use them alongside your inbox.
Support. Issues with using the software are sometimes inevitable, so having support articles and human assistance is essential.
Best All-in-One Email Clients for Windows 11
Rating: 4.5 out of 5 on Trustpilot
Mailbird is an intuitive and powerful email client with a simple design and convenient personalization options. Its every feature is designed with multi-account management in mind. It is an email app for Windows and Mac that's marketed as a Thunderbird and Outlook replacement. This allows you to manage all your email accounts from a single place, letting you manage all your correspondence effectively.
Multiple-Email Account Support
Mailbird is designed to handle multiple emails with ease and flexibility from almost any email provider. Onсe you install the app, you can add as many accounts as you need and connect them under the unified account.
The unified inbox is the key to multiple-email account management. It shows all emails and folders from different providers in one inbox:
When you apply an email or attachment search, you apply it to all connected accounts.
When you use filters to organize email into folders, the rules apply to all accounts.
When you tidy up your inbox, you deal with all your accounts at the same time.
Sounds overwhelming? Don't worry, you can still view each account separately. Plus, each account has a color code to distinguish it from the others when you're viewing the unified inbox.
User Experience
While Mailbird is packed full of powerful features, it manages to still have a clean design that's easy to navigate. You won't have to deal with the clutter of numerous icons and signs, yet all features and settings are within reach.
Mailbird also offers a great deal of customization. You can change the layout of your inbox and theme of the app, and even upload a background image of your choice.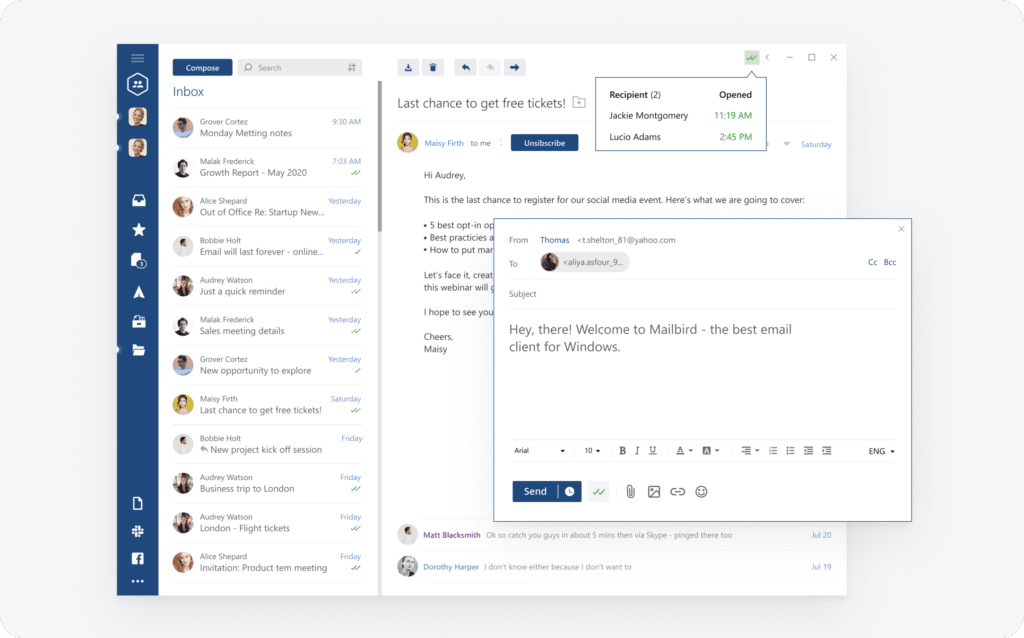 Configuration
Mailbird is easy to install and configure. It supports all popular internet protocols – IMAP, POP3, SMTP, and Microsoft Exchange.
Mailbird also has a Contacts Manager that allows you to import contacts from Gmail and add details about each person on your list.
Security
Mailbird would never willingly share your data with any third parties. We value the safety of your personal information, and that's why we don't store sensitive data on our servers – it's only stored on your computer. We're also careful about what information we collect.
Integrations
Mailbird integrates with more than 30 apps. These include productivity apps, such as Asana and Trello; storage services, such as Dropbox; video-conferencing tools; and Google Workspace.
You can add integrations in a few clicks and use them from within Mailbird as a full or sidebar view. There's no need to launch another application or open a dozen tabs.
Support
Mailbird has a Help Center with handy articles about different features. You can also contact our customer support if you don't find an answer in the knowledge base and need to chat with a real human.
---
Personal – $27.36/Year or Pay Once for a lifetime subscription at $49.50 /.
Business – $48.36/Year or Pay Once for a lifetime subscription at $99.75.
Unified inbox. A single well-laid-out inbox allows you to view all your emails from different accounts at the same time yet avoid clutter thanks to color-coding and filters.
Unified calendar. The native calendar that comes with Mailbird allows you to view and manage your calendars from all connected accounts.
Advanced search. The search feature extends to all accounts connected to the unified inbox so you don't have to do a separate search for each email.
Advanced compose window. You can add tables into your email, tag contacts, and even reply in-line to the email you received.
Snooze. You can pick a specific message that you would like to doze off and come back to the top of your inbox at a more appropriate time.
Email tracking. This feature allows you to see if and when your email has been opened and likely read, similar to read receipts in chat apps.
Personalization. You can upload a custom notification sound and background image and change the theme color and layout. This allows you to tailor everything to your taste.
Localization. There are 24 language options.
Navigation. You can use and customize shortcuts for composing, responding, and even dispatching emails.
Integrations. Mailbird lets you integrate apps, such as Google Calendar, WhatsApp, Facebook, and Dropbox, among others.
Download Mailbird
Mailbird is our number one recommendation and for good reason – it stands out. You can download and try Mailbird for free today, and should you like it, you can go ahead and make a purchase.
Rating: 3.7 out of 5 on Trustpilot
eM Client is an email app for Windows and It certainly has good features that the Thunderbird and Outlook email clients don't have, but it also has some downsides.
Multiple-Email Account Support
eM client supports most email providers and allows you to add unlimited email accounts in the paid plans. Note that you can only add two accounts in the free version.
There's an "All inboxes" folder that resembles the unified inbox; however, it doesn't offer the same functionality across other features.
User Experience
eM Client has an intuitive interface, and it's easy to start using. It's not cluttered with extra icons and details, so it's easy to navigate.
On the downside, the app's interface often causes crashes and takes up a lot of memory on your computer.
Configuration
eM Client supports IMAP, POP3, SMTP, Exchange, and AirSync. It's quite easy to install and set up. You can also configure backups that will work even while you're running the app.
Security
eM Client supports OpenPGP and S/MIME encryption, so its security level is pretty high as the standards allow you to send encrypted messages. On the other hand, eM Client doesn't provide end-to-end encryption. This means that there's no protection for your emails in transit between you and your recipients.
Integrations
The app has a very limited range of integrations. You can use apps such as ownCloud, Nextcloud, and Zoom. But that's about it.
Support
eM Client only offers customer support in paid versions. But there's a forum for free users.
---
Free limited use.
One-time payment of $34.95 USD for one device.
Backups. With eM Client, you can set up automatic backups of the whole app database so you don't lose any information.
Automatic responses. The email app allows you to automatically create automatic responses to specific emails.
Contact management. You can download contacts from the web automatically.
Tables. You can add tables into an email and even resize any cell within the table with this email client.
Image editing. eM Client allows you to change image size, edit, flip and rotate images that you've added to an email.
No unified inbox.
Thunderbird
Rating: 2.9 out of 5 on Trustpilot
Thunderbird is an email that's withstood the test of time. Despite its support and usage issues, Thunderbird has quite a big following as it's one of the oldest email apps.
Thunderbird is open source and has a big community that supports its development.
Multiple-Email Account Support
Thunderbird supports almost all email providers and you can add as many accounts as you like. It also has a unified view for folders, along with unread, favorite, and recent. So it's more of a sorting capability than a separate feature.
User Experience
It is highly customizable with add-ons and layout options. However, compared to some alternatives in the market, Thunderbird's user interface is grossly outdated. This means that simple features, such as dragging and dropping pictures, do not work on the app.
Also, improvement of the mail client has stalled as the company focuses on security and stability.
Configuration
Thunderbird might be a better fit for the more tech-savvy crowd. It's easy to install, but it's also easy to run into issues connecting to your email provider's server. This is likely to happen with Gmail as Google doesn't view Thunderbird as a safe tool.
Other than that, Thunderbird has a detailed settings tab, where you can configure the app to your liking.
Security
Thunderbird supports OpenPGP and S/MIME. You can also set up end-to-end encryption for message content.
Integrations
The email client offers a lot of add-ons. These range from third-party apps like Google Calendar to Thunderbird-specific extensions developed by the community.
Support
Thunderbird has a community page where you can ask for advice from other users but no official customer support as is usual with free products.
---
Windows, Mac, some versions of Linux
Contact management. With this email client, you can easily add acquaintances to your address book.
Message filtering. You can order emails in multiple ways. This could be by new messages, your contacts, or even specific tags that you can create.
Unified folder. You can also manage multiple accounts by consolidating the archive, sent, or inbox folders on the app.
Updates. Thunderbird automatically checks for updates and notifies you in case there are any. This is handy considering the email app is open-source and an update might solve any issues you're experiencing.
Large files. You can also share a specific link to a large file within your message as they are often cumbersome to attach to an email.
No unified inbox.
No email snooze.
Microsoft Outlook
Rating: 3.2 out of 5 on Trustpilot
Outlook is a tried and tested email client that has experienced a lot of growth throughout the years, going from a clunky Windows 95-style design to quite a sleek-looking app with the recent updates.
Just to clarify before we go any further, there are two versions of Outlook. There's the webmail version that you can also get as an app on iOS or Android. Outlook.live.com allows you to create an @outlook or @hotmail account. Another version is the desktop app that you get with the Microsoft 365 office suite.
Both versions have the same features. Albeit if you need to manage multiple accounts from different providers, you need the desktop app. In this review, we'll talk about the desktop version only.
Multiple-Email Account Support
You can add email from most providers and manage as many accounts as you need. Sadly, Outlook is yet to get a dedicated unified inbox feature, despite numerous requests from users. But there are a few hacks you can try instead. We've outlined the three main ones on our blog.
User Experience
Microsoft Outlook has incredible brand equity and recognition. If you have one Microsoft product, it's easy to get the hang of another one.
The email client has a clean-cut design with enough room for customization. There are a few layout choices, themes, and other options. For example, you can choose which quick action buttons appear when you hover on an email.
Configuration
Outlook is easy to install. When it comes to accounts, you can use the built-in wizard that detects setup instructions automatically. Or you can go through the manual process of filling in account and server details.
Security
Outlook doesn't have specific security features. You can protect yourself by avoiding shady links, reporting spam, blocking unwanted emails, using a third-party antivirus and anti-phishing software, and other common strategies.
Integrations
Outlook easily integrates with other Microsoft products. It also supports many third-party apps.
Support
Outlook has an extensive base of support articles and a community forum.
---
Microsoft Outlook Premium standalone. Starts at $19.95 per year.
Office 365 Home starts at $9.99/month.
Office 365 Personal starts at $6.99/month.
Personal management. It helps stay organized and plan your work with features such as Notes, a Calendar, and a To-do list.
Security. It enables the deactivation of unsafe links that may contain viruses, malware, or phishing scams. It also encrypts data within your mailbox, even after the email is sent.
Task management. The To-do feature is a self-contained task management tool that allows you to plan your day and assign tasks.
A "what's new" sidebar. Outlook gives suggestions on how to improve your use of the email client, such as setting up notifications or automatic translation.
No unified inbox.
Spike
Rating: 4.1 out of 5 on Trustpilot
Can't decide between email and chat? Spike might be the thing for you. It's an email client with a chat-like view.
Spike combines the different aspects of email — archiving, marking an email as unread, snoozing — with aspects of chat — a sidebar view of conversations, folders, and contacts. At first glance, you might confuse it with a messenger. But first impressions can be deceiving.
Multiple-Email Account Support
Spike supports most IMAP email accounts and hosting services. You can also add multiple emails to the app and use a unified view if you're adding your personal accounts.
But if you want to use Spike as a collaborative tool, it limits the number of accounts you can add by the pricing plan you choose. So, you can add as many aliases as you like, but if you want to add other people, you need to pay for a team subscription.
Spike is likely the only email client that can compete with Mailbird. You can toggle your addresses and use them at the same time instead of switching between tabs. The functionality applies to the unified account pretty well, too. However, it's still a hybrid piece of software.
User Experience
Here's where you are bound to stumble over some issues.
People often treat email as chat, sending short and frequent replies. Having a chat-style email client should solve the issue. But, the new interface takes some getting used to; for example, the standard folders, such as Drafts or Spam, are in a separate menu (you need to click on the account icon). Quick actions, such as Snooze and Delete, are also in a separate menu inside a conversation.
That said, the design is clean-cut and pleasantly minimalistic.
Configuration
Configuring Spike is quite simple. It identifies your email provider automatically and allows you to change your profile name and picture upon installation.
Security
Spike is ad-free and provides email encryption. It is also adamant about never sharing, reusing, and manipulating personal data.
Integrations
Aside from the in-built features, such as Notes, Tasks, and Calendar, Spike doesn't integrate with any software.
Support
For free users, there's only a self-help center available. But the paid plans offer customer support and some advanced features. For example, business accounts get personalized team onboarding.
---
Personal – free limited use.
Solo – $12/month, per account.
Team – $8/month, per account.
Business – $7/month, per account.
Windows, Mac, iOS, Android, web
Notification customizations. You can configure notifications by priority and assign a unique sound to certain contacts like on a phone.
Voice notes or even voice comments. You can send voice messages to any recipient like in most chat apps.
File preview. With Spike, you can easily preview files from your inbox without downloading them in the first place.
Undo send. If you send an email by accident or want to edit it, you can undo the sent emails.
File sharing. You can attach files straight from the cloud application.
No email signatures.
Mailspring
Rating: 4.5 out of 5 stars on G2.com (Trustpilot – n/a)
Mailspring is a spin-off from Nylas Mail, an open-source email client that was discontinued in 2017. The decision to rewrite Nylas was made by one of its co-authors to improve the speed of the original software by reducing memory use and accelerating email sync. Mailspring mainly competes with Mac email clients like Sparrow and Airmail.
You can find a more detailed review of Mailspring on our blog.
Multiple-Email Account Support
You can add multiple IMAP and Office 365 accounts. But, Mailspring doesn't support POP and Exchange accounts.
It has a unified folder that appears in the taskbar over individual accounts. You can also view accounts separately.
User Experience
Mailspring is one of the cleaner-looking email clients. It has several layout options and a variety of themes. The email client has easily accessible buttons and a search tool that supports common operations.
The app is battery-efficient because it doesn't use a lot of memory and CPU power.
On the other hand, Mailspring is still a work in progress and slow to develop. Also, some features, like the Contact Manager, are only available in the Pro version.
Configuration
Mailspring is easy to install, and it's also easy to set up all your email accounts. However, you'll need to create a Mailspring ID to use the platform's features.
Security
Mailspring complies with the GDPR and doesn't store user data. But it doesn't offer any specific email security features.
Integrations
The app integrates with Microsoft 365 and Fastmail, but that's about it.
Support
There's a community forum and customer support.
---
Free – limited.
Pro – $8/month.
Read receipts. With Mailspring, you can find out if and when a recipient opened and likely read your email.
Localization. The app is available in nine different languages, which makes it accessible to a broader audience.
Touchscreen support. The Mailspring app also offers support for touch and gesture.
In-built translator. Mailspring enables users to translate an English message into various other languages.
Spellcheck. The app detects the language you are using, thereby automatically checking the spelling in that language.
Personalization. Mailspring offers different layouts and themes to suit various preferences.
---
What's a Good Email App for You?
The one that helps you stay productive no matter how many email accounts you manage.
Get yourself an email client that best meets your requirements and helps you to get work done with little to no fuss at all. Get one that has features like a unified inbox and calendar that allow you to view and manage emails from all your connected accounts. Email search that extends to all connected accounts and saves you time on browsing for desired information is also important, as well as customization options that allow you to personalize the experience.
Mailbird has such features and more. It can help make your communication easy and effective. But practice is more telling than theory, so download Mailbird for free and make the most of the trial period.
FAQ
How can I get all my emails in one place?
The best way to do that is to get an email client that focuses on multiple account management, such as Mailbird. That includes easy management of email accounts from different providers in one inbox, advanced search, a folder system, and filters.
How do I add multiple emails to one app?
In your Mailbird app, go to Accounts settings and check u0022Enable unified account.u0022 Then, press the Add button, fill in the login and server details, choose an icon, and check u0022Include in unified account.u0022 Repeat for each email account you want to add.
What is the best all-in-one email app?
Mailbird is one of the best all-in-one email apps as it provides handy functionality for managing several email accounts at a time. It also integrates with many productivity tools, such as Asana and Google Workspace.
Does Mailbird work on Windows 11?
Yes, Mailbird is well prepared for the new Windows version. You'll be able to use Mailbird with ease if you decide to switch versions.
---