The Ultimate List of Best Email Clients for Multiple Accounts in 2019
Posted by Christin on January 17, 2019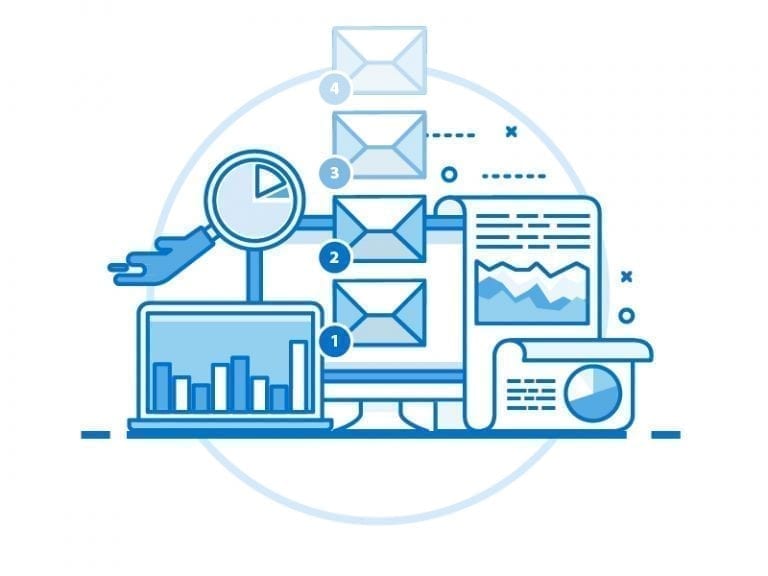 In this day and age pretty much every person you know, has at least 1 email account, often more. Especially, since we tend to use email for almost anything we do online. Be it for work, entertainment or just compartmentalizing reasons, having several email accounts has become a common occurrence. Effective management of them all can get daunting if it weren't for the variety of email tools and email clients out there. This is why we bring you the ultimate list of the 'Best Email Clients for 2019'. And the best part is, all of them offer at least a free version.
Whether you are on Windows, Mac or Linux  you can download any of these completely free email clients we have listed in the corresponding sections below. You can use the table of content to jump to the section that covers your OS.
1. Best Email Clients For Windows
3. Best Email Clients for Linux
Best Email Clients For Windows
Mailbird
Let's start with this lightweight email client for Windows. Mailbird covers a large variety of your multiple email accounts' needs with many different features and integrated apps such as WhatApp, Facebook, Asana, Todoist just to mention a few. It has a large number of customizing options that enables you to maximize your productivity.
Mailbird is currently working on releasing an Android app that will be released most likely in 2019.
Check out the main reasons why Mailbird definitely has the potential to be the best option for all Windows users:
Complete compatibility with multiple accounts and apps.
Full-serviced Contacts Manager featuring  a very unique linking feature in addition to common features such as merge, search and sync.
Fast and lightweight email functions like clean Inline Reply, Attachment Search, Tagging Feature, Snooze and Quick Compose.
You can set up any number of email identities.
Synchronization with Google Calendar for increased productivity. A native Calendar is in the works too.
Unified inbox with color indicators for simple navigation and email management.
Touchscreen option to adapt the interface for phones and tablets.
Integration with Degoo for sending big attachments without any issues.
Overall, a very simple yet powerful email tool.
Declutter your email with Mailbird. Give it a free try now.
TouchMail
This great looking email client takes off after the Windows 8 layout and brings it to Windows 10.  The stylish and cleanly organized inbox is enhanced for touch screens.
TouchMail  supports all common email provider and smartly displays, files and arranges your folders to best suit your needs. Want to adjust the number of icons and mails displayed? Simply zoom in or out. This email client is super easy to use and therefore made it to the second place on our list of best email clients. TouchMail is completely free.
Take a look at the list below to help you decide on whether or not TouchMail is the best email client for you.
Great looking and intuitive interface.
Supports the most important email services like Gmail, Outlook and Yahoo!Mail.
Made for touchscreens, with an input version for versatility.
Super simple synchronization with your email accounts.
Easy message filtering by sender, time or type.
Push notifications for new mail.
eM Client
This clean-cut and simply designed email client is available for Windows  XP, Vista, 7, 8 and Windows 10 users.  eM Client supports all major email services like Gmail, Outlook, iCloud just to mention a few.  It offers a free version with limited feature support that might already be enough for some users.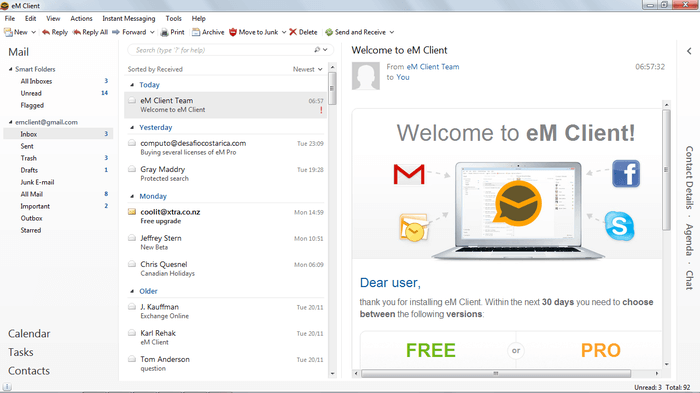 Some of eM Clients' best email features are:
Integrated translation tool.
Message encryption.
Full contacts handling, allowing you to find, merge and search contacts easily.
Complete spellchecker.
Touchscreen option to adapt the interface for phones and tablets.
Intelligent and super-fast search tool for quick localization of specific messages, senders or attachments.
Opera Mail
Before we dig deeper into Operas functionality we do want to mention, that Opera is no longer being developed. It is still available and  the best email client for Windows out there for some users. You will find a disclaimer on Operas website that we would like mention too.
The disclaimer reads: "Opera Mail is at the end-of-life stage of its product life cycle. This means neither technical support nor product and security updates will be provided. The product is still available to download, but you will use it at your own risk".
One of Operas' greatest features is its intuitive tagging feature that automatically sends your incoming emails to your personalized folders. Just like Mailbird and eM Client, Opera Mail has a sidebar on the right that integrates Apps, Calendar and Todo-lists.
Summing up the pros of getting Opera Mail:
Excellent tagging and labeling system, with a central inbox and individual folders for each account.
Unlimited number of connected accounts.
Offers options for a secure connection.
Low band-width mode option for slow connections or for when you're using your phone.
Best Email Clients For Mac
Mozilla Thunderbird
This amazing email client is available for free on both Windows and Mac. Thunderbird comes with a handful of incredible filtering, searching, archiving and security features that make it the best email client for some of its users.
Once installed you can start managing your contacts and email, create smart folders just to mention a few of Thunderbirds' features.  Mozilla Thunderbird offers a  "Do Not Track" option and keeps spam at bay with intelligent Junk Mail filters for your own security.
Mozilla Thunderbird is a great choice for Mac if you are looking for:
Unlimited number of connected accounts.
Suits your needs through easy download of plug-ins and add-ons.
Allows you to create a personalized email account.
Great for viewing heavy attachments through online services.
Automatic setting of server addresses.
Polymail
Polymail has become one of the most popular email clients for Mac. Not only for its light and clean interface especially because of the tracking and security tools it features for all OS users. Supporting Google, Outlook, iCloud and Yahoo, Polymail believes in the use of email for a productive work space.
Some interesting features in Polymail include:
A customizable snooze option for messages that delays reading time.
Notifications for when your mail has been opened, read and downloaded.
Built-in analytics for productivity and time management.
Fairly regular updates to improve the program.
One-touch unsubscribe option for newsletters.
Spark
One look at Spark and you'll know this is one of the smartest email clients for Mac, with a great set of tools and features that focus on productivity.  It provides the complete user experience by automatically organizing your mail into personal, pinned and newsletter messages.
Spark comes with a smart inbox and search bar, a nice and clean built in calendar and a follow up reminders feature that make it not just a grand email program, but also an impressive organizing tool for your everyday life.
Every Mac user can expect the following from Spark:
Tagging and labeling made easy with automatic folders.
Fast and clean interface that won't lag or overload your inbox.
Notifies you about important messages only.
Automatically identifies your most used features and prioritizes them over the others.
Can let you know when emails are opened.
Spark is very well worth your time and your trust, proving without a doubt to be one of the smartest and best integrated email programs for Mac.
Apple Mail
This native Mac program is a no-nonsense email client that supports all your accounts in a smart and straightforward UI.  Mail is the best email  client for users that want a simple, "old fashioned" email organization with solid filing and archiving functions and not too many extra features.
The latest version of Mail comes with space saving iCloud storage of your oldest messages to keep your drive light and clean of useless content.
The pros for this Mac email client include:
Fitting perfectly into the Mac interface.
The iCloud service storage lets you send up to 5GB in files.
Allowing for multiple accounts in iCloud, IMAP, POP and Exchange
Smart filing and labeling of important messages through color coding and automatic folder creation.
Offering stylish stationary and graphics for composing emails.
Although Mail counts very few cons, keep in mind that stationary or graphic templates  can not be used on replies. It also does not support smart folders.
Best Email Clients For Linux
Evolution
This email client is the favorite for all Linux users, that are looking for a solid and reliable account manager. Evolution comes with smart task- and contacts management, a highly functional spam filter, a neat note taking tool and a smooth calendar integration to ensure high productivity levels.
Other cool features in Evolution include:
Smooth integration of email, address book and calendar.
SpamAssassin for getting rid of spam forever.
Virtual Folders automatically collect email under certain labels.
No need for extensions or plug-ins.
Desktop notifications.
Connects to both Google Mail and Office 365.
Mailspring
Mailspring is the follower of Nylas Mail. While it may seem like they are one and the same, you will notice very soon that it got some serious updates. 50% less RAM space is just one major improvement. It offers a clean interface and an array of basic and useful email tools. Snooze and Unsend options as well as link tracking and a unified inbox are only a few examples.
Check out some of the pros that could make Mailspring the best email client for Linux for you :
An improved, native C++ core that works seamlessly with Linux.
Uses up to 50% less RAM than its predecessors.
Offers templates for quick, instant replies.
Customizable, minimalist interface to suit your taste and help you declutter your unified inbox.
Claws Mail
If you're looking for a fast and lightweight email account manager that organizes even the messiest of emails, then Claws Mail is your right choice. Its simple and somewhat basic layout may not look as good some of the other email clients on this list. Nevertheless , Claws Mail makes up for it with a solid number of features, tools and plugins that focus around functionality.  Claws Mail provides a very strong and smart search feature for users to easily find contacts and emails.
Some other pros of Claws Mail are definitely:
Straightforward, simple and flexible interface.
Comes with a plug-in store for unlimited expansion.
Creation of custom filters that can be applied to all incoming messages or specific labels.
Constantly updated and improved.
Automatic download of email attachments.
Availability for Windows.
Geary
This fast, light and great looking Linux native client manages all of your accounts and adjusts perfectly to making email the easiest thing in the world. Geary features a clean unified inbox on a highly responsive UI while it is also pretty stylish.
Among Geary's most interesting features and/or attributes are:
Support of major email services like Gmail, Outlook, and Yahoo!Mail.
Native GNOME client that works perfectly into the Linux system.
Presentation of your emails in threaded conversations, organizing them by that same criteria.
Support of signatures on every email.
Can compose HTML text.
Desktop notifications.
Did we not mention your favorite email client? Let us know in the comment below which of them you would consider to be the best email client out there.
---
Subscribe to our newsletter
Free e-books
Productivity tips
Technology articles