Best Email Client to Manage Multiple Accounts: Top 5 Reviewed
Posted by Christin on August 14, 2020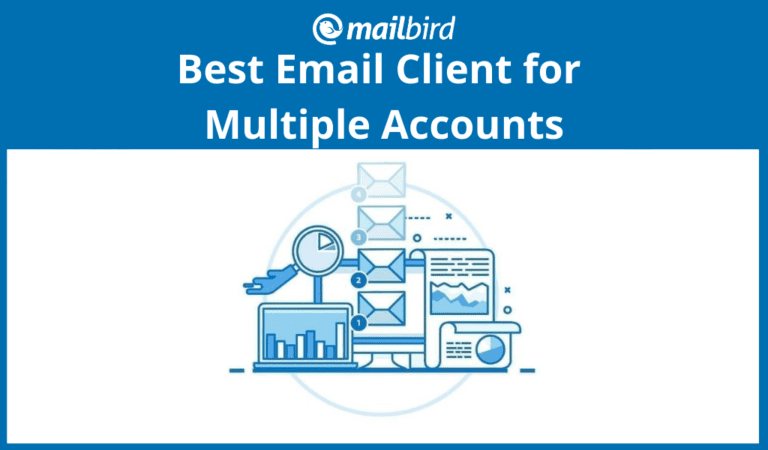 How many email accounts do you already have? There might be one per project, one for personal use, one for random stuff… You might just end up spending more time on email than you expected with this organization system if you're not using the right tools to manage it. And the right tool in this situation is an email client that supports multiple email accounts.
However, having multiple email accounts is a more organized way of handling your correspondence. So, in this guide, we will review five top options.
What Is an Email Client and Why Consider Email Management

Software

in the First Place?
An email client is a web or desktop interface that helps you manage emails that you send or receive. It also functions as a personal information manager, offering tools for taking notes, calendaring, and managing tasks and contacts. It is one of the many email apps that facilitate inbox management, such as Mailbird, Thunderbird, Mailspring, and others.
Because there are pros and cons to having multiple email addresses, and email clients take away most of the burden these disadvantages bring to the table.
Advantages of Using an Email Client
Firstly, if you have several projects, separating information about each by means of different email accounts is convenient, but having to check each inbox is not. A single email client eliminates the need to check various inboxes, switch between them constantly, and waste precious effort on remembering to do that regularly. You have a holistic picture of all your emailing and the sources of recent messages. It's all in one interface.
Secondly, you might be using multiple accounts for security reasons, to protect your personal information. If you have a disposable box for something that is potentially 99% junk mail, adding it to an email client won't let you completely forget about it. And also, if you create an account for newsletters, adding it to an email manager will make sure you check it from time to time and it doesn't end up collecting dust.
Feeling convinced? Let's go over five of the best email managers that support multiple accounts and see if they all have fitting functionality.
Top Five Email Clients for Multi-Account Management
#1. Mailbird
Mailbird is an email client for Windows that unifies your multiple email accounts from many different providers into one place. Mailbird is the definition of email software that is consistent with its multi-account support functionality throughout the whole interface.
Platform: Windows
Features
Unified Inbox.

All your emails from different accounts you connect to this feature will be in one single interface. If you have a couple of work accounts, you can promptly decide how to handle them without having to click between tabs or apps, or loading your other inbox. The color indicators help mark each account for you to better understand which sender requires an urgent reply.

Filters (rules).

Set your own preferences by applying filters to the messages you want to move, mark, or archive automatically. You can also set rules for certain messages to land in a particular folder. For example, if the subject line says receipt, have your app chuck them into the Receipts folder automatically.

Native calendar.

The calendar has two columns. The left one shows the menu and the accounts you added to the client. The right one gives a clear picture of how busy you are. You can also choose to view the calendar in the sidebar, alongside your inbox.
Advanced search.

A manual search for that one particular message or even attachment can feast on your time. Mailbird's advanced search functionality helps you avoid this hurdle. You can use an email address, a folder name, or even just a phrase as your

search

query. What's more, you can look through all your email accounts if you have a unified inbox connected.

Signatures.

A nice stylish ending to your email improves its overall impression. In Mailbird you can create a customized signature that will automatically appear at the end of your messages. You can add it to a particular account and the app will automatically insert it into all emails you send.

Email Tracking.

This feature resembles the "message was read" option in a messenger. You can see if your email was opened by the recipient and even who exactly opened it.

Snooze.

Some emails can wait until the right time to deal with them. Or maybe you need time to figure out the appropriate answer. Enable the "snooze" feature and the email will pop up again later when you want to be reminded about it.
Pros
First and foremost, Mailbird was designed to handle multiple email accounts. It's not simply an app where you can connect all accounts; you can do the same in Gmail. Instead, you can view and manage all your emails from different accounts in one inbox or view one account at a time.
You can also organize everything into neat folders by project or topic and search for the required information across all accounts.
Multiple third-party integrations like live messengers, virtual meeting apps, project management tools, and many others turn your email client into a productivity hub. And you can view these integrations, along with some of Mailbird's native features, in the sidebar.
Cons
So far Mailbird is available for Windows only.
Prices
There are a free trial and three payment plans at Mailbird, starting from $3 per month for a personal plan.
#2. Front
Looking for something unusual? Front is a cloud-based email client for teams that unites your many accounts into one and has features that mimick team collaboration tools.
Platform: Mac, Windows, iOS, Android, web access available
Features
Shared inbox.

While a unified inbox is when you can see multiple accounts in one place, a shared one is when multiple people can see the same inbox. It's handy if you have a marketing team that needs access to the department email or you work with a virtual assistant.

Rules.

There are three types of rules in Front: team, individual, and company. Each helps automate repetitive tasks with different degrees of access.

Tags.

This option allows you to track the topic in discussions and to sort the messages accordingly. Team tags are available to everyone.

Inbox analytics.

A special feature that clarifies the performance level of your personal emailing or that of your team. You can have an overview of all the activity through a built-in analytical platform.

Inbox conversations.

Simply put, it is a

chat

app inside an email message. You can instantly discuss the topic and make quick decisions.
Pros
Front is a great tool for teamwork. The common inbox is easily shared between team members so you don't need to forward emails. The productivity of each team member is tracked through analytics, and various types of reports are available. The app has many useful third-party integrations that boost efficiency even more.
Cons
Based on reviews of the app, a lot of Front users agree that it can be challenging to get used to the "shared inbox" interface.

The app does not have

calendar

integration, which makes time planning rather inconvenient. One cannot start a conversation with the whole team at once. It's required to add the people to

chat

one by one.
Pricing
Four plans are available: Starter, Plus, Prime, and Enterprise. The first three have a free trial option. The price varies from $9 to $79 per user per month.
#3. Mailspring
Mailspring is one of the best email clients for Linux, which is a platform that's not frequently mentioned in terms of productivity apps. It's also a good alternative to Mac email software.
Platform: Linux, Mac, Windows
Features
Unified inbox.

All the messages come into a united center for further communication. Mailspring works well with all the major email

providers

.

Advanced search.

You can search through all the content across all connected accounts with Gmail-like queries.

Translations.

The software comes with the ability to translate English language messages into Spanish, Russian, Simplified Chinese, French, and German. It is also localized into nine languages.

Signatures.

The app has a special signature editor, which allows for creating customized endings to your messages.
Pros
The Mailspring app integrates well with one of the world's most popular email providers – Gmail. Another advantage is that the app does not require much battery power and is very memory-efficient, so you can use it wherever there's no access to a plug socket to charge your laptop.
Cons
Some SaaS products require you to create a user ID, and Mailspring is one of those. Otherwise, you won't be able to use the app.

While it is highly recommended by Linux users, its efficiency for Windows can be questioned since it does not

support

Microsoft Exchange.

Also, Mailspring does not have an address book.
Pricing
The basic version with many handy features is free. The Pro version with additional insights, detailed contact profiles, link tracking, and much more costs $8 per month.
#4. Loop
Loop pushes the boundaries of what is considered an email client. It's an email manager configured as a live online hub with an emphasis on chat-style communication.
Platform: Android, iOS, macOS, Windows, web access available
Features
Shared inbox.

The app was first created for

business

back in 2014. So it also provides opportunities for team collaboration. It is possible to assign an email to a colleague, see the email ownership, and hence distribute the workload efficiently.

Formal and informal chats.

One can use official language in case of need or add some funny emojis or GIFs to the side-chat discussion.

Email and attachment search.

The app has a search tool that looks through messages or attachments instantly.

Email synchronization.

Loop downloads the last two weeks' emails first. But one can opt to sync the inboxes with messages received one to three years ago.
Pros
Loop is a very productive tool for team collaboration, especially if your company has lots of customer emails incoming daily. It is possible to integrate a Virtual Assistant that would help to share the work and take some mundane tasks away. Moreover, you can deal with anything in real-time mode and send an email directly to the necessary chat.
Cons
Collaboration features work well only if the whole team is on board.

The app does not synchronize contacts on the Mac platform automatically.

And it also does not have a

calendar

integration.
Pricing
Loop has three pricing plans: Studio, Business, and Enterprise. The company is based in the UK, so the cost is calculated in GBP starting with £7 per user per month.
#5. Thunderbird
Mozilla Thunderbird is a free open-source email client that is actively used on Mac and other platforms.
Platform: macOS, Windows, Linux, web access available
Features
Smart folders.

Thunderbird has Unified

Inbox

, Sent, and Archive folders to keep everything organized.

Quick filter toolbar.

You can filter messages by people, tags, or other conditions and find what you need quickly.

Anti-phishing functionality.

Thunderbird informs you whether the link you are going to click takes you to a different website than the one mentioned. Also, the app will warn you if your personal information is being compromised.

Large file management. Make use of the online storage option for transferring Gigabytes of information conveniently.
Pros
The app is free and localized in many languages. It supports all the major platforms and is even available online. It is constantly being updated by its community of developers, and it detects scams very efficiently.
Cons
The open-source nature of the app might evolve into security issues.

The app lacks some useful productivity integrations.

It might not be enough for large business emailing.
Pricing
It's free.
Comparison of the Top Five Email Apps
App Name

Platforms

Features

Pros

Cons

Pricing

Mailbird

Windows

– Unified Inbox

– Filters (rules)

– Native calendar

– Advanced search (email and images)

– Signatures

– Email Tracking

– Snooze

– Clear design

– Convenient management of multiple email accounts

– Unified calendar

– Multiple integrations with productivity apps

– Regular updates and new features

– Windows only

Starting from $3 per month for personal use

Front

Mac, Windows, iOS, Android, web

– Shared inbox

– Rules

– Tags

– Inbox analytics

– Inbox conversations

– Team collaboration abilities

– Enhanced analytics

– Multiple third-party integrations

– Ease of assigning emails

– No option to start a discussion with all of the team

– Inconvenient shared inbox interface

– Lacks calendar

Price varies from $9 to $79 per user per month

Mailspring

Linux, Mac, Windows

– Unified inbox

– Advanced search

– Translations

– Signatures

– Power-efficient

– Great Gmail integration

– Requires Mailspring ID

– No address book

– Lacks support for Microsoft Exchange

The basic version is free; Pro version costs $8 per month

Loop

Android, iOS, macOS, Windows, web

– Shared inbox

– Formal and informal chats

– Email and attachment search

– Email synchronization

– Great for team collaboration

– Virtual Assistant

– Ability to send email to a native chat

– Collaboration features work only if the whole team uses Loop

– Lacks calendar

– Doesn't synchronize with contacts on Mac

Starting at £7 per user per month

Thunderbird

Android, iOS, macOS, Windows, web

– Smart Folders

– Unified

– Quick filter toolbar

– Anti-phishing features

– Large File Management

– Localized in many languages

– Supports all major platforms

– Efficient scam filtering

– Security concerns (open-source app)

– Not enough for large business communication

– Lack of productivity integrations

Free
Wrap Up
Out of many email management software options, we reviewed the top five with some sort of functionality that assists in managing more than one email account. Mailbird has two options for managing multiple accounts:
You can either connect all your email addresses to the app and have them appear in a sidebar for easy access,

Or you can go a step further and connect a few or all of your email accounts —

personal

or work-related — to a Unified Inbox.
Connecting the unified inbox means you can view all your emails and all your folders from different accounts in one place. You can still view each account separately, but enabling the unified functionality translates into the use of other features, such as filters, folders, email search, and even attachment search.
Mailbird is also priced the lowest out of the four paid options (sans Thunderbird, which is free) and has a trial period of 14 days so you can check out all the functionality.
Is Outlook an email client?
Yes, Outlook is an email client. It's functionality also resembles a personal information manager, notepad, scheduler, and contact and task manager. It is one of the many email apps that facilitate inbox management, such as Mailbird, Thunderbird, Mailspring, and others.
Which is the best free email client?
Some of the best free email clients are Thunderbird and Outlook. However, which one is best for you depends on personal preferences in features, security, and storage capacity. You can also try out paid software — most email apps, such as Mailbird and emClient, have free trial periods.
Is Gmail an email client?
Yes, Gmail is a type of email client called webmail, and it works online. It is also an email service, meaning you can register a Gmail address and use the webmail app to send, receive, and overall manage your emails. You can also connect the Gmail address to an email client.
Which is the best email client for Windows 10?
The best email client for Windows 10 is one that fully satisfies your personal or work-related email needs, such as features or storage capacity. If you have several addresses, go for apps that offer support of multiple email accounts.
---