Mailbird takes your privacy very seriously
Posted by Christin on March 19, 2015
UPDATED:
All points mentioned below have been addressed and every user is given the option to opt out of Mailbird's usage reporting. Mailbird also no longer sends name and email address to the License Management System.  
Please note, that any data collected by us has never and never will be used for any commercial purpose, outside of using it to improve Mailbird.
With the rising security and privacy concerns worldwide we thought it would be a good idea for us to share with our users what are we doing about it at Mailbird.
We have summarised everything in the form of FAQs which will help you understand how and why things work the way it is.
1. Is my data being encrypted?
The data sent from Mailbird to our license server and vice versa is done over a secure HTTPS connection. 'HTTPS' is one of the most secure communication channel widely used over the internet by various organizations specially finanical institutions like banks.
If you have ever seen a website address like this it is using a secure https connection.
This is done to protect your data from eavesdropping or snooping from unauthorized entities.
2. Can the Mailbird team read my mails?
We guarantee you that Mailbird can not ever read any of your emails, nor see your attachments, account passwords or anything else.
Mailbird works as a local client on your computer, and all sensitive data, such as emails, folders, contacts, attachments, account details etc. is stored only on your computer, and it is never shared with Mailbird or anyone else.
3. What type of data is collected by Mailbird on users and how it is used?
Mailbird receives the following info from its users:
a. Name
b. Email address
c. Data on Mailbird feature usage
Currently this info is being sent to Mixpanel and our License Management System.
Why Mixpanel?
Mixpanel is an analytics software which helps us understand how Mailbird is being used, which includes all new features we've added over time. This information allows us to understand and improve the experience people have with Mailbird, and it is how we can ensure to keep you happy with email and information management.
The data sent to Mixpanel is mostly added as an incremental property which means that the counter of a particular feature increases by one when you use that feature in Mailbird.
For example, if you use the email speed reader feature, the counter in Mixpanel goes up by 1 without telling us who exactly used it. This helps us collect anonymized information on Mailbird usage, allowing us to also choose the right priority and focus focus for new software developments in Mailbird. Here's an example that is cool, as it anonymously shows a number of times the Email Speed Reader feature in Mailbird was used. This tells us that we may need to make improvements to the speed reader feature, and that is great for being able to improve Mailbird for people all over the world.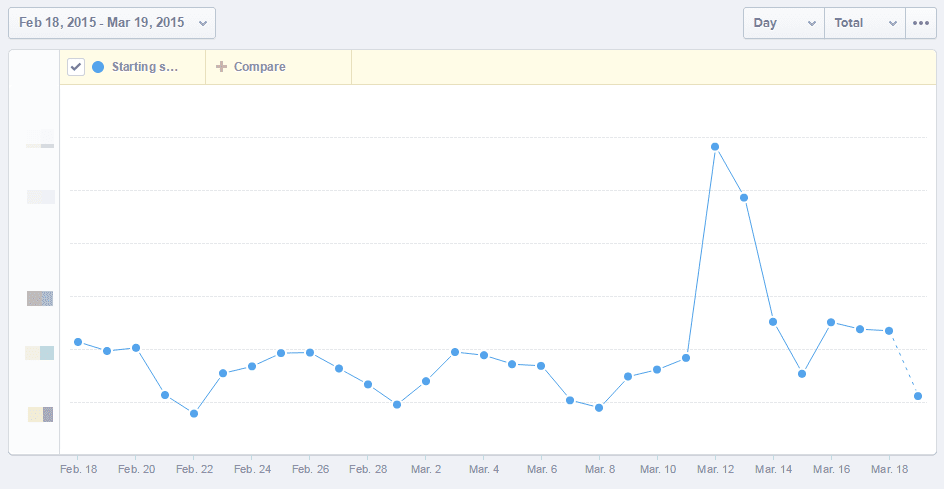 What will happen if we don't track this data? We will not be able to make data backed decisions on which feature to improve or develop, and it is in our best interest to continuously and consistently deliver the best experience of Mailbird in this way.
Why the License Management System? 
As the name already implies, using a secure License Management System has a purpose to check the status of Mailbird licenses. It allows us to manage whether your license is still valid/active or not. The computer specifications are also included here to streamline bug reporting, so we don't have to always ask for the version of Windows you are using when reporting a bug. The user sessions are also included here which allows us to understand the frequency of using Mailbird, it's easy and basic feedback that allows us to improve the learning curve and on-boarding process for new Mailbird users. The info allows us to ensure that your Mailbird license works the way its supposed to. Without the License Management System we wouldn't be able to differentiate between Lite, Pro and Lifetime users.
4. Do I have the option to opt out from data collection?
Yes, you have the option to opt out from data collection. You can decide if you would like to be involved in improving Mailbird or if you prefer not to.
In general, we want to emphasize the fact that any data collected by us has never been, and never will be used for any commercial purpose, outside of using it to improve Mailbird. At Mailbird we hold ourselves to strong ethics in respecting user privacy and security. We hope that is clear and that Mailbird is seen as a company that respects user privacy, so we can also continue building the best communication hub ever for Windows. That is pretty cool, and we thank all of you for being a part of this big journey.
We are fully dedicated to improving the user experience, so you can continue to enjoy Mailbird more with every new improvement and development we make with your help and feedback. A big thank you for that! It is our full intention as a company to serve all of our users well, as you are the reason why we can continue to make a positive impact on our ever-changing interaction with online communication and the technologies we use today. You are the reason why Mailbird can continue to be a great email company, who has every intention to put users first.
If you have questions or ever feel that we can improve something, we are all ears and ready to take action based on your feedback. Please feel free to leave your comment below, and again thank you giving Mailbird your vote of confidence. You are awesome!
---