Effective Inbox Management: Are You Using the Right Email Tools?
Posted by Anastasia Kryzhanovska on July 22, 2020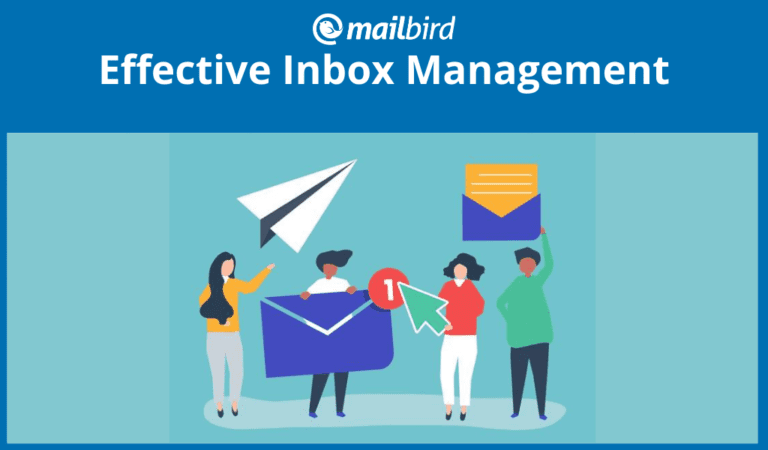 If you use your inbox actively, you likely get dozens of emails every day. And if you use an account for work-related purposes, that number is probably closer to a hundred. How do you deal with all that correspondence and not waste all your work time just on emails? The quick answer is: you need inbox management tools to deal with emails effectively and spend your precious time productively.
In this article, you will find out what is inbox management and seven different tools you can try out right now and incorporate into your personal best practices of online communication.
What Is Inbox Management

?
It is anything you do to your inbox, including reading, writing, and sending emails, creating folders, creating filters, and searching for information with them — basically, using any feature your desktop or webmail client provides.
Your inbox is a space that stores valuable items, information, receipts, and sometimes a lot of junk. And if you haven't tidied it in a while, it probably has more junk mail than any valuable information. Like any space, it needs a proper management system setup, so you won't need to check the inbox as often and there will be less junk to clear out.
How much of a problem is it? According to different statistics (like this one from Radicati), on average, employees receive anywhere from 80 to 100 emails daily with around 10% of that being spam mail. If you have only one personal account, while the amount of spam is probably the same, you probably receive a lot of newsletters and commercial emails with discounts and offers. So much so, it can be hard to distinguish emails from your bank, receipts, and software updates in all that pile of correspondence.
Do you need any inbox management training to deal with that? No, you just need the right set of tools to optimize your email organization.
How Can You Benefit from

Inbox Management Tools

?
Some people work best in a state of disorganized mess, and maybe it's possible when you have all the details of work in front of you, in physical form. If it's emails we're talking about, thousands of words can blur into a blob of communication clutter.
Different inbox tools help transform the wordy clutter and optimize the amount of time you spend doing email. They can also:
Decrease the number of times you need to check your inbox.

If you have an organized system of email folders and rules that send emails to those folders, you can prioritize the email-related tasks and check your inbox only when you have time allotted for it.

Spend less time handling your emails.

Some tools automate the sending of emails, provide use analytics, and even help prioritize mail by

snoozing messages

that can wait, ultimately saving your time.

Organize your inbox better.

Even in personal use, you receive different types of correspondence. Email apps allow you to label these types and put them into folders so they don't hang out in the inbox.

Declutter the pointless promo materials in your inbox.

All the newsletters and other commercial emails you don't even remember subscribing to can also be taken care of with the help of

inbox management tools

.
That's how handy email tools are in general. As for what benefits you get from using a particular app, let's review some of them individually.
#1.

Inbox Management

— Mailbird
Mailbird is an email client that supports multiple email accounts and has several built-in and integrated features for optimizing your inbox management experience, maintaining productivity, saving time, and reaching Inbox Zero at a no-stress pace.
Highlights
Unified inbox.

You can connect several accounts to one inbox to view all emails there or use functionality such as folders, filters, search, and others across all accounts.

Native inbox management features:

Calendar.

You can

create events

, schedule meetings, and use it as any other calendar — only this one is right in your email app and can open in a sidebar, so you can reply to emails while having your schedule handy. It also synchronizes with the events you're invited to by other Mailbird users.

Search.

Mailbird has simple search and advanced features that use operators to find what you need. On top of that, you can enable attachments and perform a search for them separately.

Folders.

An essential

organization feature

that allows you to distinguish between different types of emails you receive.

Filters/rules.

Another essential that can also save time and automate some email processes. For example, it allows you to select all emails from an address and chuck them into a related folder, as well as

create a rule

to send all mail from that address into that folder automatically.

Send later.

You can schedule emails to be sent at a more appropriate time.

Email tracking.

This feature allows you to see if your email has been opened and by whom.

In-line reply.

You can avoid missing an important question in an email by

replying to it inline

.
Multiple integrations.

Mailbird has an extensive list of integrations, including FollowUp.cc, Unroll.me, and Moo.do, to help you get the best out of your email experience and connect to various communication and productivity tools.
Pricing
The prices start at $3 per month for a personal package. There is also a trial period so you can try the app for free.
#2. Task Management — Moo.do
Moo.do is a great app to pump up your Gmail inbox management. It combines a task manager, a calendar, and interactive drag-and-drop features to better organize your day.
Highlights
Kanban boards.

This task management functionality allows you to lay out your day in a more digestible way. You can customize and format the view however you want.

Outliner.

You can outline your day or week and tag emails that relate to a particular item on the outline.

Works offline.

If the Internet connection is failing you, you can still use Moo.do in the offline mode.

Data encryption.

Moo.do uses client-side encryption to make sure your data is protected.

Works only on Gmail.

On the downside, this practical little tool works only with Gmail accounts.
Pricing
Basic: free

Premium: starting at $4 per month
#3. Timed Reminders — Followup.cc
Followup.cc is a handy tool if you send a lot of time-sensitive emails — for example, those that require you to (as the name rightly suggests) follow up with additional information or a reminder for the other person to keep in mind a crucial piece of info or simply reply.
Highlights
Setting reminders.

You can schedule a followup email that will remind the recipient of the original one.

Automatic followup.

You can choose a template for the app to automatically follow up an email without your input.

Send later.

You can schedule any email to be sent at a time that you deem appropriate.

Open tracking.

You can tag emails to see if they were opened and by whom.
Pricing
Starter: $18/month billed annually

Professional: $29/month billed annually

Salesforce edition: $40/month billed annually
Note that if you choose to pay monthly, the prices are slightly higher.
#4. Inbox Cleanup — Sanebox
Sanebox is primarily an inbox cleaner that uses AI technology to sift through all your emails and sort them by their level of importance.
Highlights
Smart filtering.

It will find all the unimportant emails and send them into a SaneLater folder so you can deal with them later.

One-click unsubscribe.

It provides a folder where you can drag-and-drop emails you want to unsubscribe from. Sanebox will do that for you.

Snooze.

You can send an email to sleep and have it appear at the top of your inbox later when you're ready to deal with it.

Response tracking.

You can tag an email with a time by which you expect the other person to reply to it, and the app will notify you if the recipient didn't do that — a handy feature when you're setting up a meeting.
Pricing
Snack: $0.16 per day billed annually

Lunch: $0.27 per day billed annually

Dinner: $0.82 per day billed annually
Note that if you choose to pay monthly, the prices are almost twice as high.
#5. Email Use Analytics — EmailAnalytics
EmailAnalytics is quite a straightforward name. The app facilitates tracking email productivity of your team members and sends you daily reports, which is one of the more underestimated inbox management best practices at work.
Highlights
Real-time analytics.

The reports are always up to date with fresh analytical data about email activity. The metrics include:

Sent/received

Email traffic

Average response time

Average word count




Team management.

If you have a lot of people with different roles on the team, you can segment them into groups.

Works with G-suite only.

A potential downside is that the tool only works with Gmail accounts.
Pricing
The price is $5 per month for one user. There are discounts if you have more than five people on the team.
#6. Pipeline Management from the Inbox — Streak
Streak is a Chrome extension that helps you manage your pipeline from Gmail. It allows for customizing the pipeline to your needs. For example, Resume > Interview > Hired.
Highlights
Pipeline autopilot.

The app automatically captures data from your correspondence related to the pipeline.

Email tracking.

You can see if someone has opened your message and even receive notifications about opens.

Thread splitter.

You can create topical threads for a better inbox management.

Send later.

You can schedule an email to be sent at a more appropriate time. For example, if the other person is in a different time zone.

It's Gmail-only.

Unfortunately, it only works with a Gmail account.
Pricing
Free: If you just want to try it out, it is free with limited features.

Solo: $15 per month billed annually

Pro: $49 per month billed annually

Enterprise: $129 per month billed annually
Note that if you want to pay monthly, the rates are 20% higher.
Effective Inbox Management: Conclusion
If inbox management ever felt daunting for you, try connecting a few tools to make your time spent on email more productive. Some emails can be sent automatically, and some can be snoozed for later, and you certainly need a folder organization system to file different types of correspondence.
You can start by downloading Mailbird and trying out all the handy features for managing incoming and outgoing emails. And then connect it to various integrations to spruce up productivity.

How do I manage my inbox?
You can start inbox management by learning all the features your webmail or desktop email client provides, as well as its available integrations. Start categorizing your emails automatically into folders by using different rules, and try out the Snooze button.
What does email management mean?
It is anything you do to your inbox, including reading, writing, and sending emails, creating folders, creating filters, and searching for information with them — basically, using any feature your desktop or webmail client provides.
How do I declutter my inbox?
You can declutter your inbox by using folders and creating filters for emails that are supposed to go there or filters for emails you want to delete. You can also connect an app to your inbox that will help you unsubscribe from newsletters in bulk.
How do I tame my email inbox?
Top three tips for taming your inbox:
1. Act on every email: read, archive, delete, label, snooze.
2. Use filters to deal with emails in bulk.
Unsubscribe from newsletters you don't read, even if you intend to some day.
---