The Best Alternatives to Apple Mail for Windows 10, 11, and Others in 2022
Posted by Christin on October 25, 2022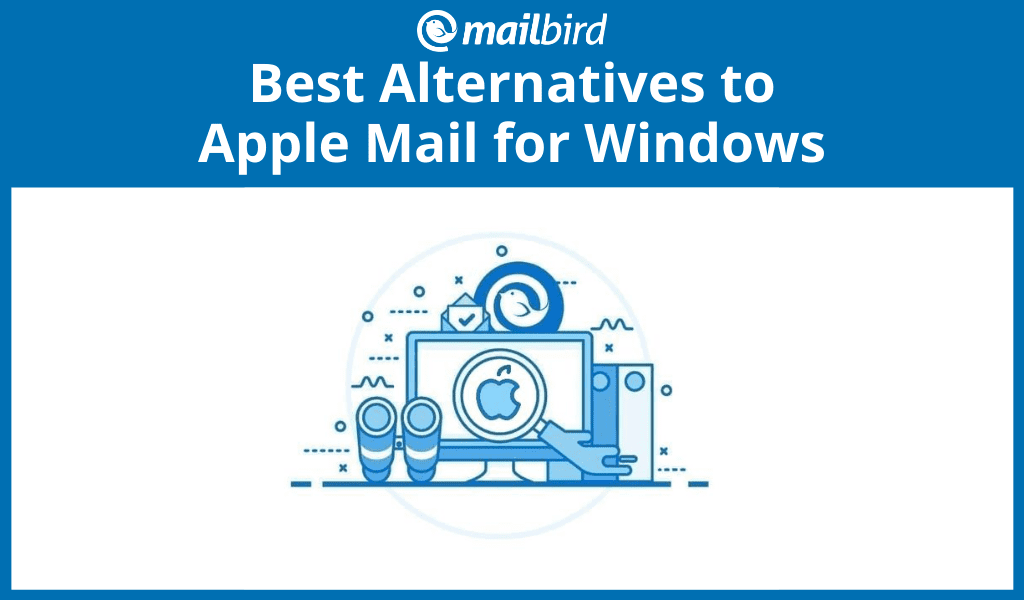 If you are anything like the rest of the world's email users, you have probably found an amazing email client that can handle anything you throw at it. But sometimes you may be forced to look for a new client due to different circumstances. It may be that your current client is not being updated by its developers anymore, or it is not compatible with the OS of your new notebook or computer. Today we'll review the best alternatives to Apple mail for Windows 10, 11, and other popular versions.
Let's get into the best Windows alternatives for these beloved OS X email clients.
Best Apple Mail

Alternatives

for Windows
Mailbird

Microsoft Outlook

em Client
Thunderbird
Mailbird
Mailbird was inspired by a Mac email client called Sparrow. Our founders loved the email client that was acquired for $25 million by Google in 2012, and they decided to build a Sparrow-like app for the underserved Windows market. Mailbird was born and now it supports all popular Windows versions up to 11.
There's no Mailbird for Mac just yet. But many of our users who came from Mac searching for Apple Mail for Windows fell in love with Mailbird for its customization options, visual clarity, and a better overall experience that will allow you to become a superior email ninja.
Our developers put a lot of effort and focus on a super clean and intuitive UX and UI to give people a unique alternative to Outlook. Multiple email account management is ridiculously easy in Mailbird. Storage management is also a breeze with the ability to coordinate with Dropbox, Google Docs, Evernote, Asana, and more.
We have also launched the Alpha of our brand-new Contacts Manager that allows you to import and export contacts from your current email provider and keep your entire network organized. It will sync with Outlook and Gmail and combines unique and known features to unify all of your online contacts with ease.
Mailbird Is Like a Mac App on Windows. Try It Out Now!
You are also able to sort and search correspondence via profile photo or customizable folders and labels, ensuring an efficient system. If customization is what you care about, you will love Mailbird. You can customize pretty much everything, starting from the ability to customize account icons, font formats, and color schemes, along with shortcuts, languages, email notification sounds, and dark theme options.
The setup is intuitive. The design and interface of the app are made for those who like beautiful productivity, with new features constantly being added to improve the overall experience. We have added advanced touch support for all your devices, third-party apps for your social networks, and a speed reader to allow you to cut your email reading time in half.
Why it compares:
Host of third-party integrations

Customization

Overall experience
Microsoft Outlook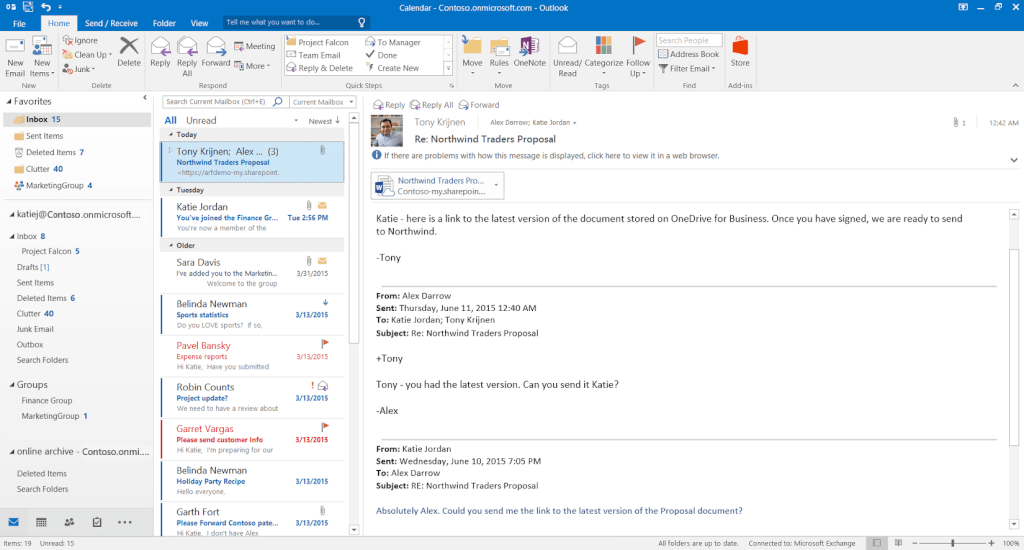 Outlook is another alternative to MacMail for Windows. This email client has been around for ages and has consistently ruled the game in terms of a functional email program. You can download Outlook as a desktop client (if it's not already on your computer), but you also have the option to use the virtual suite on its own.
Outlook integrates with the rest of the Microsoft Office Suite smoothly, providing an incredibly productive option for those who like having the whole package. For multiple account management and contact integration, Outlook is strong because of its connection to the Microsoft Office Suite. Setup for Outlook on its own (and the entire suite) is simple enough but isn't as intuitive and clear-cut as it could be.
Also, the calendar app has been neglected for a few years, making it weaker than other email clients. Organization and customization are decent in Outlook but are not at the forefront of worthwhile features. MS Outlook can be overwhelming, especially for previous Mac users who are used to clean and intuitive UX and UIs from their apps.
Why it compares: More comprehensive alternative to Apple's Mail app
eM Client
Customization is better in eM Client than Microsoft Outlook. Nevertheless, it is very similar to Outlook. Contacts and calendars integrate well. The setup is easy, and overall, the app supports incredible customization and add-on features, meaning that just like Airmail 3 and Spark available for OS X or Mailbird for Windows 10, you'll be able to adapt your client to your changing needs.
The interface is stylish, clean, and incredibly natural to use, making the experience pleasant and mostly hassle-free. One could argue that the app isn't quite as modern as other email clients out there, but if you love the base design of Microsoft Outlook coupled with the customization available in Mac apps like Airmail 3 and Spark, you'll love eM Client.
Why it compares: Customizable like Airmail 3 and Spark
Thunderbird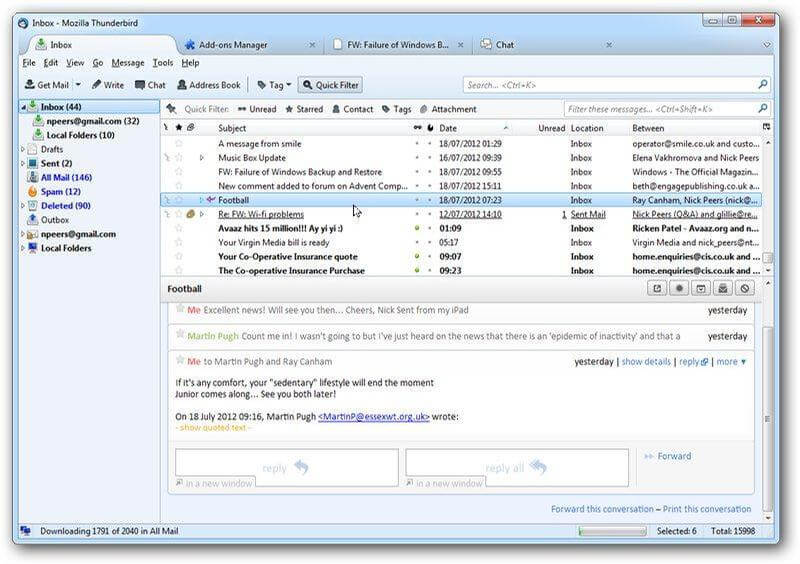 Similar to MS Outlook, Thunderbird has been around for quite some time already. And even though Mozilla has suspended its development, it is still a very popula choice for people looking for a reliable and free email client.
As with Mailbird and eM Client, multiple account management is also an option here. Import and export of contacts is fairly simple. While Thunderbird doesn't come with an intuitive calendar integration, you can download the Lightning add-on to create a calendar you can use in conjunction with the main app.
There are some alternatives to Thunderbird that are very popular. Their features and integration capabilities are much more than thunderbird.
The setup process for Thunderbird is easy. The overall interface is a bit more rough around the edges than Apple's Mail app. This may matter for some users making the big switch. But Thunderbird offers endless customization, allowing users to create an email experience that is just right for them — something that even the best Mac apps haven't completely mastered (yet).
Why it compares:
For use on both OS X and Windows

Individualized experience
Moving from Mac to Windows
Many Mac users face this exact situation. They have to (for whatever reason) switch from Mac to the Windows 10, 7, 8, 11, or Linux operating system. You may be able to install the Windows-compatible version of your current email client onto your new OS. Some clients are Mac-specific though, and you will need to find the best Windows alternative to your Mac email client.
We decided to put together a list of our favorite Windows alternatives to OS X email clients. All the email clients below support IMAP and POP3, and we didn't factor in pricing when considering these apps because picking the best email client for gmail or any other email provider is all about features, not cost.
Please also remember that most of the Windows email app alternatives on our list are also available on Mac.
First, let's dive into some of the best options available for Mac devices to see what Windows 10 and 11 apps are up against.
Best Mac Email Clients
What is the best mail app for Mac? Here are the best candidates:
Apple Mail

Airmail 3

Spark
Apple Mail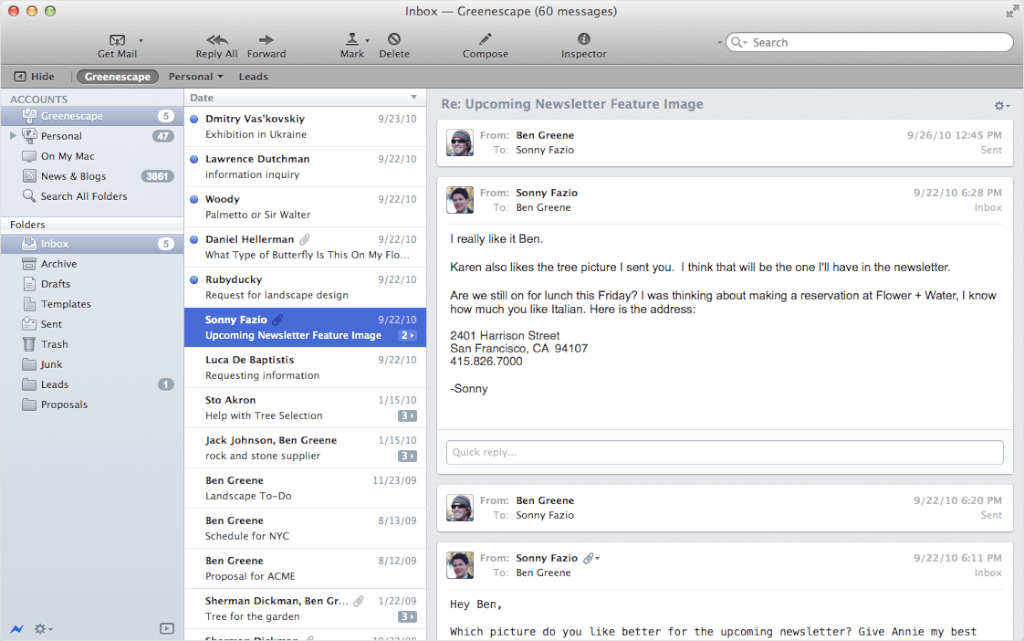 Source: Macworld
Apple Mail is the default email client on all Mac computers for users with set up iCloud accounts. It's a favorite of many die-hard Apple loyalists and it's one of the best mail apps for Mac. The Mail app offers basic features like the ability to intuitively manage multiple email accounts and organize your inbox as you please.
Along with the added bonus of integrating seamlessly with other Apple products and apps (the main draw to using Apple Mail), the interface is clean and user-friendly. It does remind us a little bit of a modern version of Outlook, just less cluttered.
Why it's popular:
Clean design

Intuitive integration with Apple products
Airmail 3
Source: iLounge
Airmail 3 is another very popular OS X email client among users with set up iCloud accounts. The main reason is its combination of a beautiful, streamlined interface and a completely customizable experience.
For Apple lovers who preferred the Mail app's intuitive design but want more functionality and productivity, Airmail 3 is the winner. It offers just what you need from an email client while adding a touch of improvement (like third party integrations with Asana and Trello) that has kept it a consistent crowd pleaser over the past few years.
Why it's popular:
Productivity powerhouse

Customization
Spark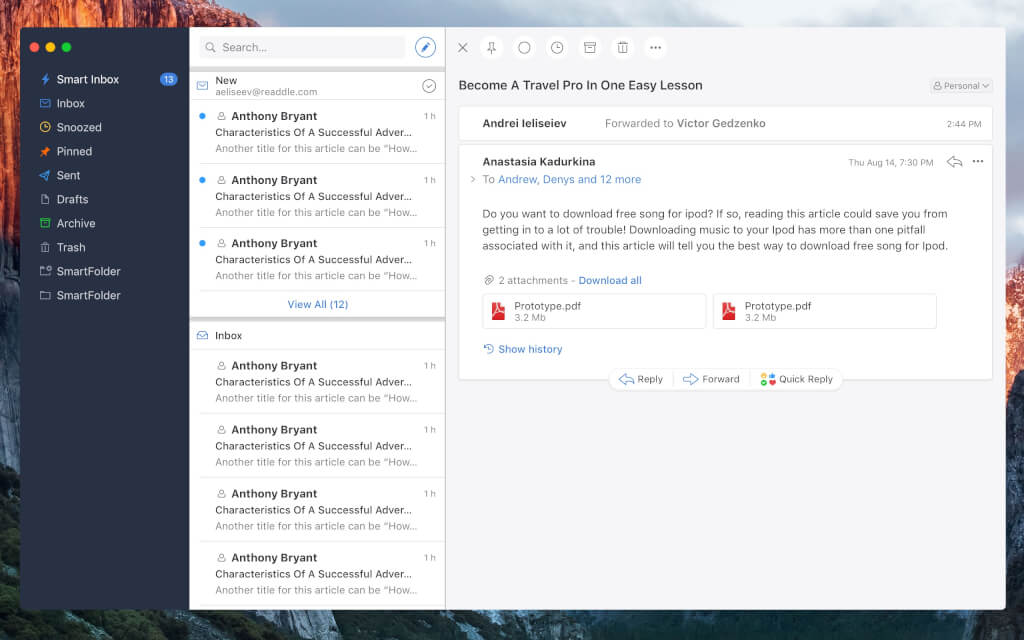 Source: iDownloadBlog
Just like the other Mac contenders on this list, Spark has an easy setup and streamlined interface. The main reason it is one of the most-downloaded OS X email clients is that it can integrate with nearly any other third-party productivity tool you might use (Evernote, OneNote, Dropbox, Google Drive, Pocket, and more).
There are dozens of add-on widgets you can choose from to personalize your experience, along with Spark's standout feature, a smart inbox, that categorizes your emails intelligently.
Why it's popular:
Complete customization

Comprehensive third-party integrations
So, Which Windows Client Is Best for Your Switch?
At the end of the day, choosing the ideal alternative to Apple Mail for Windows will come down to two things: (1) Your daily use and (2) the features critical for your productivity. Finding an app that works with you, not against you, is key. Hopefully, the list above helps you find the best email client to support you making the move from Mac to Windows.
What do you think? What is your favorite Windows email client?
How do I get Apple Mail on Windows?
There is no Apple Mail version for the Windows platform. However, you can continue using your iCloud account on Windows. Simply download a Windows email client, such as Mailbird, and sign in with your Apple ID email address and password.
Can you use Apple Mail on a PC?
You can use Apple Mail on your PC by signing in to your iCloud account with Mailbird. Download Mailbird here and add your iCloud email account to use your Apple Mail on a Windows PC.
How do I access my Apple Mail?
If you're trying to access your Apple mail on Windows, you can open icloud.com in your browser of choice and log in. If you favor using an email client, you can download Mailbird and add your iCloud account by signing in with your Apple email and password.
How do I set up iCloud email on the Windows 10 Mail app?
Open Mail, and click Add Account. Select iCloud and enter your Apple ID email address, your name, and your Apple ID password, then click Sign in. Your Apple Mail for Windows is now set up. Click Done.
What email client can I use on Windows 11?
Mailbird is fully supported on Windows 11. It even supports the touchscreen technology that comes with the latest Windows version. If you're looking to switch to Windows 11, try Mailbird for free.
---