Windows 10's Best Tips Tricks and Features
Posted by Jason Ephraim on January 21, 2016
We are going to show you how to get more out of Windows 10
Windows 10 has been around for several months now and millions of users are using it globally after making the switch. Microsoft went back to the basics by re-introducing its start up menu alongside several handy features. With new features comes new tweaks and tricks and we wanted to share with you so you can get your system running more efficiently and better than ever.
A Guide To The Best Windows 10 Tips, Tricks & Features
How to create multiple desktops
Creation of multiple desktops running side-by-side is one of the best windows 10 tricks to help free up the amount of clutter on your desktop. It also helps keep different individual workflows separated.
Click the task view button in the task bar (it's located to the right of the search box) or press windows key + tab.
A button on bottom right corner appears to create or delete desktops and switch between them. The 'x' button is used to delete the virtual desktops
For a more detailed guide on using this feature, check out Cnet's awesome post here
Personalize the start menu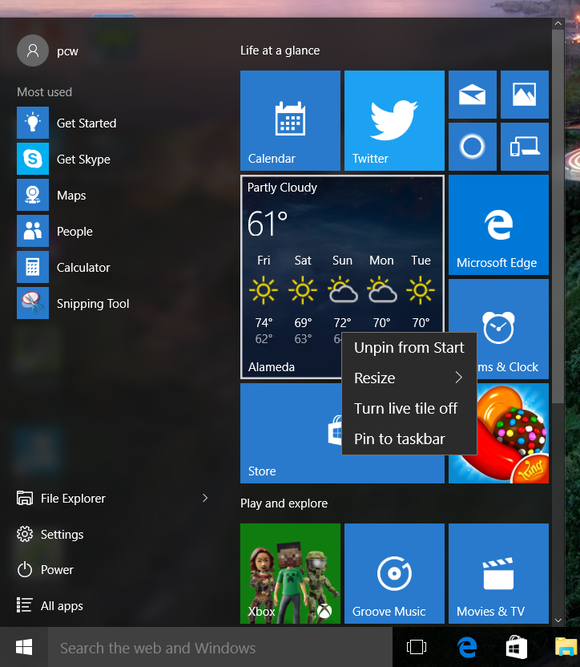 The tiled user interface is accessible in the desktop mode. The arrangement of the live tiles is either random or most accessed; the tiles can be rearranged easily if you are not a fan of the current outlook.
Move the cursor to the tile location.
Right-click on the touch pad.
Several options appear where you can resize the tile, unpin the tile, turn off the tile or pin the tile to the taskbar.
PCWorld did a great job in covering all the things you can do with your Windows 10 start menu in their post.
Meet Cortana!
The new voice assistant works even more like "siri" from Google through its personality and predictive capabilities. Cortana is an optin service, therefore it needs to be activated manually. You can do this is by clicking on the search box; a pop-up window appears with Cortana icon, which looks like a circle. It is located immediately above the windows logo. By clicking on the icon, Cortana will inform you that it uses chargeable data. Click 'I agree 'when you are ready.
Using a compatible microphone, you can issue commands directly to Cortana. 'Hey Cortana', one of the windows 10 tricks, is a common hot word used to start it up. You can set your own by clicking the notebook icon in the sidebar menu of Cortana and choosing the 'settings' option. An option to turn on 'hey Cortana' is available at the middle of the command box. To personalize the PC voice command, you have to train Cortana to recognize your voice by clicking on 'learn my voice' button at the settings drop box.
BGR covered all the cool things you can do with your new assistant, Cortana here
Take notes with Microsoft edge
The redesigned web browser by Microsoft is a huge step forward for people that don't like IE. It is slick, speedy, and even has the ability to annotate websites. You can annotate web pages easily by going to the toolbar option and clicking on web note button. Marker pen, highlighter and eraser options appear which are one of the windows 10 tips you can use on the screen.
Microsoft has a free guide you can download to find out about all the features of it's new browser
Unlocking your computer with fingerprint
"Windows hello" is a bio-metric feature designed to increase the security of your PC. However, only devices with the necessary hardware can enjoy this feature. Search "settings app" from the search option, choose accounts, and then sign in. You will see the security options where you can set up your prints and enable the feature.
You can read more about Windows 10's Hello feature in TechRepublic's post covering it's release
Disabling automatic updates
Microsoft wants your PC to occasionally update automatically, but maybe you would prefer to do things manually. No problem. There are several windows hacks out there to disable automatic updates, the most common one being:
Click on the start menu.
Select settings option.
Click on 'update and security.'
Choose on 'windows update.'
Choose 'advanced options.'
Click 'notify to reschedule restart' on the drop down box.
Or alternatively
(win + R) Open run command and type services.msn and hit enter.
Choose windows update service from the list.
Under the "general" tab, disable the "start up type" option.
Restart the PC
For more information, Howtogeek has written a detailed guide
Advanced Windows 10 touch gestures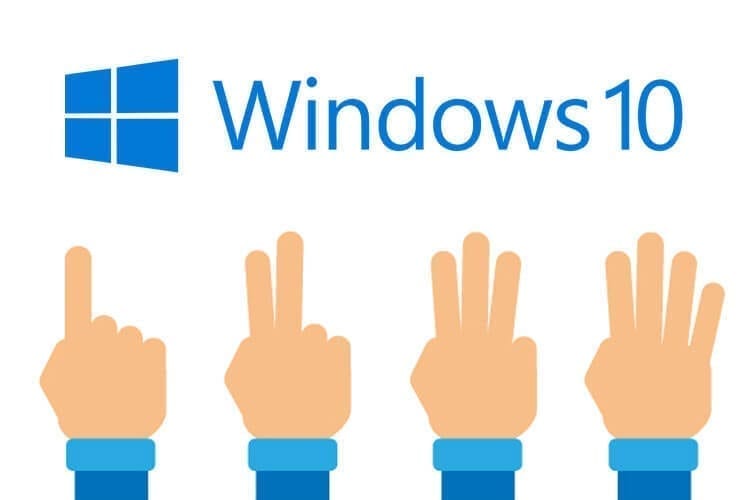 Navigation through Windows 10 can be made so much easier if your PC has precision touch pad capability (similar to the ones on Microsoft surface tablets). To check if your PC has the capability, click settings > PC and devices > click mouse and touch pad. If your PC is compatible, your PC has a precision touch pad statement will appear. Windows 10 tips for getting the most out of this feature include:
Three fingers vertically up: open task view. It shows all open windows.
Three fingers vertically down: open desktop.
Three fingers flicked to the left: returning to the immediate previous opened app.
Three fingers flicked to the right: the shift from previous to the current app.
Three fingers tap: it opens Cortana assistant.
Here is a great post by Windows Central on the gestures every Windows 10 user should know.
Easy shortcuts for windows 10
Win – opens start menu
Win + G – opens the game bar options
Win + X – opens start button context menu
Win + H – opens share content
Win + A – opens action center
Win + I – opens settings menu
Win + E – opens the default windows explorer
Win + L – This locks the PC
Win + shift + left/right – move the current window documents to the next.
Win + ctrl + f4 – shutting down the current desktop
Gizmodo's Ultimate Guide to Windows 10 Keyboard Shortcuts is a must-read if you want to learn more.
Stop windows 10 from invading your privacy
The Microsoft service agreement states that it will preserve personal information including private communications of all users. By installing the operating system, you are also agreeing to all their terms and conditions. If you would rather not send your information, there exist several windows hacks you can use to opt out of these terms:
From the settings option, turn everything of your concern off from all the 13 different screen selections. From the "general" section, a query if you want the available apps to access your camera, messages and other options, this is turned off at will.
Change Cortana settings by turning off all of its features since it feeds all its information to Microsoft.
The final change is the most essential and needs to be done to verify the whole process. At https://choice.microsoft.com/en-gb/opt-out, from the two selections "personalized ads whenever I use my Microsoft account" and "personalized ads in this browser". Turn all the options off. This will guarantee that all your sensitive information remains anonymous to any third party.
Arstechnica has an updated post about more things you should know about Windows 10 privacy settings, and how to protect yourself.
Do you have a trick or feature we missed?
Share it in our comments section! We'd love to hear from you. How do you use Windows 10?
---