Gmail Alternatives: Top 7 Web-based, Ad-Free Options That Respect Your Privacy
Posted by Isaac Dumet on July 8, 2021
There's a good reason why Gmail has over 1.8 billion active accounts. Gmail accounts come loaded with perks, numerous integrations, and also, they have a really good interface. However, there is a catch — you have to trade in your online privacy to use one.
"I don't particularly like that Gmail scans your emails and notes which ones you open and which get sent to spam, but I guess privacy is becoming a thing of the past."

– Tena
"There is also a lot of advertising on the side that might be called an infringement of privacy."
Here's the thing — plenty of alternatives to Gmail exist. Several of them have similar or better features. More importantly, many of these alternatives respect your privacy.
Join us in this deep dive into seven of the best Gmail alternatives to consider. As a bonus, we also included an honorable mention. It lets you keep the perks of your email account while also providing a way to easily manage multiple other accounts.
If you're in a rush, we've put together the following TLDR table of the seven Gmail alternatives covered in this post. Each of these options does not harvest and/or sell your data.
Note: This article was originally published in December 2020 and updated in July 2021.
| | | | | | | | |
| --- | --- | --- | --- | --- | --- | --- | --- |
| | Zoho Mail | iCloud Mail | Tutanota | Posteo | StartMail | Runbox | Mailfence |
| Privacy | | | | | | | |
| Security | | | | | | | |
| Affordability | | | | | | | |
| Support | | | | | | | |
| Customization | | | | | | | |
Gmail alternatives comparison table
Why You Would Want an Alternative to Gmail?
Gmail is popular because even its feature-rich free version integrates seamlessly with nearly any app and web-capable device. However, that's not to say there aren't issues with it.
Concerns about privacy and Gmail's own limitations are the two main reasons you'd want an alternative.
Gmail and privacy concerns
Google is THE giant of internet-related services and products. Its profits rely on harvesting mountains of data and selling it to third parties. This is also why the company continues to be so unconcerned about user privacy.
The company did announce it would no longer read your emails for ad personalization (for paid accounts) in 2017. But that doesn't mean it promised to stop reading emails altogether.
It makes its money from your data. Why would it put your privacy first at the expense of profits?
Gmail limitations
A Gmail account is the plain white bread of email accounts — it's great on its own, but it could be enhanced in so many ways.
Here are a few of the areas where Gmail is lacking:
Missing security features. Gmail has two-factor authentication (2FA) but no end-to-end encryption. It just isn't in Google's DNA as doing so would harm its data collection.
Limited storage. Your basic Google account has 15 GB of storage space. That's per account, not Gmail specifically. The storage space is split between your Gmail, Google Drive, and Google Photos. For more storage space, you have to pay.

No official desktop app. Gmail is web-based, needing an active internet connection and open browser to use. You can create your own Gmail desktop app, but it'll lack most of the benefits of a dedicated email client.
Cost. Most of Gmail's paid options can be very expensive when put side-by-side against competitors. Even the free options are costly when you take into account how Google recoups the cost.
Inability to integrate your inbox with other (non-Gmail) email addresses. It can be a huge waste of time to constantly switch between browser tabs and apps to view emails in different accounts.
Our Criteria for Selecting the Best Alternatives to Gmail
The choice of switching email programs shouldn't be made lightly, especially when a package offers so much to business and individual users.
To give the best picture of each app, we'll be looking at five aspects of each Gmail alternative.
Privacy
Valuing your digital privacy is the main reason to switch from using Gmail. It's the first consideration we've made when looking at alternatives to Gmail. All of the options we're presenting do a better job of respecting your privacy than Gmail.
The criteria that go into the scoring are:
Open-source code. Open-source means that the software code is public. This is good if the service has a large community of developer supporters. They can search for vulnerabilities and respond to issues. The reason it's part of privacy is because you'll be able to see exactly how the email program collects data and what exactly is collected.
Privacy policy compliance. European-based services have to follow the GDPR policy by law. This policy denotes individuals' control over their personal data. For example, users can inquire about what data a service has about them and, in some cases, request to erase it. Gmail states that it complies with the GDPR policy and values privacy, but its track record isn't the best.
Security
When it comes to security, strong anti-spam filters are a big plus, but that's only part of it.
We'll be looking to see if each Gmail alternative has:
Multi-factor authentication.
Encryption (PGP or end-to-end)
Affordability
Two things go into this consideration: actual financial cost and cost to your attention.
Cost of use. A basic Gmail account is free, but it's limited in terms of what it can do. Paid options exist, but they get expensive depending on the number of users. Therefore, we'll be comparing the cost of each email program to Gmail's paid tiers to see how they stack up.
Amount of ads. Gmail is better than most free email providers, as the ads it shows users are mostly unobtrusive, only appearing in the Promotions and Social tabs of the inbox. However, dealing with ads is still a cost to your attention. We'll be looking at how each Gmail alternative handles ads in regards to volume and where they are placed.
Support
Sometimes a product or service doesn't work as intended. That's usually okay, as long as the issue is quickly resolved. This is especially important if you're paying good money for it.
For each alternative, we looked at the type of support options provided. More options mean more ways to get your issue resolved. We also looked at customer testimonials regarding the support team for that alternative. If the customer experiences are negative, then we also looked at how the company took steps to resolve the complaints.
Customization
To have full control over your inbox, you'll need full control over your email account. That's why there are two things we're looking at when it comes to customization:
UI customization. Your email account is a lot like your wallet — it's mostly utilitarian. As you'll be using it multiple times a day, you'll want something you can easily customize the look of.
Custom domain availability. If you are looking for an email service for your business, having a custom domain (such as name@company.com) can take your professionalism up a notch. If this feature isn't available, you will have the service name after the @ sign. In most services it is available, but the feature costs an extra fee per account or is included in a paid plan.
Honorable Mention – Enhancing Multiple Email Account Management
Before we cover the top seven alternatives to Gmail app for pc, there's something you should know. Regardless of the choice you make, your email account can be further enhanced.
All these options (including Gmail) lack comprehensive multiple email management solutions.
The best way to get both the benefits of your newly chosen Gmail alternative AND easy inbox management for all your accounts is through Mailbird.
Let's take a moment to cover how this works.
Mailbird – Best For Managing Your Emails All In One Place
Why Mailbird stands out:
Unified Inbox features lets you easily manage multiple inboxes
35+ Integrations
Supports IMAP, POP3, and Exchange-enabled email address (all account options on this list)
Capterra

4.5/5
(282)
G2

4/5
(60)
CNET

4.1/5
(42)
Mailbird is an email client specifically designed to make managing multiple email accounts easy. It automatically adds any email account (like those from this list), even Gmail if you're not ready to make the switch yet.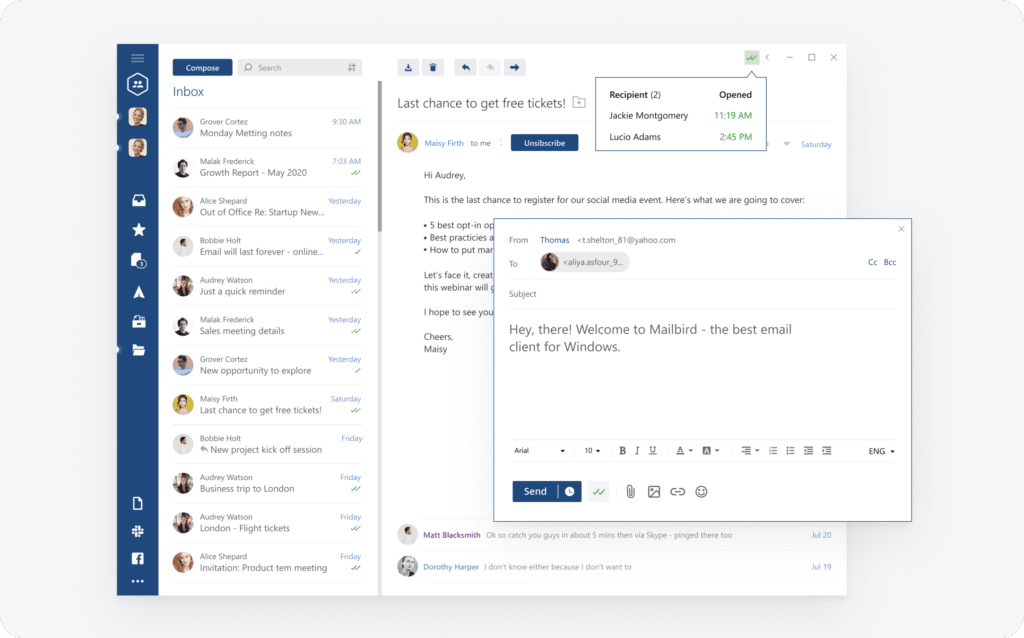 Privacy
Unlike web-based mail, Mailbird stores all your private data (emails, account details, etc.) on your computer. Even Mailbird staff members are unable to access your information.
One thing to point out is that Mailbird's source code is not open-source.
Security
You also gain access to smart folders you can customize. Basically, they look for keywords in the incoming email and sort them accordingly. The smart spam filters also send spam and suspicious emails where they belong — the Trash bin.
Affordability
There are only two price plans but a few payment options when it comes to Mailbird.
Mailbird Personal. For $39/year or a one-time payment of $99, this plan comes with unlimited email accounts, unified accounts, snooze email, and 35+ app integrations.
Mailbird Business. You have the option of paying $59/year to get access to all the benefits of a Personal account, plus email tracking, Exchange support, priority support, and more.
Support
Mailbird can't speed up or improve the support experience of your email account provider. What it can do is provide a knowledge base, FAQs, and online chat. There's also an email help desk available 24/7.
Customization
Mailbird minimizes the amount of tab switching you'll be doing. It has a lengthy list of popular social media, business productivity, and collaboration apps it seamlessly integrates with. As you are managing all of these apps from a single desktop client, your memory footprint is dramatically reduced compared to if you had all the apps opened on your browser.
As for the UI, the layout and themes are highly customizable. Customization options also exist for notification sounds, background themes, and more.
Starting from $39/year, or a one-time payment of $79 for a Personal account
Yes, it has a 3-day free trial
Unified Inbox
Supports IMAP, POP, SMTP, Microsoft Exchange
Email tracking
35+ Integrations
Highly customizable UI
Custom notification sounds
Preview attachments before downloading
Look up Linkedin Contacts
Unsend emails
""Mailbird makes it easy to manage my multiple inboxes. I use it for my personal and work accounts (I have 2 work emails) and I can always easily see where mail is coming to and from…Also their search is fantastic; you can query for particular items quite easily (like emails with attachments), and I am always able to find what I'm searching for, unlike other mail clients I have used.""

– Nathaniel B, Customer Success Manager
Seven Best Alternatives to Gmail in 2021
Considering the criteria for selecting the best Gmail alternatives, we picked the following:
Zoho Mail – Best for those looking for the Best Free Gmail Alternative
Why Zoho Mail stands out:
Free plan comes loaded with features
Plenty of price plan flexibility
Useful Add-Ons
Capterra

4.4/5
(593)
G2

4.5/5
(373)
PCMag

3.5/5
Zoho is renowned for its business software suite that also includes email hosting. This email service is intended for business use, and along with that it promises a fast and clean operation. The Zoho suite that can be used with the email service also enhances email management and team collaboration for businesses.
Privacy
Zoho Mail is great at a lot of things; however, it does have one big downside when discussing privacy. Unlike most of the options on this list of alternatives to Gmail, it does collect and sell user data to third parties.
"We may share your personal information with our authorized reselling partners in your region, solely for the purpose of contacting you about products that you have downloaded or services that you have signed up for. We will give you an option to opt-out of continuing to work with that partner." from Zoho Mail's Privacy page.
Security
Zoho accounts come with an impressive level of security features. Advanced spam filters, 2FA, DDOS protection, and more are all available even at the free account level.
Affordability
Several payment plans exist with Zoho Mail. There are several differences between them (namely the number of features). Here are the basics:
Free. Comes with 5 GB and a 25 MB attachment limit per user (up to five), and email hosting for a single domain
Mail Lite. $1 per user per month; comes with 5 GB per user
Mail Premium. $4 per user per month; comes with 50 GB per user and 1 TB attachment limits
Workplace. Starting at $3 per user per month, this option comes with added features like Intranet, online file managers, and secure business email.
Each plan also comes with a laundry list of features (too many to name here).
Support
If you are a paid account user, you'll have access to 24/7 phone support.
Free account users also get plenty of support in the form of online resources, such as how-to guides, an FAQ page, and videos.
Customization
Through integration with Zoho apps, you can use the email service in conjunction with Zoho CRM and other apps for scheduling, note-taking, Zoho Docs, etc.
Free or starting at $1 per month
Yes, it has a 15-day free trial
Web, Windows, macOS, Android, iOS
Supports both S/MIME and end-to-end encryption
Admin panel for managing your business domain
eDiscovery for email retention following legal protocols
Support of different devices, such as web, iOS, and Android applications
"In my opinion, Zoho Mail is the best option for email hosting because unlike the well-known alternatives it offers a generous free plan and you can update as you grow for a reasonable price, the UI is very nice and simple, and at this price point, it's the email hosting company small businesses should be using."

– Hamza B, Marketing Manager
Zoho Mail vs. Outlook
1 TB of storage space (paid plans)
Very flexible pricing plans
Ad-free
Comes with large suite of useful features
Shares your data to third parties
Limited storage space with free version
iCloud Mail – Best for those looking for a secure email to use with Apple products
Why iCloud Mail stands out:
Included on all Apple devices
Incredibly intuitive UI
Straight-forward pricing plan
iCloud Mail is the tried and tested email service from Apple. Its webmail client is clean-cut and intuitive, which makes for an easy swap with Gmail. Like all Apple products, it is more reliable in terms of anti-virus protection and performance.
Privacy
Even out the gate, iCloud Mail beats Gmail because of what's stated in their privacy policy.
"Apple doesn't gather your personal information to sell to advertisers or other organizations."
Security
iCloud Mail comes with several features you'd expect: manual and automatic spam filtering, and 2FA.
Apple does provide end-to-end encryption for some of the data communicated via the iCloud Mail app. However, the company retains control over the encryption keys, meaning Apple staff could conceivably access/leak your online data.
Affordability
iCloud Mail's pricing model is the least complicated of this list. Your only real options are the amount of cloud storage you want.
Free, 5GB of storage
$0.99 per month, 50GB of storage
$2.99 per month, 200 GB of storage
$9.99 per month, 2 TB of storage
What's great about this service is that even at the free account option, there are no ads.
Support
Support for an iCloud email account is fairly robust. Falling under Apple Support's purview, you have access to helpful forums, guides, how-to's, and more.
The only issue is that actually getting someone at Apple to help you is a bit more difficult given the size of the company.
Customization
You can create up to three aliases with iCloud Mail. Other than that, customization options are limited outside of some elements of the UI.
There also isn't any custom domain support. However, a recent announcement said the feature would soon be rolling out with the iOS 15 update.
Starting at $0.99 for additional storage
No, but there is a free version
Easily syncs across all Apple products
Comes with all Apple products
eDiscovery for email retention following legal protocols
Keyboard shortcuts
"The user interface is clean, with mailboxes, folders, and accounts accessed via the sidebar. Unified mailboxes allow users to see all inbox, sent, drafts, and folders in a single view!"

– Anurang T, Digital Marketing Consultant
iCloud Mail vs. Gmail
Connects all Apple devices
Easy to use and setup
No incentive to sell user data
Ad-free
Closed-source
No search folders or labels
Doesn't support POP3, only IMAP
Currently no custom domain support.
Tutanota – Best for those not as tech-savvy to get highly secured emails
Why Tutanota stands out:
Full end-to-end encryption
Anonymous email service
Extremely powerful security
Tutanota is one of the best open-source email service alternatives to Gmail. Its heavy focus on email encryption, privacy, and green mail make it very distinct from other email providers.
Privacy
Tutanota's best feature is that it encrypts your entire inbox. Your storage, attachments, body, and subject lines can only be accessed by you. It also comes with encrypted contacts and calendars, unlike Gmail.
The fact that its code is fully open-source is also a huge bonus.
In addition, the company is based in Germany. That means the service provider is legally obligated to comply with the GDPR policy.
Security
Tutanota uses some of the best SSL encryption, including DNSSEC, DANE, DAMRC, and DKIM. This means all your emails, even non-encrypted ones, are protected.
As for your account, the email provider uses the TOTP (Time-Based One-Time Password) algorithm and U2F (Universal 2nd Factor) for second-factor authentication. These two features provide an incredible level of login protection.
Affordability
This Gmail alternative struggles a bit when it comes to price comparison. Sure, it's completely ad-free, but what you get in the paid plans isn't too impressive.
A personal account at Tutanota is free, but only allows for a single user, 1 GB of storage and no custom domain or support.
Upgrading to the Premium plan for €12 per year is slightly better, as you get access to one custom domain and email support. You can add additional users for an extra €12 per year per user.
The Teams plan offers 10 GB of storage, a single custom domain, five aliases, and support via email for the price of €48 a year. Each additional user costs €24 per year per user.
Additional features and storage can be added to all account types for an additional cost.
Support
You really only have an FAQ page and email as support. The latter is only available to paying users.
Even if you send in a support email, expect to receive a reply no earlier than 24 hours later.
Customization
This is another area Tutanota struggles with. There are limited UI customization options available. You can change the colors, logos, and login site somewhat with the Whitelabel feature. But, to get something like a dark theme going, you'll need to use the web client.
As for domain customizations, don't expect much. You really only get one, and that's if you're using a paid account. Custom aliases are also very limited even with a Teams account, which is capped at five.
Free and starting from €12/year
Yes.
Web, Windows, macOS, iOS, Android, Linux
Full email encryption
Encrypted contacts
Encrypted calendar events
Open source
Hardware-based 2FA available
Secure contact option for your website
"Tutanota is more than spectacular when it comes to privacy and security options. End-to-end encryption, zero-knowledge email service and additional security layers ensure information privacy. Tutanota allows using encrypted and safe emails intuitively, just like you would be using a common one."

– Justinas Mazūra, Cybernews
Tutanota vs. Gmail
Won't analyze your data or read your emails
Can use extended and unlimited search on encrypted data
Uses 100% renewable energy
Ad-free
Open-source
Limited storage even with paid accounts
Very limited support options
No POP/IMAP/SMTP support
Posteo – Best for those looking for complete anonymity in their online communications
Why Posteo stands out:
Can easily encrypt all your saved data
Anonymized payment system
Strong company emphasis on green energy and sustainability
Posteo is a low-cost email service that uses open-source software and is heavily invested in user data privacy. It also prioritizes sustainability and environmental health in its company policies.
Privacy
Posteo encrypts everything that goes in and out of your inbox. This includes emails, attachments, storage, and contact information.
The email provider's commitment to privacy extends to registration and payment. Both can be done without providing any personal information. Even support inquiries are anonymous, as its system doesn't use tickets.
Like Tutanota, Posteo is also based out of Germany. This means the company is legally obligated to comply with the GDPR policy.
Security
It has fairly advanced built-in spam and virus filters. The catch is that there's no spam folder, so anything that gets flagged as spam is immediately deleted. You do get the ability to whitelist, but the spam filters are somewhat customizable.
Posteo's main security features are its end-to-end PGP encryption and IP stripping. In combination, they ensure your IP address never goes out with an outgoing email.
Lastly, you get the option of adding two-factor authentication (TOTP) to all your accounts.
Affordability
The pricing model for an email account is a bit different from the other options on this list. For example, there's no free or trial version available.
Prices start at €1 per month for email, €0.25 per additional GB. You get two aliases included at the base price, with each additional alias address costing €0.10 per month.
Posteo is completely ad-free and has a 14-day money-back guarantee.
Support
Sadly, customer support for Posteo is limited. Your only real interaction with someone from the company will be via email. Even then, it'll only be Monday through Friday from 7 a.m. to 7 p.m. GMT.
The website does have some comprehensive tutorials in three languages (English, French, and German).
Customization
A big downside of using Posteo is that you don't get access to custom domain names for your email address. The best you can do is add country codes or a .net ending on your email address.
The UI is modern and clear, which is good because aside from the color, there's little else that can be changed.
€1 per month for email and €0.25 per every additional GB
No
Web, Windows, iOS, Android
Email encryption using the TLS (Transport Layer Security) protocol
Spam and virus filters
Contacts migration from Microsoft email services, iCloud, AOL, and GMX
Country codes
Contact manager with encrypted address book
Calendar with encrypted calendar events
Anonymized payment system
"All things considered, Posteo provides some of the best secure email services we've used. It's extremely affordable, comes with a range of great features, and is backed by extremely impressive security integrations."

– Daniel Blechynden, TechRadarPro
Posteo vs. Gmail
All data saved can be encrypted
Open-source
Uses 100% renewable energy from Greenpeace Energy
Cheaper storage options ranging from 2 GB to 20 GB
Can be used with any mobile or stationary device, and most email clients
Ad-free
No custom domain address options
No trial or free version
Web client is not mobile-friendly
Support is slow, and don't expect a reply on weekends
---
Best Gmail Alternatives by Category
Here is a quick recap of our favorite email programs.
| | | |
| --- | --- | --- |
| Best for Managing multiple email accounts | → | Mailbird |
| Best security | → | Tutanota |
| Best easy encryption tool | → | Posteo |
| Best privacy options | → | StartMail |
| Best anti-surveillance company philosophy | → | Runbox |
| Best secure communications options | → | Mailfence |
| Best free alternative | → | Zoho Mail |
| Best simple-to-understand UI | → | iCloud Mail |
Best email account provider per category
That's our list of the top web-based Gmail alternatives to consider switching to if you value your privacy. Most of the email programs mentioned above are GDR-policy-compliant. Even if a company isn't Europe-based like some of the options we mentioned, they at least respect user privacy more than Google.
However, your email experience should be more than just keeping your sensitive information private. By installing Mailbird on your desktop, you add a lot more functionality to your accounts. Its advanced native features and popular app integrations let you manage multiple email accounts in one place. No more juggling tabs or apps — have control over your inbox through a single app.
---