Opera Mail Review and 3 Great Alternatives (2020)
Posted by Alexis Dollé on January 10, 2020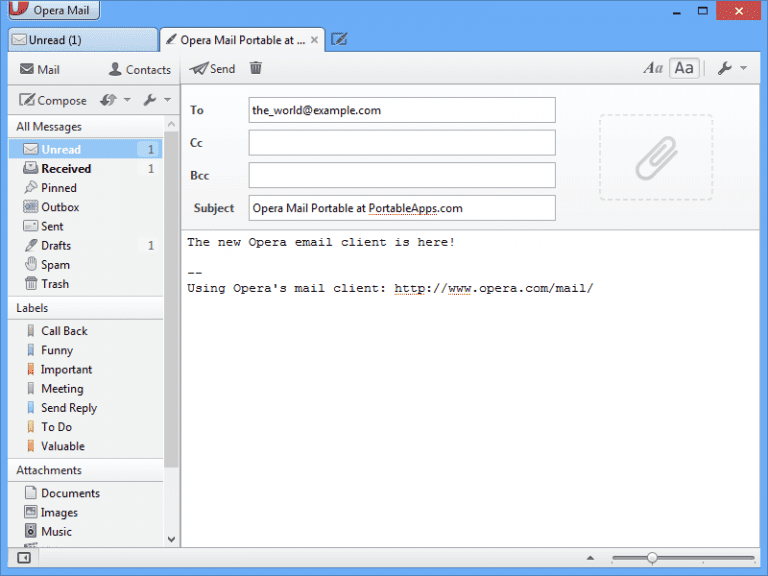 Is Opera Mail the right email client for you?
We'll try and help you answer that question in this article.
You'll get an in-depth review of Opera Mail. Additionally, we will also share three great alternatives that you could explore instead.
Here's what's in store. You can click on the links below to jump to a particular section.
An Opera Mail Review Covering:

Three Great Opera Mail Alternatives  (including pros, cons and G2Crowd and Capterra ratings)
Let's get rolling.
What Is Opera Mail?
Opera Mail is a free email client developed by the team behind the well-known Opera web browser. It's similar to what Thunderbird is to Mozilla Firefox.

In fact, Opera Mail was initially offered as an integrated component of the Opera browser until 2013.
From 2013 onwards, it's no longer integrated with the web browser and functions as a stand-alone Opera software tool.
What Does Opera Mail Do?
Opera Mail has come a long way since it was associated with the Opera Internet browser.

Like many other email clients, Opera Mail tries to give you a common space for all your email accounts. You'll be able to access emails from multiple email accounts and mailing lists in a single inbox- without having to log into each account individually.
This can save you a lot of time and effort when you're dealing with a lot of emails on a daily basis!
The Key Features Of Opera Mail
Opera Mail boasts some helpful features that help elevate it over some other standard  email clients.
Here are a few of them –
1. Easy Organization
One of Opera Mail's calling cards is that it's very easy to organize your emails and files. While you have the standard set of folders such as 'All Mail', 'Spam','Drafts' and so on, you can also create a custom folder structure.
You'll thus find it easy to categorize your emails based on your preferences.
Want to categorize emails that cover a particular project such as 'sales' or 'support'?
No problem! Just create a folder structure dedicated to it in Opera Mail and you're done!
Opera Mail can also categorize all your attachments into a separate folder structure to make it easier to access them.
For example, there's a video folder to the left of your screen that can store any video-related attachments you've received so far.
This way, you won't have to waste time searching for it next time.
2. Email Tabs
Opera Mail allows you to open up emails in different tabs. Whenever you click the open button on a new email message, it opens up in another tab instead of popping up in the same window!
Therefore, you'll be able to have multiple emails open in different tabs at the same time.
This can be useful when you're trying to juggle emailing multiple people at the same time!
3. Quick Loading
One of the things Opera Mail does well is loading email messages.
Even though it's a free email client, it manages to load your mailing lists and emails fairly quickly – even if they're packed with attachments.
You won't be wasting a lot of time waiting for your email client to load your emails if you're using Opera!
4. Low Bandwidth Mode
Another cool Opera Mail feature is its low bandwidth mode.
Say you're out and you don't have access to a high-speed internet connection. Or maybe, you're just trying to save some data as your data plan may be expiring.
Either way, Opera Mail offers you a low bandwidth mode to cut down how much data it uses.

This way, you can access an email message without having to worry about running out of data to watch that cute kitten video on Facebook!
5. It's Completely Free
One of the chief reasons why people turn to Opera Mail is that it's completely free of cost.
There's no sign-up fee, trial period or pro version on offer. What you get on the free version is what Opera Mail can offer you – there are no paid additional features!
The Drawbacks of Opera Mail
While Opera Mail is a good email client, it still has its flaws.
Here are a few reasons why you may want to explore other email clients too. –
1. No Longer Supported
Opera Mail is no longer actively developed or supported. Therefore, any issues you may face can't be dealt with by the developer team.
Additionally, there's no customer support to help you with any issues you may face. So if you come across a bug, you're on your own.
2. Dated UI
This stems from the fact that the client is no longer being developed.
As there have been no major updates for a while, the Opera Mail interface isn't user-friendly and could use a rehaul.
It's reminiscent of an old-school browser that you'd find on Windows XP – not something you'd look for in a tool for 2019.
3. Difficult Setup
Setting up a new account in Opera Mail is difficult because of its inability to import data from most modern webmail clients when you set it up for the first time.
As a result, trying to import email contacts and folders from an email service provider like Gmail, Yahoo and Outlook/ Exchange server may be a tedious process when setting up Opera Mail.
4. Lack of Features
As Opera Mail is entirely free, you don't get too many additional features with this email client.
You're limited to opening and accessing your emails – that's it.
You don't have some helpful features like –
Attachment Reminders – to ensure you never forget to add an attachment to an email.
In-Line Replies – to help you reply to questions in an email in a clean organized format.
Integrations – with chat accounts like Slack, Whatsapp and Veeting Rooms to make your email client a communication hub
Customer Ratings
Capterra – N/A
G2 Crowd – N/A
Three Great Alternatives To Opera Mail
Here are three great alternatives to Opera Mail to help you find the right email client for your needs-
Mailbird is one of the best email clients available today.
It's been the recipient of numerous awards in the past such as the Editor's Choice Award by Windows Report in 2019.
It's got everything you need from an email client in 2019 and is continually building on its current lineup of features.
Here are a few features that elevate Mailbird over most other email clients when it comes to supercharging your email productivity.
1. Unified Inbox
One of Mailbird's key features is its Unified Inbox.
With it, you'll be able to access all your emails – from all your accounts – in one unified space!
Don't worry about compatibility issues.
Mailbird can support most POP and IMAP accounts such as Gmail, Yahoo and Outlook. You'll have no issues when it comes to the synchronization process in Mailbird.
Additionally, as Mailbird is a desktop email client, you'll be able to do all this without having to log on to a web browser! You can access all your emails from the comfort of your own desktop.
Color Coding
Worried about losing track of which emails came from where in your unified inbox?
Don't be!
Mailbird allows you to assign colors to each of your email accounts to make it easy to identify which emails came from which account.
You will never have to worry about mixing up where emails came from!
2. Snooze Emails
Here's a problem everyone has faced at some point in time.
You have a bunch of important unread emails to address, but also have tons of unimportant unread emails in the way.
Annoying right?
With Mailbird, you won't have to worry about this ever again.
Mailbird can tuck away these unimportant emails from your inbox for the time being – allowing you to only see and tackle the priority emails.
You can choose how long these emails are snoozed for – it could be an hour, a day or even a week.
Once the time's up (and you've addressed your priority emails), these snoozed emails pop back into your inbox where you can address them easily.
Want to access one of these snoozed emails before that specified time period is up?
No problem!
Snoozed emails are stored in a designated Snooze folder that you can access at any time!
3. In-Line Replies
Another great Mailbird feature is the in-line replies option.
Here's a situation where it comes in handy.
You've received a mail from a coworker where they've asked you a bunch of questions. You go through them and draft a reply email, only to find out that you've overlooked an important question by accident.
Not great right?
To make sure this doesn't happen, Mailbird gives you the ability to respond to a question in a mail right below it.
As this format is clearly organized, you won't forget to respond to a question.
Additionally, the recipient is going to find it far easier to see your responses as they're not all bundled together in a follow-up email.
Mailbird also offers you the ability to add your name and color code your in-line replies to further personalize the process!
4. Undo Send
Mailbird has an in-built Unsend email feature that will allow you to recall an email you've just sent out.
The best part about this is that Mailbird can unsend an email sent from an email account that originally might not support this feature!
So in case you're using Yahoo Mail or Microsoft Outlook (which don't have in-built unsend features), you'll still be able to unsend emails easily!
Mailbird can give you a leeway period of up to 30 seconds to unsend any email! This is usually more than enough time for you to decide if something was wrong with your email and recall it.
Once you recall the mail, it'll pop up in a separate composer window where you can make the changes immediately if you want. Alternatively, you can access it from your Drafts folder too.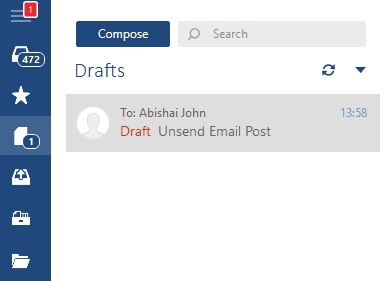 5. Attachment Reminders
With Mailbird's attachment reminder feature, you won't forget to add an attachment to an email again.
How does this work?
Mailbird can detect whether or not an email needs to have a file sent to it based on what you've mentioned in the email.
For example, if you mention the word "attach" in your email but clicked send without attaching anything, here's what'll show up.
You can now attach the file that you forgot!
Handy right?
Why Mailbird Is Better Than Opera Mail
What makes Mailbird an upgrade on Opera Mail?
Here are a few reasons –
1. Constant Updates
Mailbird's developer team is hard at work adding any new features that you've requested and ironing out any sneaky bugs that may have crept in.
It's constantly being developed so you can rest assured that any query or concern you have will be addressed quickly.
2. Tons of Features
As you've seen, Mailbird has tons of unique, helpful features that can help you in more ways than one.
As a result, with Mailbird, you're getting far more than an email client – you're getting a fully-fledged email productivity tool.
Not to mention, you get a near-endless list of integrations with chat accounts like Whatsapp or calendar apps like Google Calendar to make Mailbird a core part of your daily activities.
For a list of all the integrations, click here.
3. Easy Setup
Mailbird has one of the easiest setups in the market today and you won't have any difficulty importing details from your other email accounts.
As it's fully compatible with most POP and IMAP accounts, Mailbird does most of the configuring automatically to make the whole process a breeze!
In fact, after you download Mailbird, you'll be up and running after a quick click of a button or two!
If you want to know more about how easy it is to set up Mailbird, click here.
Pros –
Can add almost any POP and IMAP account instantly such as Gmail, Yahoo and Outlook/ the Microsoft Exchange server.
Automatic incoming server setting detection for easy setup that takes a few button clicks only.
Highly customizable user interface with the ability to change themes and layouts.
Large selection of third-party integrations with chat accounts like Whatsapp and calendar apps like Google Calendar for added functionality.
Can handle pst file format and mail mbox format for data imports to ensure that you won't need to use a file converter tool.
Helpful features like Snooze Emails, Attachment Reminders, In-Line Replies and Tagging.
Has the ability to sync, merge and link contacts from different email providers easily.
Cons –
Can only support  Windows OS – although there is work underway on a portable app for mobile devices.
Customer Ratings –
G2Crowd – 4/5 (33 reviews)
Capterra – 4/5 (50 reviews)
2. eM Client
eM Client is another good desktop email client to try out.
Let's take a look at why it's a good Opera Mail alternative.
1. Contact Management
eM Client makes contact management a piece of cake.
You have complete freedom in organizing your contacts and mailing lists. You can categorize them by a variety of fields – ranging from hobbies to family members!
You can also select how you want to view all your contacts in your address book. You have a standard business card view or can opt for a custom view.
With the custom view option, you can select how you view each of your contacts in the address book – from how their details look to what's included!
You could choose to keep the picture at the forefront of their contact or their name and address – the choice is up to you.
This way, your contacts are always ready for you – in the way you want them to be.
2. Easy Setup
Another good eM Client feature is its easy setup due to its ability to analyze your incoming server settings in no time.
Like Mailbird, it can support most POP and IMAP accounts which makes onboarding a breeze. It'll automatically detect your mail server settings and connect with all your email accounts without you having to do much.
It can also import all the data you need quickly to ensure that you're up and running in no time after you download it!
3. Spell Checker
eM Client offers you an in-built spell checker to ensure that you're not making any spelling mistakes when crafting your emails.
4. Integrations
The eM Client program has a useful set of integrations such as Facebook Chat and Jabber to make it more than just a typical email client.
You'll be able to handle a lot of daily communications from within the email client itself!
The Drawbacks of eM Client
Like many email clients, eM Client is good, but not perfect.
Here are a few issues you may face if you choose eM Client as your go-to email client –
A) UI Needs Some Work
eM Client's standard user interface isn't bad by any measure but is very limited when it comes to customizability.
You get a standard three-pane interface that gets the job done, but you're pretty much stuck with it – whether you like it or not.
eM Client has recently introduced a dark theme and some email header templates which are great, but it still has work to do when it comes to being truly customizable like Mailbird.
If you want to find out more about Mailbird's ample customization options, click here.
B) Syncing Issues
The eM Client program tends to suffer from occasional syncing issues. l
One of the common issues people face is emails being deleted from backups automatically. While eM Client tries to stay on top of most of these issues, these could post a potential problem for you.
Pros –
Smooth synchronization process with support for most POP and IMAP accounts like Gmail, Yahoo and Outlook.
Simple setup with automatic mail server smtp identification.
Good file management with both pst file format and mail mbox support so that you don't need a converter tool.
Can support Windows OS and Mac OS – so you'll be able to use Mac Mail here too.
Cons –
User interface lacks customizability.
Can be buggy at times.
Software tends to be RAM-heavy.
Viewing emails in plain text format (no links) can cause problems.
Customer Ratings –
G2Crowd – 4.4/5 (7 reviews)
Capterra – 4/5 (33 reviews)
3. Claws Mail
Claws Mail is another good Opera Mail alternative for you.
It has a couple of neat features that really make it a good application. Let's take a closer look at them –
1. Open-Source Nature
One of the coolest features of the Claws Mail program is that it's entirely based on an open-sourced framework.
In fact, it has the distinction of being one of the select few email clients that are based on such a framework.
The main benefit of an open-sourced software is that you have the ability to add custom integrations to it such as an RSS feed reader. As a result, when it comes to the features list, you can customize as per your needs!
2. Filtering Capabilities
Claws Mail also does well when it comes to filering your emails.
Categorizing your emails is super easy as you have the ability to add custom filters to categorize your mail based on fields like content and sender.
By allowing you to categorize your emails extensively, it's easy to sort your emails and maintain a tidy inbox.
3. Reliability
One of the best things about Claws Mail is its speed and reliability.
As it's open-sourced and constantly developed, any nagging issues are dealt with swiftly to ensure that it's running to the best of its abilities.
As a result, Claws Mail tends to be a very reliable email client with very few bugs.
4. Completely Free
Another cool thing about Claws Mail is that, just like Opera Mail, it's completely free.
There's no premium version with additional features – you get all the functionality you need with its free variant!
The Drawbacks of Claws Mail
A) Complicated Setup
One of the drawbacks of having an open-sourced based software is that it can be challenging to work with – especially if you're not well-versed in programming.
As a result, configuring Claws Mail can be a challenge for beginners as there's no automatic detection of POP and IMAP email servers when you download the application.
You'll have to manually adjust these mail server settings and will have some trouble importing data from Gmail, Yahoo and Outlook/ Exchange server as a result.
B) Dated UI
Another issue with Claws Mail is that its interface can look a bit dated.
It's not the most user-friendly layout as accessing settings and features can take a bit of work.
There are also minimal customization options available for changing how it looks, so you're pretty much stuck with what you get.
Pros –
Open-source platform allows you to add as many add-ons as you want.
Can support RSS Feeds and import via the mail mbox and pst file format to spare you the need of a converter tool.
Known to be very reliable and fast.
Good filtering capabilities.
Frequent Updates.
Cons –
Application interface isn't very customizable.
Configuring settings during  initial setup is difficult with synchronization process issues.
No automatic incoming server detection for POP and IMAP accounts.
The application is only available on Windows OS and Linux – not platforms like Apple Mac OS X.
Customer Ratings –
G2crowd – N/A
Capterra – N/A
Conclusion
There you have it – that's our Opera Mail review and a few alternative email clients.
While Opera mail has some good features, there are better, more modern email clients for you to choose from.
You could get the all-around functionality of Mailbird, the sorting capabilities of eM Client or the open-sourced nature of Claws Mail.
The choice is yours!
Why not sign up for a free Mailbird trial in the meantime to see how it can help supercharge your email productivity?
---