Why is Mailbird the best Alternative to Windows 10 Mail App in 2019
Posted by Pallav on January 21, 2019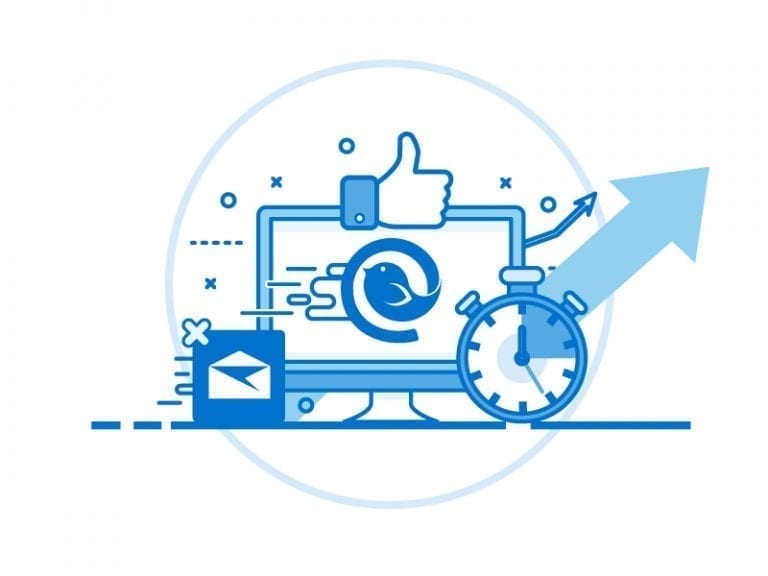 Windows 10 Mail App Not Working?
Windows 10 is out and without a doubt it is the best Windows version so far. With its wonderful new features like Cortana and Spartan web browser among others, it also shipped with a default Windows 10 Mail app.
Since Windows 10 launch we were anxious to see what freshness it would bring to its Mail app but after trying it out and reading other people's reviews, it is clear that the Mail app has a lot of ground to cover to become the most usable email client on Windows due to bugs and the lack of certain critical key features.
Since Mailbird launched its enhanced Mailbird for Windows 10, we decided to explore the native Windows 10 Mail app vs. Mailbird to see how they stack up against each other.
Modern UI
Both Windows 10 Mail and Mailbird are developed using the same metro style theme. While Mail uses more strictly text based, Mailbird uses UX intuitive elements giving it that beautifully clean look and feel. That's important when you want to keep your communication and productivity apps housed under one roof.
3 column vs. 4 column layout – Both Mailbird and Windows 10 Mail have the default 3 column layout but with Mailbird apps activated you unlock a 4 column layout which allows you to manage emails in parallel with those critical apps that are baked right into Mailbird. It's all thanks to that 4th column.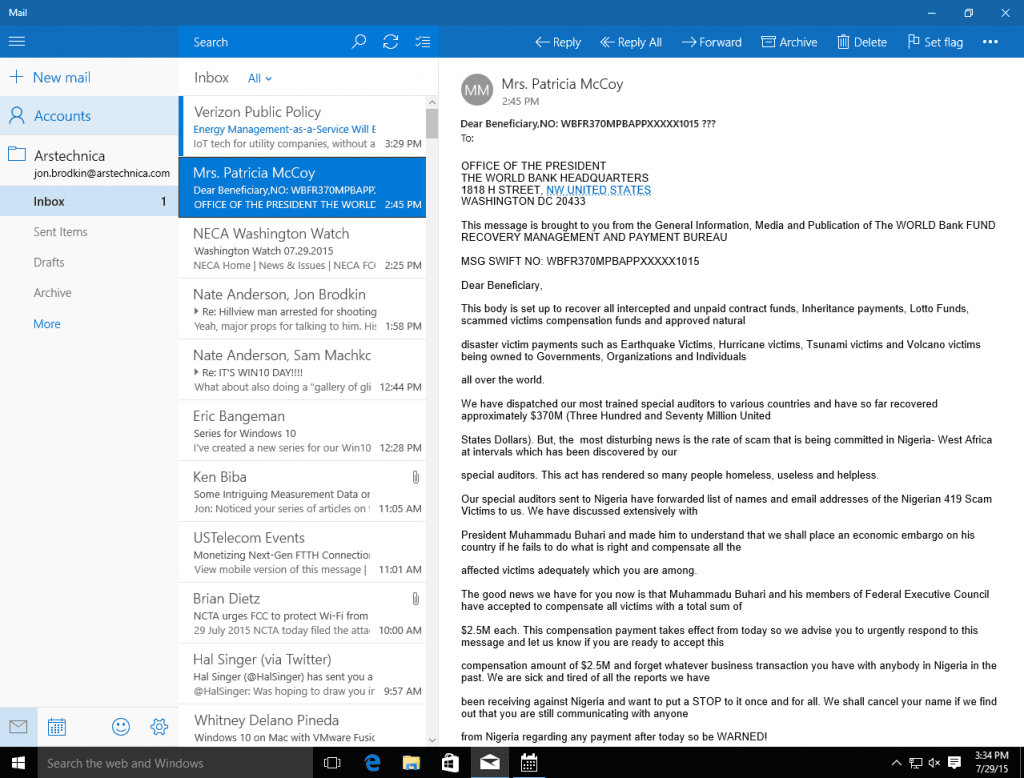 Unified Inbox Plus with color indicators
This is the most critical feature missing in Mail app which makes it tougher for users to handle multiple email accounts. Unified Inbox Plus accumulates your emails from different email accounts and displays them in a single inbox. The colored indicators help you to easily distinguish the email accounts even if they are in the same inbox.  This reduces the necessity to switch between accounts to manage them separately, especially if you have three or more email accounts.
A small downgrade in user experience in the Mail app for Windows 10 is that you need 2 clicks to switch between email accounts. In Windows 8.1 you needed a single click to toggle.
Conversation View
Conversation view helps keep a conversation and it's replies threaded in one email thereby making your inbox cleaner. If they are not threaded you'll get a separate email for every reply.
Even though conversation view is helpful, many users still don't like to use it and for them Mail app comes with bad news. Conversation view is set by default in the native Windows 10 Mail app and can't be switched off. However, if you're a Mailbird user, you can switch conversation view on/off from the Options menu. Easy.
Are you not happy with Windows 10 Mail? Give Mailbird a try now.
Apps
Most of us use multiple communication apps every day which makes it more than essential for an email client to have these apps integrated for easy access and efficiency.
Mail for Windows 10 removed the integration with Facebook and Twitter from People apps (their version of a contacts manager) so now users are left with no option for communication via social channels.
Mailbird continues to maintain strong integrations with multiple communication apps like Facebook, Twitter, WhatsApp, Asana, Appear.in and more. This way you don't have to switch between browser tabs or pick up your mobile phone as everything is one one place in Mailbird. Now that's freaking cool.
Productivity Features
Windows 10 Mail is a basic email client with standard features like any other legacy email client and it might be because the Microsoft team wants people to focus more on Microsoft Outlook, rather than on the latest Windows 10 Mail. There are no extra ordinary features in the latest Windows 10 Mail app, that prioritize making users more productive or help people be much more efficient in their communication. An email client without a purpose.
Mailbird however has a mission at hand which also drives the decision making when it comes to product development. Mailbird wants to help you be productive with your inbox, simplifying your life by bringing it all into one place where you manage your conversations. Mailbird goes above and beyond the standard features of an email client, introducing innovative processes that help you combat email overload.
With this vision in mind Mailbird has introduced unique productivity features like the email speed reader, snooze, quick attachment preview and third party apps. To top it off, most of these features are available in the free version – so why wouldn't you opt for Mailbird over Windows 10 Mail?
Contacts & Calendar
Mail for Windows 10 has an improved Contacts Manager and Calendar. Contacts Manager has a better navigation on the left and you can scroll down easily unlike the horizontal navigation in Windows 8.1 version. The Calendar now supports CalDAV standard which is used by Google and iCloud.
Mailbird has Google Calendar and Sunrise app integrated which can be used to manage your appointments without needing to learn a new interface. Mailbird also has a native contacts manager which allows you to import contacts using vCard format and also keep contacts of people who have emailed you. You can also create groups to send emails to multiple people at once.
Bugs & Problems
Since the launch of Windows 10, the native Windows 10 Mail app has been under the heat for having critical bugs which affects the core product experience and it ranges from people not being able to add their account, sync issues to notifications not working properly. Looking at the app store page of Mail more people have rated it as 1 (poor), rather than a 5 (excellent).
If that's not enough, Arstechnica writer said that Windows 10 Mail is beautiful but bug ridden. And here is Christian Taylor comparing Mail vs. Mailbird.
Looking at the pattern from the past, Microsoft has not been very forthcoming in releasing quick fixes for issues in Mail and if that continues a lot more people will end up disappointed.
In the meantime Mailbird has launched its latest and most amazing version for Windows 10, and if direct user feedback holds any weight here, this is what people say about Mailbird everyday.
Change is good, even for your email.
Editor's Note: This post was originally published in April 2015 and has been updated for accuracy and comprehensiveness.
---
Subscribe to our newsletter
Free e-books
Productivity tips
Technology articles