10 Examples of Business Email Signatures for 2020
Posted by Christin on May 20, 2020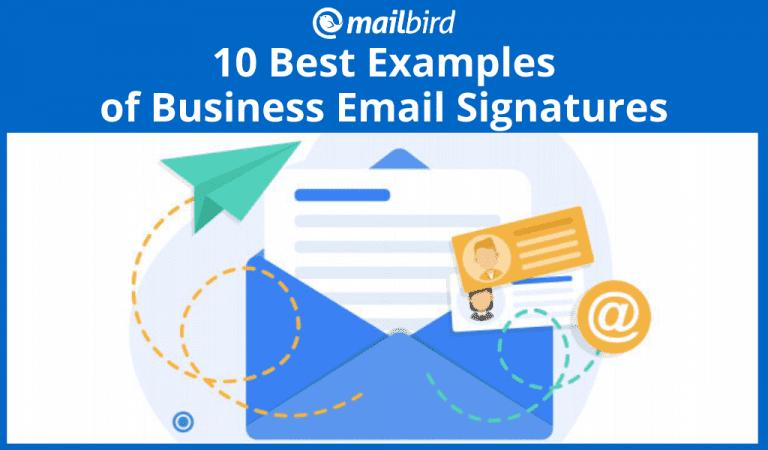 Ending a business email with a signature isn't just a formality. It aids in communication, establishing brand image, and creating a long-lasting impression, and it's yet another tool for marketing your company or yourself. 
Simply put, a good email signature is a crucial part of any business email.
In this article, you'll find tips for creating a good signature together with visual email signature examples and a brief instruction on adding an auto-signature, so you don't need to save a template or type it in every time you email. It will be especially useful to those who are actively building new contacts and communicate on email a lot.
What's the Science behind Email Signatures?
Hello Reader,
If you clicked this email, you might be interested in our magic books and potions. Let me know if you want more information about our offers.
Best regards,
John C.
The sender most likely lost the reader at the second sentence, and this can be backed by science. A study done by Sigstr and EyeQuant that used eye-tracking technology to build perception and attention maps and define hot spots researched how people read emails. Here's what they've found.
An email with a standard signature like the one above will draw most of the attention to the body text and only some acknowledgment of the signature. It's a good sign in the case of internal communication when you need co-workers to actually pay attention to what's written in the message. But the email above is clearly offering a product — yet it doesn't spur any inclination to reply.
Further findings of the study show that a branded signature will draw more attention than a non-branded one, but only on certain conditions. Look at these two examples of attention maps:
1.
2.
The second example has so much attention drawn to the banner, and if you didn't inspect the first example, you probably missed the CTA link.
What these findings tell us is that a business email signature can be used as a marketing tool. According to NewOldStamp's survey of 750 marketers, 41% are on board with using email signatures for branding. There's even a term for it — email signature marketing. The same survey also highlights what metrics professionals use, the leading ones being: clicks (79% of respondents), emails sent (40%), impressions (32%), and website traffic (30%).
How to Sign a Business Email: Contents and Structure
Back from 2011 to 2013, WriteThat.name processed over 700 million emails that went through their contact management system and found that only 52% of them had a signature. Those that did included the sender's name, position, company, email address, and sometimes a postal address.
Since then, email technology has changed quite a bit. For example, you can safely add an image to your signature without it coming through as an attachment. 
Building rapport with someone without a face is difficult, but adding more elements to a business email signature can help the matter, including:
Your position in your company or your professional title

Affiliate company or organization

Contact information: phone number with a prefix if you work internationally, company or personal website, office address, social media links (but only what coincides with your professional goals)

Photo of you or the company's logo

Other elements: a call to action, social proof
Whether or not you should add social media links is arguable, yet Unilever has increased their social media following by almost 500% just by adding a link to their email signatures.
You can have a signature for email that combines all the elements or only some of them. Depending on your professional interests, however, your best email signature might need some essentials.
For marketing purposes:
Social media icons

A link to your latest content

A link to your blog subscription
For sales:
A banner with the latest deal or offer

Seasonal promotions

Holiday greetings with a link to a promo page
For client relationships:
A link to a landing page with your mission and services

A link to a video presentation of your services

Customer reviews or testimonials
10 Steps to Make an Impressive Email Signature + Examples
In just ten steps or less, you can create a professional-looking signature and add it to the auto-sign feature in your email settings. This section also contains a selection of the best email signature examples.
Tip:
Keep a notepad open so you can practice each step right away. You can also use an
email signature template
or generator — it may be easier to choose the layout and add certain elements, and they are all around good for
email signature ideas
. You can copy the text afterward and paste it in your account settings.
1. Keep it Simple
Not everyone needs an elaborate email signature format to accompany their communications. Sometimes, simple and elegant will do the trick.
The key elements of a professional email signature include your name, title, company and phone number. You may also include an address and your company's website. But don't include your email address—that's redundant and unnecessary.
Here's a simple email signature example: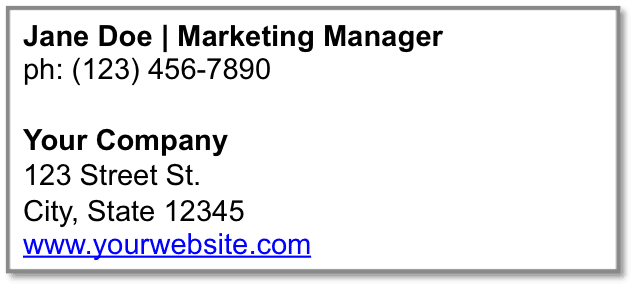 2. Use Color
To add visual interest, even to a basic email signature, try using 1-2 colors drawn from your brand, logo or any graphical elements you might use.  More often than not, more than two colors start to clash and become distracting, so unless you have a particularly good eye for design, stick with one or two brand colors.
3. Limit Information
We've all seen those email signatures that include the whole kitchen sink and tell someone's entire life story. You know, like these?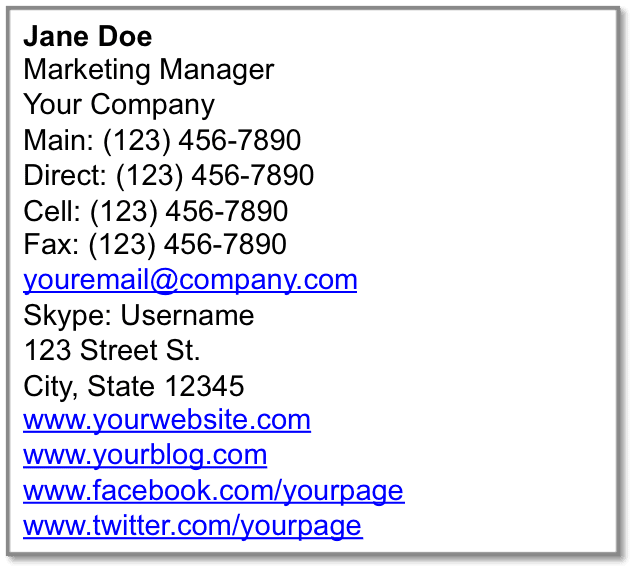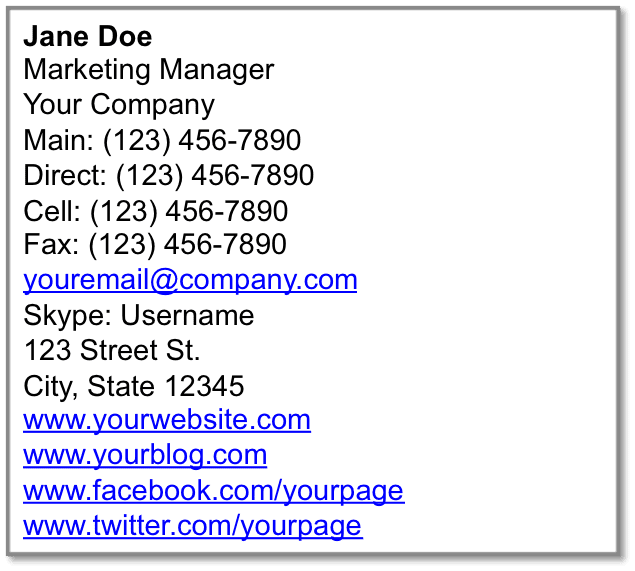 This is clearly one of the bad email signature examples. When it comes to deciding what information you should include, remember less is more. The best email signatures are about 5 lines of text, give or take.
4. Add a Photo
With the right tech know-how, or a useful email signature generator, you can easily add a photo to give your email signature more impact, personality and memorability. Plus, the imagery will draw attention and add visual interest.
Here's a cool email signature that uses a headshot to put a face to the name:
5. Include your Logo
Another option instead of a photo would be to include your company's logo. While it is possible to use both a photo and a logo, most of the time this makes your signature too busy and confusion. You're best to choose just one.
Your email signature format will depend on the size and orientation of your logo. Landscape logos work best in a stacked email signature, where as circular, square, or portrait logos can be placed to the right or left of the text, if desired.
6. Balance your Content
The best email signatures use hierarchy of design to balance content, type, and imagery. Use dividers or white space where needed to separate different elements of the email signature and direct the reader's eyes. Also, bold, capped, and colored type attract the eye first, so weight the most important information in one of these ways.

7. Include Social Media Icons
Do you or your company have well-managed social media profiles? Why not use your email signature as another way to drive traffic to these platforms? Link to your social media channels using icons representing each site's logo (rather than a boring hyperlinked URL).
8. Add a Call-to-Action
Beyond social media icons, a formal email signature can be used to drive other engagements from your email recipients. For example, you could link to your latest blog post or encourage sign-ups to your email newsletter.
9. Share Company Information
Some companies like to use their email signature as an opportunity to share announcements, such as awards or designations won. You can also list or include badges for certifications received or courses completed. Showing your expertise in your email signature emanates professionalism.
10. Design for Mobile
And finally, when choosing your email signature format, keep in mind that most people check their email on their phone. Pick a design and graphic elements ideal for mobile. If your logo has small text, consider only using the parts that translate well onto small screens. If you're including links or icons, ensure they're space out enough for people to click with their fingers.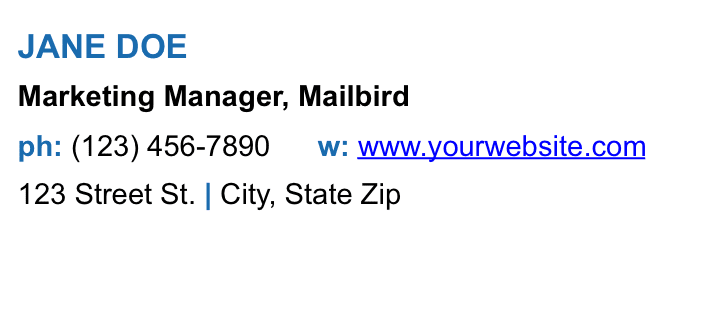 Email Signature Management in Mailbird
Now that you have the layout and contents of your signature, you can add it to auto-sign so it will be automatically added to your emails. 
Here are step-by-step instructions on how to create a professional email signature in Mailbird:
Open the Identities tab

in Settings and choose the account to which you want to add an automatic signature.

Add and customize your email signature

in the new window that pops up when you choose an Identity. It contains a text field and formatting tools.

Add an image,

such as your portrait photo, company logo, or a banner. With the new Mailbird updates, you can now add it straight from your computer or by pasting a URL of the image — no need to upload it to an image hosting website.

Save changes and test

the signature by sending an email to yourself.
If you've used a signature template or generator to create yours, simply copy the HTML code and paste it in the Edit Identity window.
Wrap Up
Well-crafted business email signatures are not just a communication device — they can also aid marketing, sales, and client relationships. Seize this opportunity to make a good and long-lasting image of yourself or your company, even if it comes in the form of an email signature.
Opt for minimalism, add only the most relevant information about yourself, and add a professional portrait or company logo so there is a visual aspect to associate with you.
P.S. Bonus
With signature email's email signature generator, designers and agencies can create beautiful, custom email signatures. Start with a template, change colors, fonts, spacing, add any amount of fields and rearrange them. Individuals can build a personal signature for free.
Our friends at NEWOLDSTAMP can help you create great email signatures super easy. Just follow the link and choose the template you feel fits your needs most. NEWOLDSTAMP has tested and confirmed to work seamlessly with Mailbird.
We are super happy to confirm that you can now also use ZippySig with Mailbird.
ZippySig is an easy to use email signature generator that allows you to create email signatures for your whole team. With plenty of customizable templates, you can create some pretty good looking email signatures. ZippySig has been extensively tested to make sure it is compatible with Mailbird and offers a 7-day free trial with full access to all of the features.
You can also give Formswift a try, that you can enable from within Mailbird. Formswift offers three layouts for you to choose from.
Please feel free to reach out to our support team should you have any questions.
---