The Best Email App for Windows 10 in 2020
Posted by Christin on January 13, 2020

Finally, Mailbird for Windows 10 is Here!
…and has been delivered to millions of PCs and devices of patient users all over the world already.
Microsoft has announced it to be the best and most beautiful Windows yet, that makes you a master at multi-tasking and adapts to you and your behavior transforming your PC in to your personal assistant.
It introduced new technologies such as Cortana integrated in the new web browser Edge, which allows you to write or type directly on web pages and now Microsoft is taking the PC experience to a new level.
We believe you need an email client that matches the new, beautiful appearance for Windows 10. An all-in-one communication and productivity suite that can keep up with the most productive Windows ever , putting old-fashioned and cluttered clients out of business. Welcome to the Windows 10 version of Mailbird. It's glorious.
Feedback on Mailbird for Windows 10 has been awesome, starting in just the first hours of the launch. Many Windows 10 fans are complaining about the native Windows 10 email client, saying that it has been disappointing.
Looking for an Email App for Windows 10?
Try out the best one!
Q: What brought you to Mailbird in the first place?

A: Because Windows 10 default email client fails at "Email Privacy Tester" and at displaying quoted messages from Mac's email client.

After trying Windows 10 Mail, I still prefer Mailbird over Mail 🙂 Mailbird feels more minimalist, lightweight, and has better shortcuts. Also, Mailbird shows all mail in the same thread on the same page, which Mail doesn't.

Q: What is the most important feature of Mailbird?

A: Perfect Windows 10 Integration!
Recently, I migrated to Windows 10 and I was torn away with the limitations of the Windows mail app. That's when I told myself enough is enough and I started searching for a new mail app. So I headed to Google search and started looking for the "best windows 10 mail app" and there it was "Mailbird" popping on the first page. At first, I was hesitant to upgrade to the Pro version so I started the trial version while watching the video of getting started with Mailbird. I kept smiling as I learned about all the great features and shortcuts. By the time the video ended; I was completely sold! I went right ahead and purchased the Mialbird Lifetime package. Thank you Mailbird and I cannot wait to share this app with friends and family.
Mailbird Updates
Not only have we improved the speed in which messages are being send, especially from slower servers. We also added a new Auto Layout Feature.
With this cool intergration, your Mailbird adapts its layout automatically when rotating your tablet. (Please note, that it will only work on tablets.)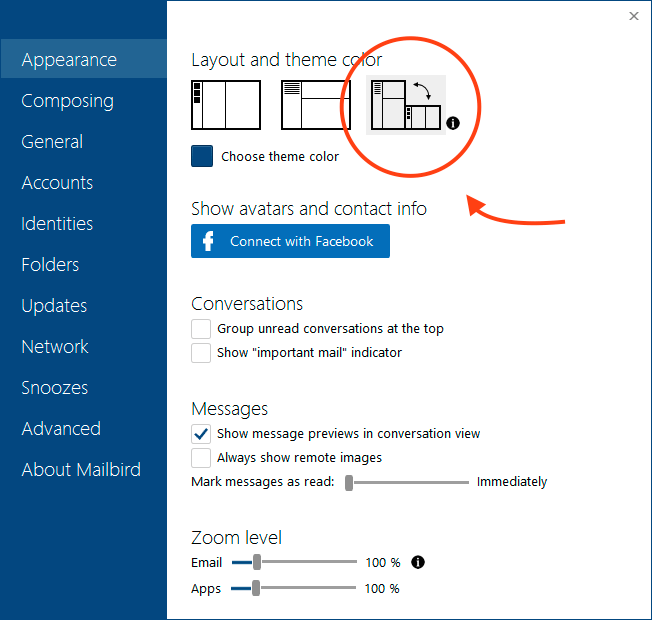 Its all about the screen
The Mailbird All- Star development team has been working hard to improve the Touch Screen Support in Mailbird. Even though it is not native, you will be able to enjoy Touch support using Mailbird in Windows 10 and LOVE it.
New OS, New Apps
We also added a new App called Degoo.
Degoo is a free backup service that gives users automatic, secure online backup in exchange for sharing some of their unused hard drive space. This comes in very handy for people that have to send out large number of files in one email. Find out more about Degoo in our next blog post.
Do It
Update to Windows 10 now and simply swipe away all your email problems once you get on Mailbird – one of the best apps for Windows 10.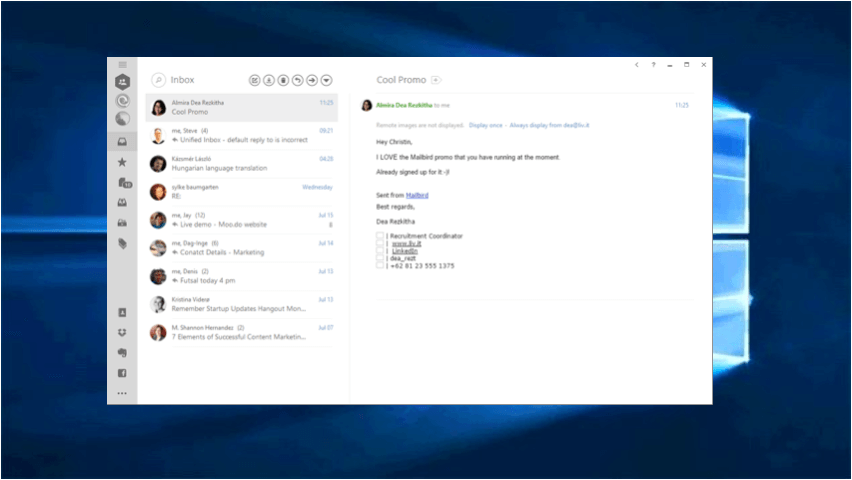 Editor's Note: This post was originally published in July 2015 and has been updated for accuracy and comprehensiveness.
---