Best Alternatives to Windows Mail App in 2018
Posted by Christin on June 19, 2018
Many Windows users automatically default to using the built-in Windows Mail app that comes with their operating system. It's already installed, and it's free, so it seems like a good choice. Users tend to like the Windows Mail App because of its simple, minimalist design. The experience isn't bogged down by an excess of features that you may not even use. Plus, you can connect email addresses from many popular services, such as Gmail, Yahoo, iCloud and more. But did you know there are several better alternatives to Windows Mail App?
Windows Mail is not without its faults. There have been numerous complaints of bugs in the program, which would be frustrating for any user. Also, it is almost too basic—it does not include a lot of the popular features that email users have begun to expect. While it works for sending and receiving email, it's not ideal for anyone that has multiple email accounts or a lot of contacts and hopes to keep their inbox organized.
Even if these aren't issues for you now, they might become issues for you in the future and you may consider looking for alternatives to Windows Mail App. Check out our list of recommendations below! Please visit our post "The Ultimate List of Best Email Clients for Multiple Accounts in 2018" should you move from Windows to a different OS and still not quite sure about your email client options.
What are the best Alternatives to Windows Mail App?
Mailbird
If you like the Windows Mail app for its simple design, but are frustrated by its lack of features, then Mailbird is the email client for you. Mailbird comes packed with great features, and its interface is designed around the user, which means the robust features don't complicate the user experience. Mailbird is also super easy to set up—in fact, it takes most users around 5 minutes (not days!) to master the application.
Pros
Quick and easy set up with easy import of contact/message data.
Lightweight platform that is optimized for speed, as well as includes a user-friendly interface and experience design.
Third party integrations with messaging apps (e.g., Facebook, Twitter, WhatsApp), task management platforms (e.g., Todoist, Evernote, Asana), Google Calendar, and more.
Advanced features, including automatic inline reply formatting, layout and color theme customization, keyword search in attachments and attachment preview, email and contact snoozing, and more.
Unified Inbox with color indicators, which allows you to link several email accounts into one app.
Advanced Contacts Management through unique linking feature.
Cons
The free version has limited access to some of the features.
There is no mobile version available yet.
Mailbird vs Windows Mail App. Give it a free try now.
Webmail
While webmail is not a direct alternative to Windows Mail App, it's always worth considering as an option for your email needs. Webmail includes the various web-based email clients, such as Gmail, Yahoo Mail, Outlook Online, etc. What makes a webmail client different is how you use it. Windows Live Mail—like the other alternatives on this list—is an application that you download to your computer. It's treated like a program on your hard drive, just like any other (Microsoft Word or Adobe, for example).
The Webmail client option, on the other hand, is accessed via a web browser (e.g., Firefox, Google Chrome, Internet Explorer, etc.). You aren't required to download anything to your computer. If you use a webmail client, you don't necessarily need any other app for your email. However, you can have a webmail account that is linked to an app, which gives you the best of both worlds.
Pros
Accessible anywhere and on any computer through a web browser.
No software download necessary.
Most services are free.
Cons
No offline access to your email/contact data (at least most of them).
Not as feature-rich as dedicated email applications.
eM Client
If you're turned off by the overly simplistic nature of Windows Mail App, eM Client is a powerful, free alternative to consider. eM Client supports all major email clients (including Gmail, Outlook and more) and makes it easy to import your messages, contacts and calendar. The layout is fully customizable based on your needs, while still maintaining a simple, user-friendly design and experience. Some of the most popular features include an integrated chat function, automatic translation and scheduled sends.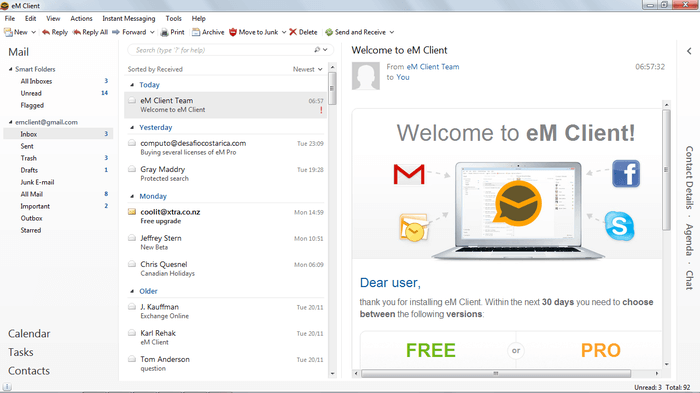 Pros
Simple set up and migration of information.
Advanced layout and theme customization with a sleek design.
Includes an instant messaging feature.
Free version includes most special features.
Cons
The free version only supports two email accounts. The Pro version includes unlimited email accounts.
Tech support only included in Pro version.
Thunderbird
Thunderbird is a free email client created by Mozilla, the minds behind the web browser Firefox. It works a little differently than the other email clients on this list. Rather than coming fully loaded with built-in features, where what you see is what you get, Thunderbird has a robust library of add-ons that you can install to expand the service. Other than the customizations, Thunderbird supports multiple accounts, allows for email encryption, has advanced security features, and has an instant messaging client.
Pros
Highly customizable with tons of add-ons to enhance features.
Advanced security and encryption protocols.
Easy set up process.
Free to use.
Cons
Set up and customization can take a while because you have to install all your preferred add-ons/features.
The future of Thunderbird is somewhat uncertain since it's been separated from Mozilla, so you could be stuck without future updates/developing.
Try one of the best alternatives to Windows Mail App now for free.
Conclusion
It may seem like the easy decision to use the default mail application that comes with your operating system, but you could be putting yourself at a disadvantage. While the Windows Mail app shines with a simple, uncluttered design, it lacks a lot of the powerful features that help you better manage your email. We would recommend considering one of the alternatives proposed in this article over Windows Mail. Your inbox will thank us!
Have you used any other comparable email clients to Windows Mail? App Let us know your thoughts in the comments below!
---
Subscribe to our newsletter
Free e-books
Productivity tips
Technology articles