Mailbird 3.0: An evolution of email productivity and management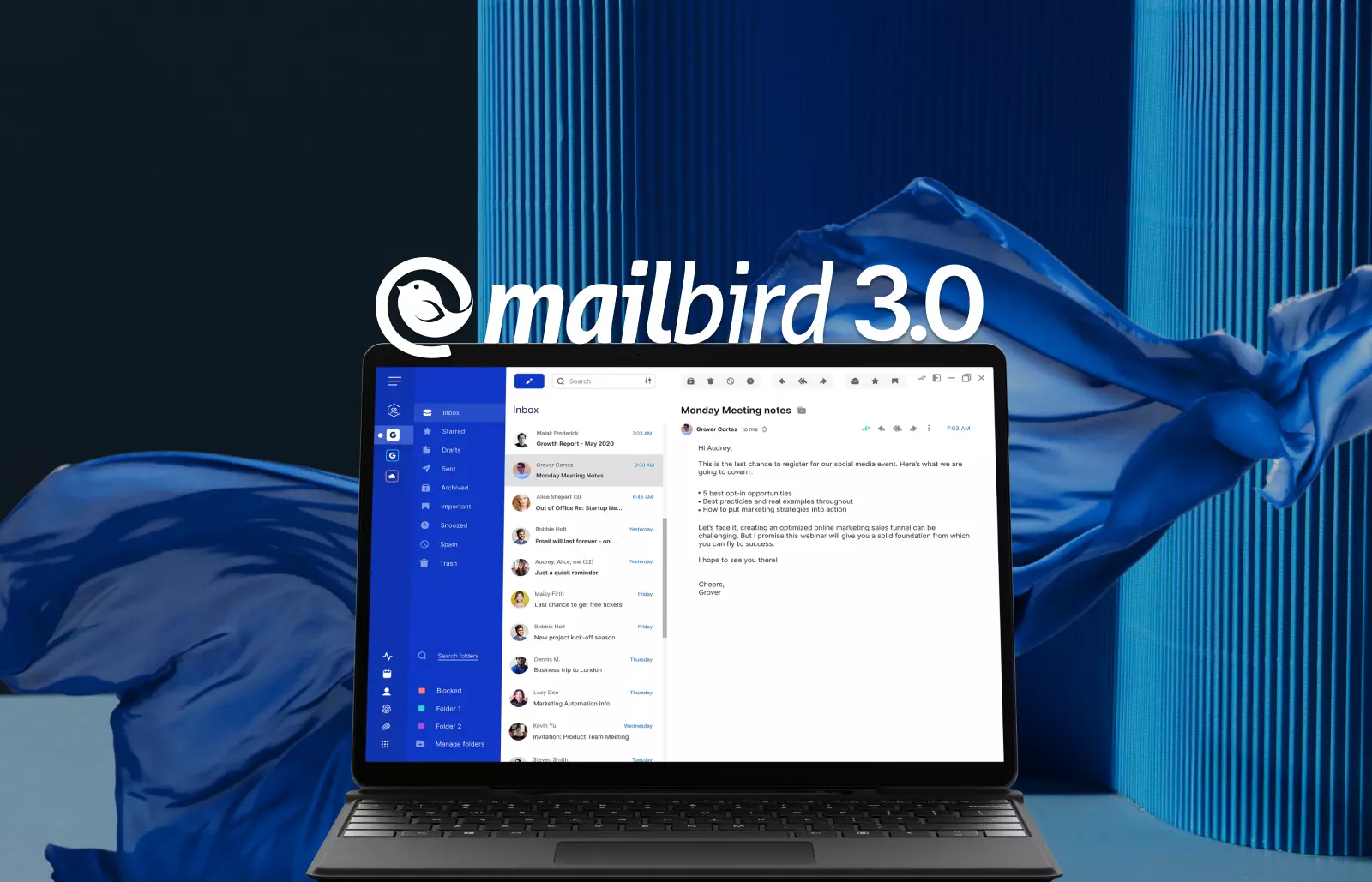 Mailbird 3.0 for Windows has been released. After years of research, internal and external consultation, development, and testing, Mailbird took a huge step in the evolution of its popular Windows-based email app.
It's the company's most significant upgrade in eight years and represents a new generation of email efficiency. Labeled "lean, fast, and flexible", Mailbird has maintained its streamlined approach despite several substantial additions to its app.
Alexis Dollé, Mailbird's Head of Growth, spoke with me about the exciting journey and reasoning behind the release of the company's latest offering.
The road to Mailbird 3.0
Users and software are never static. As user needs evolve so must the tools that are developed to support them. Software companies must take care to monitor this relationship to ensure the gulf between the two doesn't grow too wide.
"We experienced a lot of success with Mailbird 2.0," said Alexis. "But in the ever-evolving digital landscape, it became evident that users' email needs had shifted since its debut eight years ago. It was imperative to innovate and reshape."
Despite this, Alexis knew that restraint was the name of the game—especially with software, where many brands have adopted a "bigger-is-better" mentality.
"We listened, observed, and embraced the task of molding email to the contours of today's users," Alexis added. "Essentially, we reshaped it in a manner that resonated with user expectations."
With a firm understanding of what users love about Mailbird, Alexis wanted to ensure the development team didn't turn the app into something else or to force users to work a certain way. He wanted to give users the mechanisms to set up their email workspace to work the way they normally do.
"We made it abundantly clear that we're not changing the way users work, we're changing because of the way users work. This was a message we communicated to everyone, internally and externally."
Redevelopment goals: A user-first approach
Above all else, Mailbird didn't want its email app to undergo a complete overhaul. They had no intention of knocking down the walls and reconstructing it from the ashes. What they were doing, explained Alexis, was strengthening and building upon an already established foundation that would allow the app to grow and evolve in tandem with user needs.
"It's not only about avoiding obsolescence," said Alexis. "We wanted to add considerable value, to refine and reimagine the user experience, while ensuring the app stays relevant to how users interact with their email and their other digital tools."
To accomplish this user-focused upgrade, they sought to incorporate key features and technologies that elevated the simplicity and functionality of the email journey, such as AI integration.
"We always had a good idea of what we wanted Mailbird to accomplish," said Alexis. "But, unfortunately, sometimes we're limited by the tools available to us as developers. When technology catches up with our vision and ambition, that's when the magic happens!"
In addition to a number of significant design and user interface updates (described in the post " Elegant simplicity drives Mailbird 3.0 redesign"), Alexis highlights Mailbird 3.0's three major functional additions.
Custom apps
"Users are attached to their digital tools and personal ways of doing things; we get that," said Alexis. "We wanted people to use the apps and websites they're most familiar with. So our intention was never to force them to adjust to Mailbird equivalents."
Rather than overload Mailbird with a host of collaboration and productivity tools, developers put the power in the hands of their users.
The custom apps feature lets users integrate their favorite web apps and sites directly into their Mailbird workspace so that their inbox becomes a productivity hub, not only a place to read email.
Email templates
"The email templates feature was on our radar for a long time," admitted Alexis. "It's actually one of our most widely requested additions, going back several years. And we're so glad to finally bring it to our users."
The time it took to bring this feature to light wasn't because Mailbird developers were sitting on their hands. Rather, the technology available at the time didn't meet the expectations of the development team.
"We had a vision of what this feature would look like and what its abilities would be," added Alexis. "We knew that artificial intelligence would play a large part, and we didn't want to compromise on that. But AI was still in its infancy."
The recent advances in AI models and tools finally allowed Mailbird developers to realize the app's email template feature, which contains both an AI and non-AI component.
Block sender
"As busy professionals, I'm sure we all get tons of email," said Alexis. "And keeping a clean inbox can sometimes be a challenge."
Already equipped with message filters, which can serve a similar purpose, Mailbird developers sought to make it far simpler to keep unwanted messages from cluttering up inboxes.
"Yes, you can use filters to accomplish the same thing," explains Alexis. "But blocking senders is not its primary purpose. Filters allow you to set up actions based on specific conditions, but our new block sender feature lets you tap a single button to block certain senders."
More on the horizon
Banking on flexibility, customization, and personalization, Mailbird 3.0 aims to give users complete control over how big or small their email workspace will be.
"We see Mailbird 3.0 as the inaugural chapter in our overarching narrative," said Alexis. "It's a harmonious, unified email experience that transcends boundaries and devices. The journey begins with Mailbird, but our horizons are limitless."