Best Ways to Find an Email Address in 2020
Posted by Christin on August 12, 2020
Technology has no doubt metamorphosed every industry in this 21st century. Especially in the communication sector, almost every single aspect has changed. Be that as it may, one element has remained torpid: email addresses. But has the technology advanced enough to help you find an email address?
Many businesses are grasping at straws when it comes to how to find email addresses to heighten their prosperity. Still, you might want to write to your friend, but by mistake you deleted his/her email address. What will you do? Try mindless Googling?
7 Methods to Help

Find an Email Address
1. Ask for a personal connection.
Found a contact form or a generic info@domainname.com type of address? Shoot a simple message asking for a personal contact.
Don't forget to specify why you are asking. Interestingly, it's the "because" and not the "please" that prompts people to grant you a favor.
2. Use Content Explorer to find email addresses at scale.
While hunting for bloggers as part of your promotional or link-building campaign, you can use Content Explorer to find bits of contact information. If an article has the author's name mentioned, the tool can extract a list of article titles, URLs, and author names. From there, you can try to make up an email from the name and domain address.
3. Test your best guess.
Whether you used Content Explorer or you have the name of your potential contact, you can simply try and guess the address. Worse case scenario, your email service will reply to the email instead of your person of interest.
If you're looking to find business email addresses, the people you want to contact most likely have email addresses with a combination of their first and last names or an initial — something like j.smith@gmail.com or john.smith@mycompany.com.
4. Ask for a contact address on Twitter.
If the person you're interested in has a Twitter account, why not exercise your charisma and message them to ask for an email address? Of course, as with the first point, be courteous and let them know why you want to contact them by email.
Let's face it, email is perfect for both personal and formal communication, but your exact goal matters a lot.
5. Use Twitter's advanced email search for free.
While you're on Twitter, you can also use its search options. It turns out that a lot of people share their email addresses in their tweets. Email addresses can also be ciphered by replating "@" with "at" and "." with "dot," but you can find email address by name and email symbols or respective words. You can also search simply by the symbols used for email addresses and see what Twitter has to offer.
6. Subscribe to their mailing list.
Maybe your person of interest has a website, but there's no contact information listed on it. If they have a newsletter, chances are, they don't use a no-reply address to send it. Consider using a separate address to subscribe — you don't want to end up cluttering your personal or work email with a subscription you don't need.
7. Use email finder services.
If you've exhausted these options and didn't find what you were looking for, another way is to use email address lookup tools. The next section of this article will talk about such tools.
Software Tools to Help You

Find an Email Address
Email Hunter
This fun software will find varied email addresses. Moreover, it will detail some derivations where it recouped the data. Above all, this is a polished app. Also, it's a Chrome extension.
It has free and paid plans. The paid version starts at $49/month and $99/month, all the way to $399/month.
HeadReach
Using HeadReach, you can find an email address by name, company, or website. Besides, you can set the advanced feature to search email addresses by job position. Once you narrow in on your candidate, you can find their name, email, and social profile. The email will get added to your contacts. Finally, this tool has a log for undemanding access to all your searches.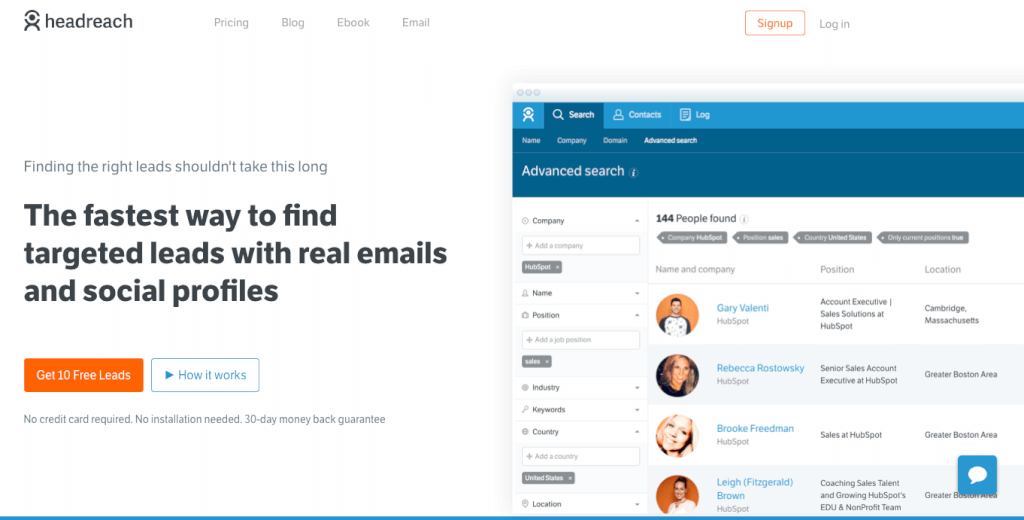 Anymail Finder
The fun thing about this app is that it suggests email addresses using email patterns. All you need to do is click on the toolbar of the email search from your Chrome browser. From here, you can find any email address either by name or company website. Anymail Finder will then speculate the address and lets you one-click replicate it.
But there is something you need to know about this tool. It will be more challenging to use this email finder if you are looking for addresses with heterogeneous patterns.
Datanyze Insider
If your default browser is Chrome or Firefox, Datanyze Insider will get you email addresses wherever they become visible online. Also, it will single out their names. That's not all; it further checks the presence of likely email addresses. It then finds the most active email addresses and will show a link to the exact address.
This email address search comes as a free version, but it has paid plans too.
sellhack
Search up to ten email addresses per month for free using this practical browser extension tool. It scrutinizes public sources to find anyone's email address. This email finder runs on Chrome, Safari, and Firefox.
Clearbit Connect
First, it's a Gmail Chrome extension tool. Second, it's an authentic software to search for any email address. Third, it will get you addresses within seconds.
All you need to do is type in someone's company tag with their job title or first name. Once it pinpoints an email address, you can one-click and draft an email to that person.
Findthat.Email
Findthat.Email calls itself "The Yellow Pages of Email." It is very simple to use and also offers a Chrome extension. You can use it if you are prospecting for sales. HR professionals headhunting for potential candidates can contact them a lot faster using the tool.
What makes it so powerful? Findthat.email uses algorithms that go through 20 different sets of data to retrieve accurate email addresses. There is no guesswork involved in identifying the address. This means lesser bounce rates!
Conclusion
Need to find an email address? It might not be a matter of seconds like a Google search, but it is possible. You can do a manual search on Twitter or try asking your person of interest directly. On the other hand, you can also try software that performs this search automatically.
What tools have you used so far?
Let us know in the comment section below.
Editor's Note: This post was originally published in December 2016 and has been updated for accuracy and comprehensiveness
How do you find out somebody's email address for free?
– Check a company's website.
– Google the person you need.
– Find out more based on known email addresses.
– Use the advanced Google search.
– Sign up and use ZoomInfo.
– Reach out to an admin.
– Look into their social media pages.
Can I look up someone by email?
Yes, using a reverse email search, you can find anybody via their email address. You can also find out their name and which social accounts they use using a reverse phone lookup.
How do I find professional email addresses?
To get someone's professional email address:
– Check out the Contact Us page of their company's website.
– Reach out via LinkedIn and build a relationship.
– View their author page for a blog.
– Pick up the phone and make some calls.
– Become a subscriber to their email list.
– Use Email Hunter or Content Explorer.
– Visit their Twitter page.
How do I search for an email?
Search for emails on your Gmail account using your phone or via the web:
1. Open the Gmail app on your device or via the web.
2. Tap or click "Search mail" in the search box at the top of the page.
3. Type what you're looking for and click/tap Search. The results of your search will appear, except those in Spam and Trash.
---