Our New Contact Manager with Contact Sync Is Out
Posted by Christin on August 13, 2020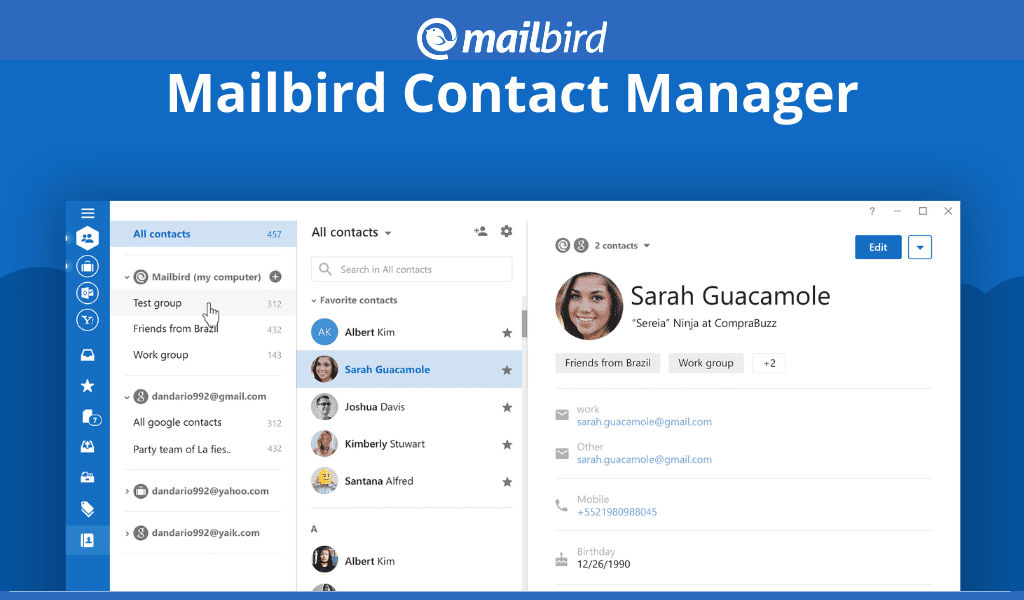 The Mailbird Contact Manager deserves a full write-up, because this feature is ridiculously awesome. It's been a year in the making, so this release means a lot to us. We built this for email users worldwide, to make their lives better with the most critical contacts that keep our personal and business connections thriving.
Let's look at the highlights of your brilliant new Contacts Manager and how to best use it. It is our ultimate obligation to you to deliver the absolute best damn unified, beautiful, and synced Contact Management tool that practically manages itself. It's beautiful. So here we go…
How to Get Started with the Mailbird Contact Manager
Before you become a contact-managing machine, the first step is to get all your contacts into Mailbird. It's simple and will be done in no time. A heads up: the more contacts you have, the longer it may take (instead of 10 seconds, it may take 20 seconds). A step-by-step guide to get the Mailbird Contact Manager as soon as possible:
Activate the Contacts app in our Mailbird App section.

Once you have activated the app an introduction window will pop up. Press the blue "Connect accounts" button on the final slide of the introduction.
Mailbird gives you the option to choose contacts from your Google and/or Outlook accounts (including Google Apps and Office 365) that you have added to Mailbird. Check the boxes next to the Google and/or Outlook accounts to start syncing and adding your contacts to the

Mailbird Contact Manager

.

Should you want to add another Google and/or Outlook account that is not yet in Mailbird, hit the blue "+ Connect other account" button.
5. Choose your account.
Note: If you add a new account to Mailbird, you will need to log into your account with your email and account password. Both Google and Outlook will ask you to grant Mailbird certain permissions to access the account, necessary to sync your contacts.
Agree to the permissions to proceed with syncing your contacts in Mailbird. If at any point you do not feel comfortable, please get in touch with our support team to confirm this process. We assure you your information is safe and secure, and you have nothing to worry about.
Voilá! All your contacts as synced in Mailbird. Search, add, remove, edit, and connect seamlessly with all the important people in your life with Mailbird. Anything you do in Mailbird will sync with Google and Outlook. Finally, our Contact Manager app is here, and life just got a heck of a lot better in how we stay connected.
Awesome Features of Mailbird Contact Manager
After you have added your contacts to the Mailbird Contact Manager, it's time to get them organized. When searching for a contact, notice that a single person may be listed in two or more accounts. The single person will show as two different entries even though they are the same person. Here's the magic of linking, where you can link both entries into one in the Contact Manager. Your contact details of this one person are unified into one entry.
Linking Contacts
Link contacts:

Mark both contacts, right-click, and choose "Link contacts." Mailbird will combine the details from two separate entries into one linked contact. Note: These contacts are not merged, only linked.
Edit linked contacts (unified contact):

When you edit any details in a linked contact, the edits are automatically applied to the individual contact as well. Imagine the time you save when you only have to edit a contact once!
In some cases, you may link contacts that are not 100% identical. As an example, a contact might have different last names in two separate entries, even if they are the same person. To decide and set the name you would like to use for that contact, go to the unified contact and check the last name you would like to display in the linked contact. It can also be empty if you wish. The same can be applied to the image and other contact details listed.
Unlink contacts:

Some people prefer not to link their accounts and keep them individually separated. No problem — you can easily either unlink individual entries from a unified contact or just unlink all of them.
Note: Linking works only in Mailbird! You will have separate individual contacts in your web-based accounts. Any changes you are making within your unified/linked entries will be synced.
Copying Contacts
You may want to copy or add a contact from account/group A to account/group B. You have two options to do that.
First, you can add the contact to a new group by using the "+" icon in the group section of the individual contact.
Grouping Contacts
We want things to be easy for you when you choose Mailbird for managing your accounts and contacts. So, we've taken the time to make it so you can drag and drop contact entries to any contact group or account you want, which is totally awesome.
If you add a contact to a group in another account, they will be linked, because it's another account.
Why will it link them? Because when copying the contact it will create an identical entry in a different group. To save you time, Mailbird creates a unified contact for you. As mentioned before, you can easily unlink those contacts again.
Moving Contacts
There is also the option to move a contact between accounts and/or groups but NOT copy it. Hold the shift key while dragging the contact entry. The contact will be moved to the group you chose.
Based on experience, it is very easy to end up with a large number of copies in your virtual address book due to the convenience of moving contacts around. To avoid a huge amount of copies, Mailbird will actually delete the contact once you "drag" them out of the group. Other clients like Apple Mail i.e. will leave the contact there, but Mailbird will keep your contacts free of "rubbish". Mailbird removes the contact from the group you moved it out of.
-> Note: Moving contacts does not work if you are in "All Contacts" so be sure you are not in "All Contacts" when trying to move a contact entry.
Customization and layout
No matter how long you have been using Mailbird, you will have noticed one thing for sure. We love customization. We know that people are more productive when they can arrange and customize their experience with the design and layout of apps they use every day.
Your Mailbird Contact Manager delivers the customization you need. Show or hide all the groups if you prefer the layout to be less cluttered. Customize profile pictures/avatars of your contacts by uploading any image you choose to associate with that contact entry.
Last but not least, unlinking accounts is done by clicking on the drop-down arrow at the top of the linked contact and selecting any of the accounts you want to unlink. This unlinks and removes the accounts one by one.
Conclusion
The Mailbird Contact Manager has a lot of valuable functionality to keep your contact list organized. The best way to learn how it all works is to experience it yourself. This was not an easy feature to build, so we really hope you love it, given the hard work and over ten-thousand hours put into it.
With that being said, we welcome any questions, bugs, or suggestions in the comment section below or by simply sending us an email.
Is Mailbird really free?
We do not have a free version of Mailbird at the moment. However, you can use a free trial period to try out its features and benefits. Over several years, we've learned that the paid version of Mailbird has helped people get organized and manage emails faster with a really enjoyable experience. To continue using it and enjoy all the features you need to purchase a license.
How do I export contacts from Mailbird?
You can export a whole group, or you can export an individual contact. To export a whole group, select the group you want to export, then select the triangle button located at the contact list column. After that, simply hover to the selected group options and choose "export to vcard."
Who owns Mailbird?
Mailbird is an email client for PCs owned by Livit Tech and inspired by the Sparrow email client for OS X. The company headquarters is in the Livit Tech Startup Ecosystem in Bali, Indonesia.
How do I create an email group in Mailbird?
You can add the contact to a new group by using the "+" icon in the group section of the individual contact.
Does Mailbird work with Gmail?
Yes, it does. Mailbird lets you connect all your email accounts (Gmail, Yahoo Mail, Microsoft email, and other webmail clients — anything really) all into one integrated email client.
Is Mailbird better than Outlook?
If the complicated layout and user interface is your biggest qualm with Outlook, then Mailbird is definitely one of the best alternatives to Outlook. Mailbird is designed around the user — a clean user interface, an intuitive user experience, and a simple design that allows for quick navigation through the app
---