E-Mail einfach und
intuitiv
Sparen Sie Zeit bei der Verwaltung mehrerer E-Mail-Konten mit dem besten E-Mail-Programm für Windows.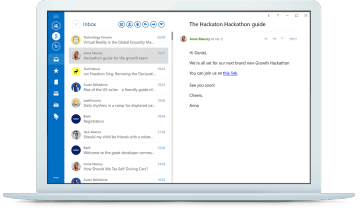 Gib deine E-Mail-Adresse ein und erhalte unseren Download-Link, um Mailbird auf deinem PC zu installieren.
Most popular
Mail alternative

2020

Editor's Choice

2019

Best Email Client

2018

Best Email Client

2017

Rising Global Star

2016

Best Windows
Email Client

2015
Synchronisieren Sie alle Ihre E-Mails

Verwalten Sie Ihre E-Mails und Kontakte von mehreren Konten ganz einfach in einem einheitlichen Posteingang.

Passen Sie die Benutzerfläche an

Wählen Sie aus vielen kostenlosen Farbthemen aus und verwandeln Sie Ihr Mailbird E-Mail-Programm in Ihren persönlichen Arbeitsbereich.

Integrierte Apps


Apps wie z.B. Facebook, Twitter, Whatsapp, Dropbox, Google Kalender, Asana, Todoist und viele mehr…
Die Layouts wurden speziell für Windows optimiert. Wählen Sie einfach Ihren persönlichen Favoriten aus.
Mailbird bietet eine große Auswahl an einzigartigen Layout Optionen, um sich bestens an Ihren Stil und Ihre Arbeitsweise anzupassen.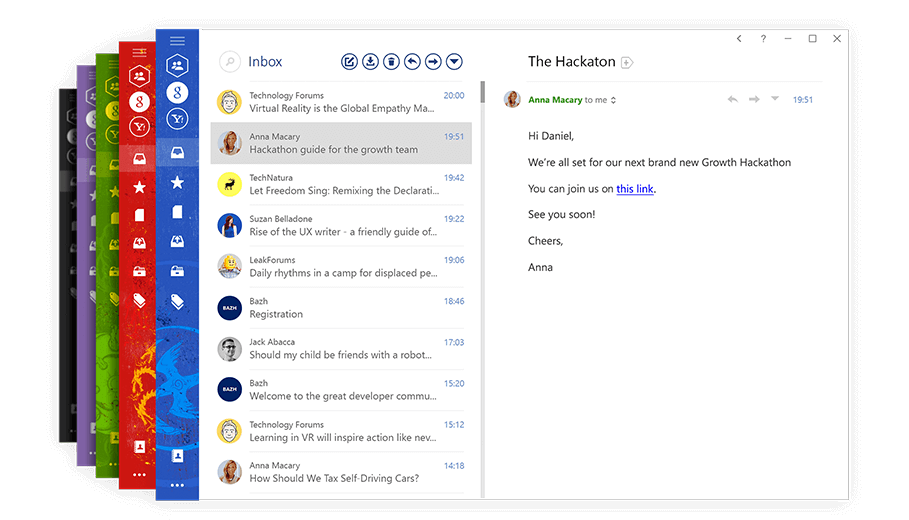 Integrieren Sie Ihre Lieblings-Apps
Verbinden Sie alle Ihre bevorzugten E-Mail-, Kalender-, Aufgaben- und Messaging-Apps in einer einzigen App.
Google Kalender

Whatsapp

Dropbox

Twitter

Evernote

Facebook

To Do

Slack

Google Docs

WeChat

Weibo

Und viele mehr!
Schließen Sie sich über 2.000.000 Mailbird-Nutzern an
Sehen Sie selbst, was einige von ihnen über Mailbird zu sagen haben

Otelo Magalhães
Using Mailbird has made Smartlaunch more successful overall as a company when it comes to our team communication.

Edwin Krisnha
After trying Windows 10 Mail, I still prefer Mailbird over Mail 🙂 Mailbird feels more minimalist, lightweight, and has better shortcuts. Also, Mailbird shows all mail in the same thread on the same page, which Mail doesn't.

Debayan Kar Mohapatra
Mailbird is undoubtedly the best form of desktop email for Windows users. I have become a punctual manager because Mailbird helps me organise all my work in one place.

Rob Roosen
Mailbird has a solid design so I decided to install it and it feels like I have never used a different e-mail client. Mailbird is very user-friendly. According to this I have bought immediately a pro license for one year. I hope that Outlook knows where to find the recycle bin because that is exactly where it belongs!

Wieland Brendel
Dear Mailbird-Support, first of all: thanks for this great application! I have been searching for a good email client on Windows for a long time and finally Mailbird changes the game!

Velimir Saban
You guys ROCK! Mailbird is the best thing that happened to email since gmail.

Baruch M. Barash
Good job, nice app. You make Windows a little better.

Hanif Widyanto
I can happily report that Mailbird is working seamlessly. I'm going to use it as my primary messaging client for the next few days (and hopefully for good!) But for now, congrats to you and the team on the job well done!
Endlich, ein E-Mail-Programm für Windows auf das alle gewartet haben.
Gib deine E-Mail-Adresse ein und erhalte unseren Download-Link, um Mailbird auf deinem PC zu installieren.