eM Client Review and 3 Great Alternatives for Windows in 2022
Posted by Christin on July 16, 2020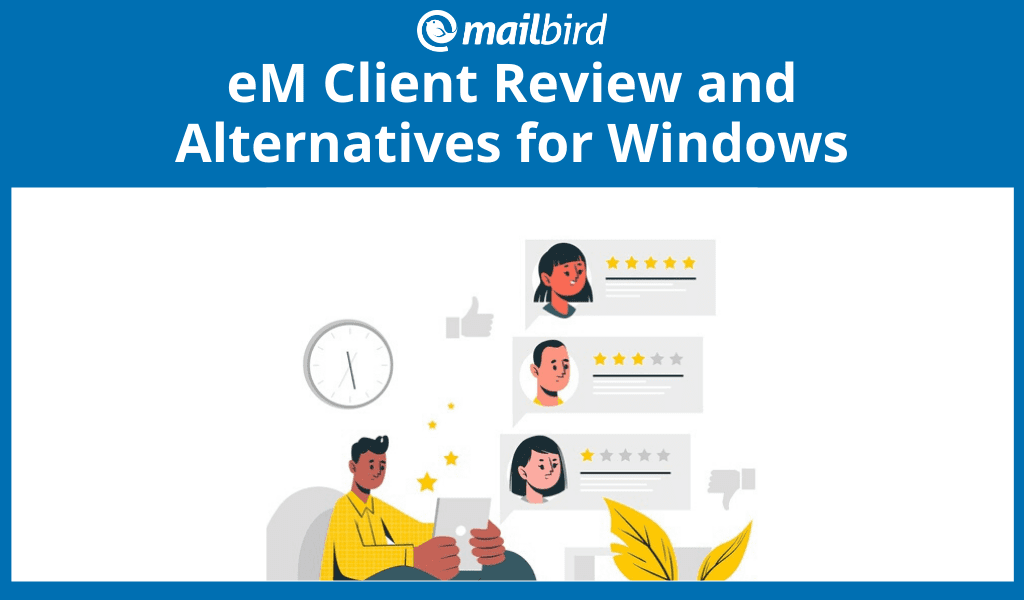 Thinking of downloading the eM Client? But aren't sure if it's the perfect tool for you? In this article, we'll give you a thorough eM client review of its features, pros, and cons so you can make an informed choice. If you want to see this product in action, there's a free version available for testing.
We also suggest three great alternatives to eM Client that can solve all your email client needs and let you manage multiple accounts.
What Is eM Client? A Brief eM Client Review
eM Client is a desktop email client for Windows that allows you to access your emails from the comfort of your desktop. This way, you won't have to log onto a browser every time to access your mail anymore.
eM Client supports almost any POP and IMAP mail accounts, like Microsoft Outlook, G Suite, Microsoft Exchange, Windows Mail, and more. So you can combine your email, calendar, and contacts into one space and use two accounts or more at once — thereby making navigation and management in the email client eM much easier.
eM Client is available at different price points, and the available features vary according to the price plan. There is a free version that provides only email and task management for two accounts. All other price plans include a free version for a month before you are charged for the plan.
That isn't all. eM Client has a host of other features to meet your email management needs. Many eM client reviews can be found on the internet, but here, we provide you with enough information to make a decision.
Let's take a closer look at some of them.
Key Features of eM Client
Here are the eM client features you can have:
1. Simple Contact Management
eM Client makes contact management for two accounts or more a very streamlined process.
This eM client feature allows you to categorize your contacts and their details based on different fields. These could be aspects like salary, family, hobbies — it's up to you. This way, you have complete customizability regarding what information you want saved when it comes to your contacts.
Secondly, the eM Client program allows you to view contacts the way you want to.
You can opt for their default "business card" view or a custom view where you can arrange and sort out contacts in a way that appeals to you.
You also have the option of contact data migration in the .eml file format or as a .pst file.
2. Simple Setup
One of eM Client's calling cards is that it's really easy to use and set up.
Unlike a lot of other desktop email clients, where the setup can be quite time-consuming and troublesome, eM Client's setup is fairly straightforward for two mail accounts or even more.
As it can support almost any mail server, it can automatically import most of your data in no time.
The Drawbacks of eM Client
Given these benefits, as well as eM Client reviews, there is no doubt eM Client is one of the premier desktop email clients available, but it's not without its faults, and we want to ensure our eM client review covers both ends.
Here are a few problems you should know about before you choose to use eM Client.
1. Syncing Errors
Users report that eM Client tends to have email syncing errors from time to time.
There have also been eM mail client reviews about being unable to automatically update inboxes or having issues with emails being deleted from backups.
2. UI and Lack of Customizability
Another issue with eM Client is its rigid user interface.
While its three-pane layout is functional, there isn't much room for customizability in this product.
Although eM Client has taken a step in the right direction by introducing a dark theme across the board, its customization options still remain very limited.
Customer Ratings
G2Crowd – 4.4/5 (7 reviews)
Capterra – 4/5 (33 reviews)
Best Alternatives to the eM Client for Windows 10 and Other Versions
As we've seen in this eM email client review, the app has a few great features to get you up and running when it comes to emails.
Unfortunately, it also has a few drawbacks that hold it back from being a truly effective desktop email client.
So, here are three alternatives to eM Client that look to build on its pros while nullifying its cons. There is a trial and/or free version of each alternative; for a better understanding and experience, you may want to try the free version and see the differences yourself.
Mailbird is one of the best and most popular desktop email clients on the market today that supports all popular versions of Windows up to 11. Due to its unique and useful features Mailbird is considered as one of the best alternative to windows live mail, emClient, Mailspring, Thunderbird and many more. We may be biased, but no eM client reviews should go without mentioning Mailbird, at least not on this blog.
It's won several awards over the years, including the Best Email Client award by Windows Report in 2017.
And for good reason –
It's a one-stop solution for all your e-mail client needs with a highly customizable and smooth user interface.
But that's not all. The Mailbird mail app also has one of the easiest setup processes.
Connecting two accounts, syncing contacts and calendars, and importing emails — Mailbird setup process is so easy that you can be up and running in minutes!
To help you with added functionality, it also supports native integration with tons of third-party apps, such as:
Calendar Apps

File Storage Apps

Instant Messaging Apps

And tons more!
Unlike eM client, Mailbird also offers you a Business mail app. (To get more information and details on the different Business options, simply fill in the form on the Mailbird Business page).
Want to know more?
Let's take a closer look at some of Mailbird's key features to show you why it's such a powerful email client and one of the best alternatives to eM Client.
1. Unified Inbox for All Email Accounts
One of Mailbird's key features is the Unified Inbox.
It lets you manage all your emails from all your different email accounts in one single inbox.
You no longer have to log onto two accounts or more to check all your emails — you have access to all of them within the Mailbird mail app!
Worried about all these emails from different mail accounts getting mixed up?
Don't be!
Color Codes
To help you identify which emails came from which account, you can color code them. This way you can easily identify which account an email came from without having to think twice!
The free version of Mailbird's Unified Inbox supports limited accounts, while you can have unlimited accounts with the Pro version. With it, you can add as many accounts as you want without ever worrying about missing an email again!
2. Identities
Do you sometimes receive emails in one account but need to reply from another account?
This is common in sales, marketing, and support teams — where you get emails in one ID (such as support@abc.com), but the person who replies would do so from their own email ID (such as jake@abc.com).
With Mailbird's unique Identities feature, you can reply to an email from a different email account.
This saves you the hassle of forwarding emails and switching between two accounts when you're trying to reply to emails. It's extremely useful for teams or even solopreneurs who have to manage multiple email IDs for different purposes.
This is how the feature looks in action:
These addresses are "identities," and you can add them easily to your Mailbird account.
Once you're done setting it up, you're good to go. You'll now be able to send an email from a registered identity in any account in no time!
3. In-Line Replies
Ever forget to respond to a question in an email? Chances are, you have.
An average employee receives over 100 emails a day! Something is bound to slip through the cracks.
To try and safeguard you against that, we've come up with an in-line reply feature. With it, you can respond to questions right below them — within the email itself! You don't get that with eM client.
Also, your recipient is going to find reading your answers a whole lot easier as you're answering them right below their questions.
One of the unique aspects of Mailbird's in-line reply feature is that you can add your name and color code your responses. This allows your responses to appear more personalized and stand out.
4. Attachment Reminders
Bet you can't remember the number of times you've sent a mail without attaching a file that needed to be there. It's an embarrassing situation that can happen to anyone sending an email — unless you're using Mailbird.
Mailbird can detect whether an email is intended to be sent with a file or not.
In the event that it is and you haven't attached anything, Mailbird will ask you if you forgot to add a file before sending the email out.
This is what it looks like:
This way, you won't mistakenly click on "send" without an attachment again!
5. Snooze Emails
Responding to emails can be very taxing, especially when you're dealing with loads that don't need your immediate attention.
Unlike eM client, Mailbird can tuck these unimportant emails away for a time period specified by you. This can be a week, a day, or even just an hour!
Since these emails are now temporarily tucked away, you have an inbox filled only with priority emails you can respond to with ease.
Don't worry about these snoozed emails though — they'll reappear in your inbox when the time you specified is up.
You also have the option to click on the Snooze folder and access these snoozed emails before they reappear if you want!
6. Speed Reader
With our speed reader, you can go through your emails in no time!
The feature works by showing you one word in an email at a time. By doing this, your brain will find it easier to process information quicker.
You have the option of viewing 100 WPM (words per minute) to 1000 WPM to suit your preferences.
As a result of all this, you'll be able to triple your reading speed when it comes to emails! Neat, right?
You can find out more about it in this TechCrunch article.
Why Mailbird Is Better Than eM Client
Let's go over some of the reasons Mailbird is better than eMClient and could solve all your problems.
1. Additional Functionality
Mailbird has a lot of helpful features that the eM Client application doesn't have.
For example, eMClient won't offer you a Snooze Inbox, a Speed Reader, or Attachment Reminders. And as you've seen, those can be incredibly helpful when you're managing a lot of emails on a daily basis.
2. Customizations Galore
The most important part of any software is its user-friendliness.
If you're not comfortable using a piece of software, it makes no sense trying to persist with it — regardless of whether it's feature-filled. For just this reason, Mailbird is designed to be as customizable as possible, which makes it better than eM Client.
You can choose a light, dark, or even a custom theme as the background!
Additionally, you get three layouts to choose from — three-pane, preview, or small screen!
You even have the ability to add an email signature to your mail to further personalize it.
This email client application can adapt to your needs and preferences to make sure you're comfortable using it.
3. Integrations
Mailbird offers you lots of integrations to give you additional functionality.
Here are a few of them:
Calendar apps like Google Calendar and Kin Calendar to allow you to manage your daily schedules easily

File Storage apps like Dropbox and Degoo to make it easy to add large attachments to your mail

Instant messaging apps like WhatsApp and Slack to give your team instant messaging capabilities to always stay in touch

Video calling apps like Whereby and Veeting Rooms to help your team communicate effectively

Task-management apps like Todoist, Asana, and Evernote to ensure your team's productivity levels stay high and you can tackle contacts and tasks easily

Social media apps like Facebook and Twitter
Customer Ratings
G2Crowd – 4/5 (33 reviews)
Capterra – 4/5 (50 reviews)
Pros

Cons

Manage a Gmail, Yahoo, Outlook, and iCloud mail server and other IMAP and POP3 email providers in one unified inbox with color indicators for better organization

Connects with a huge library of third-party apps, such as Facebook, Twitter, Instant Messaging apps, Google Calendar, Trello, Asana, Evernote, and more

Sleek user interface that balances customization with intuitive design

Advanced Contacts Management

— sync, merge, and link all contacts from different email providers and manage them seamlessly in one place

Snooze emails

and contacts until you're ready to respond at a later time

Color-coded

in-line reply

feature to streamline responses

Smooth data migration for easy import and export of contacts with support for .eml and .pst file formats

Mailbird

accepts Bitcoin payment

options

Tagging feature

to add new recipients to an email with only one click

Easy set up with step-by-step instructions and automatic incoming server and outgoing server identification

Can add custom signatures to emails

Drag-and-drop for attachments — even

large attachments can be sent using Degoo

Mailbird is not (yet) able to support other operating systems such as MacOS or Linux
Postbox
Another good alternative in this eM Client review is Postbox. Let's take a look at some of the features of the free version that make it a good email client for Windows.
Clean User Interface
One of Postbox's calling cards is its user interface. It's extremely slick and user-friendly.
As a result, getting to grips with its settings will take no time at all.
Easy Setup
While some email clients such as OX App Suite may have complicated setups, Postbox is super easy to configure.
It'll give you step-by-step instructions on how to set it up along with automatically identifying and handling your account's incoming and outgoing servers.
It supports any POP and IMAP account to easily add accounts from email providers like Gmail and Outlook.
As a result, you'll be able to hit the "finish" button for your setup in minutes!
Powerful Search and Sorting Capabilities
Another helpful feature of this eM client alternative is its robust search and sorting capabilities.
You can search for any contact in your email address book or any other client data files easily. This makes tedious tasks like keeping track of everything a distant memory!
When it comes to sorting, Postbox gives you loads of options — you can categorize your mail into a separate folder, color code emails based on filters, or even tag messages by email address.
You can also easily import .eml files to ensure your contact list remains up-to-date.
The Drawbacks of Postbox
While Postbox is a great eM Client alternative, it's not without its faults. Here are two aspects found through eM Client reviews that keep it from being the perfect alternative to eM Client.
No Calendar Integration
One of the most important features in an email client is its ability to integrate with your calendar. By doing so, you'll be able to manage and export your meetings and schedules within your mail app itself.
Unfortunately, Postbox doesn't allow you to do that.
While you can still set up events in iCloud Calendar, Google Calendar, and Lightning, these aren't fully integrated, which could pose a few problems.
Weak Social Media Integration
Just like their calendar-integration capabilities, Postbox falls short when it comes to social media.
While it supports limited functionality with social media sites like Twitter, it's still not yet completely integrated with any major site.
Customer Ratings
G2Crowd – 3.8/5 (16 reviews)
Capterra – N/A
Pros

Cons

Simple and elegant user interface design and fast setup for any POP and IMAP account

Advanced and quick search feature with filtering options for searches

Group email accounts into categories or view in one unified inbox

Organize email via folders; highlighting, topics, and archiving

Can add a custom signature to emails

Step-by-step instructions for easy setup with automatic incoming server and outgoing server identification

Data migration for easy export and import of contacts with support for .eml and .csv files

Works on Windows and MacOS

No free version license; $40 per pro version license (although the license is by user, so it can be used across multiple devices for one user)

No calendar integration, weak social media integration

Management of tasks is rudimentary
Claws Mail
Claws Mail is one of the hottest eM client substitutes on the market right now and could be a great solution for your email client needs.
Let's take a closer look at what makes it a good email client for Windows.
Open-Source Nature
Claws Mail has the distinction of being one of the few email clients based entirely on an open-source framework.
As a result, aside from getting a free version, you can also add as many custom integrations to the software as you want.
Good Filtering Capabilities
Another thing that Claws Mail does well is filtering your emails.
You have the ability to add custom filters to your emails where you can categorize emails based on filters like content and email address.
This makes it super easy to categorize your emails into separate folders to make your inbox look neat and tidy.
The Drawbacks of Claws Mail
Claws Mail can certainly pack a punch when it comes to its features, but it does have a few flaws. Let's look at two of them.
Dated User Interface (UI)
One of the issues with Claws Mail is its user interface, and that comes along with any free version. It's not very modern and sleek and thus looks a bit antiquated.
It's a lot like a dated web interface or what Windows Live Mail used to look like.
You can't make adjustments to how the interface looks, as Claws Mail has very limited customization capabilities.
Complicated Setup
Being an open-source software, Claws Mail can be a bit daunting for beginners. Setting up client data files and settings for the first time can take a bit of time, and tinkering around with its filtering features will require some practice.
Additionally, unlike other email clients, there's no automatic setup for email providers like Gmail, Yahoo, and Outlook — which means trying to import data can require a bit of work.
Customer Ratings
G2crowd – N/A
Capterra – N/A
Pro

Cons

Open-source project allows for an ever-growing library of client data files and add-ons

Free version supports an unlimited number of email accounts so you don't need a pro version

Advanced message filtering and sorting capabilities by flag color, sender, age, phrase, and more to make inbox zero an achievable goal

Can handle imports in the .eml format and as a .pst file

Highly regarded for its speed and flexibility

No automatic setup for an IMAP account or population email accounts (i.e., Gmail, Yahoo, Outlook)

Less-intuitive user interface design

Difficult to initially set up settings

No calendar tool

Not available for Apple MacOS
Conclusion
Based on this eM mail Client review, we can see that the app is a great alternative to email clients like Outlook Express, Windows Live Mail, outlook.com, and Windows Mail. However, it's not for everyone.
While there are tons of good alternatives to eM client out there, the three we listed here were the best in our opinion. You may also look for these mozilla thunderbird alternatives for windows as well.
In the meantime, why not sign up for the free version of Mailbird? Take it for a test drive here.
Is eM Client any good?
eM Client has many advantages, such as quick setup and simple contact management. However, many users continuously experience syncing errors and infrequent updates. Customization options are also limited.
How much does eM Client cost?
eM Client's cost starts at $49.95 for the Pro version with a free 30-day trial period. There is also a free limited version. Alternatives with similar functionality start from $3 per month.
Is eM Client secure?
Yes, it is. To ensure the safety of your information, eM Client incorporates top-of-the-line encryption services on all incoming and outgoing mail. It does so through the process of sharing a "keypair." This is a kind of passcode shared between only you and the recipient to ensure that only you two can access the contents of a shared email.
What is the best email client for Windows 10?
The best email client is the one that may satisfy most of your preferences pertaining to managing email accounts and has a nice, clear interface. Today's top picks are:
1. Mailbird
2. eM Client
3. Postbox
4. Claws Mail
---