Welcome! Your inviter was so happy with Mailbird they knew you would love it too.
Email made easy
& beautiful.
Save time managing multiple accounts with the best email client for Windows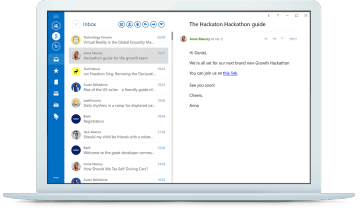 Introduce tu correo electrónico y te enviaremos el enlace de descarga para que instales Mailbird en tu escritorio
Editor's Choice

2019

Mejor cliente de
correo electrónico

2018

Mejor cliente de
correo electrónico

2017

Estrella mundial
emergente

2016

Mejor cliente
de correo electrónico
para Windows

2015

Mejor cliente
de correo electrónico
para Windows

2014

Mejor programa
gratuito

2013
Sincroniza todos tus correos

Gestiona todos tus correos y contactos desde varias cuentas fácilmente desde una única bandeja de entrada.

Personaliza el diseño

Escoge entre muchos colores. Transforma el cliente de correo electrónico Mailbird en una obra de arte.

Integración de aplicaciones

Aplicaciones integradas como Facebook, Twitter, Whatsapp, Dropbox, Google Calendar, Asana, Todoist y muchas más…
Escoge entre muchos diseños impresionantes mejorados para Windows
Mailbird incluye varios diseños únicos que encajan con tu estilo y la manera en la que trabajas.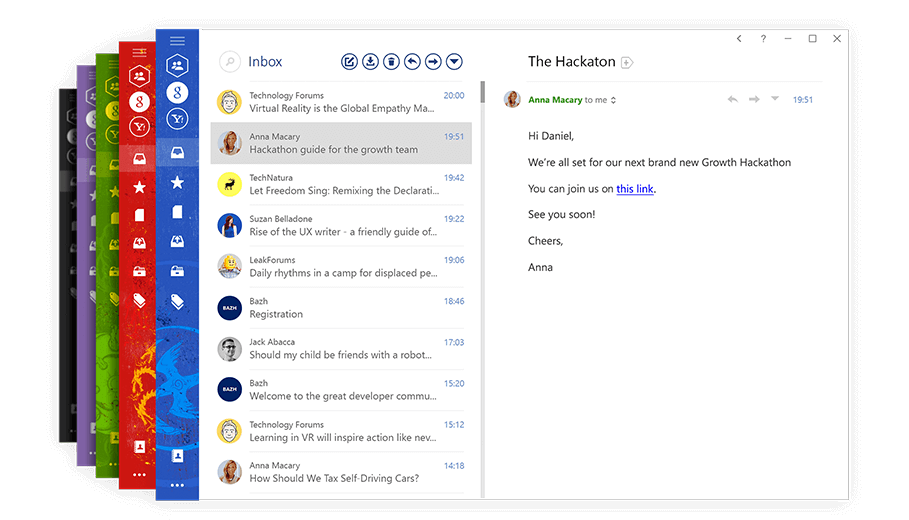 Integra tus aplicaciones favoritas
Conéctate a todas las aplicaciones de correo, calendario, tareas y mensajería en un solo sitio
Google Calendar

Whatsapp

Dropbox

Twitter

Evernote

Facebook

Wunderlist

Slack

Google Docs

WeChat

Weibo

¡Y más!
Join over 2,000,000 people using Mailbird
Esto es lo que dicen

Otelo Magalhães
Using Mailbird has made Smartlaunch more successful overall as a company when it comes to our team communication.

Edwin Krisnha
After trying Windows 10 Mail, I still prefer Mailbird over Mail 🙂 Mailbird feels more minimalist, lightweight, and has better shortcuts. Also, Mailbird shows all mail in the same thread on the same page, which Mail doesn't.

Debayan Kar Mohapatra
Mailbird is undoubtedly the best form of desktop email for Windows users. I have become a punctual manager because Mailbird helps me organise all my work in one place.

Rob Roosen
Mailbird has a solid design so I decided to install it and it feels like I have never used a different e-mail client. Mailbird is very user-friendly. According to this I have bought immediately a pro license for one year. I hope that Outlook knows where to find the recycle bin because that is exactly where it belongs!

Wieland Brendel
Dear Mailbird-Support, first of all: thanks for this great application! I have been searching for a good email client on Windows for a long time and finally Mailbird changes the game!

Velimir Saban
You guys ROCK! Mailbird is the best thing that happened to email since gmail.

Baruch M. Barash
Good job, nice app. You make Windows a little better.

Hanif Widyanto
I can happily report that Mailbird is working seamlessly. I'm going to use it as my primary messaging client for the next few days (and hopefully for good!) But for now, congrats to you and the team on the job well done!
Por fin un cliente de correo electrónico para Windows que merece la pena descargar.
Introduzca su correo electrónico y le enviaremos el vínculo de descarga para instalar Mailbird en su ordenador