What Being Featured on Product Hunt Feature Taught Us
Posted by Christin on January 7, 2016
This post was originally published by Medium.com
Your CEO is in Asia, your CTO is in Europe, and your marketing team is everywhere in between. So, what do you do when you find you've been hunted? In this post, I will go into how we discovered we'd been featured on Product Hunt, and how we came together to get over 100 upvotes for the day and attract over 1000 new visitors.
First, a little background.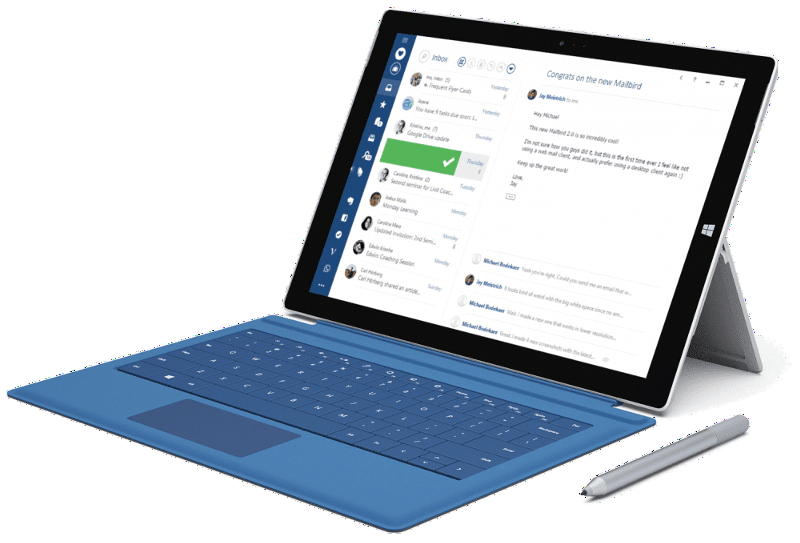 Mailbird is a Windows-only email client designed to make you more productive by bringing together all the apps you use to communicate, plan, schedule, and incorporating them into one easy to use platform. Over the past 4 years, we've continued to evolve the client by adding a fresh new look, speed optimizations, enhanced email account support, and more. To date, over 500,000 people have tried Mailbird, and our growth continues to be nothing short of amazing.
The main reason for the success of Mailbird has been our amazing team, which includes members from all across the globe. Reaching across the world has not only allowed us to search out the perfect people for every role, but it also allows us to more easily expand out email client to international users.
However, this global team distribution can also present problems when attempting to capitalize on something like a Product Hunt feature. Especially, when it's not something you are expecting…
Gah! We were just hunted on Product Hunt
That was the message I shared with my team members (who were awake) at 7:03 a.m., my time. Maybe not the best response, but to be fair, the coffee hadn't quite kicked in.
Now, we had been working on an upcoming campaign for getting on Product Hunt with our next feature release, so at least we were not completely ignorant of how to handle things. However, we were planning to have key members (like our CEO Andrea Loubier) available during those key daylight hours in the United States to handle questions and feedback on our feature. We also wanted to have campaigns ready to go to capitalize on the mention with our social channels and email contacts.
We knew we had to scramble to make this work, and I am happy to say we pulled it off. Here is a quick rundown of what we did:
First, I was online so I quickly jumped on Product Hunt (as I furiously downed my coffee) and wrote a quick overview of the product. In it, I also went into how our team was distributed all across the globe, and that we would jump on when we could to leave comments and answer questions.
At the same time I was doing that, the other member of our team Alexis Dollé (who was online) quickly created a banner triggered by the Product Hunt referral tag welcoming traffic from that source and offering them a little something special in the form of a discount on our Pro version of Mailbird.
Next, I jumped on creating graphics and content for use in social posts and quickly scheduled various mentions of our feature across our social channels to go out periodically during the day
After that, we collaborated on an email to go out to our users. Now, this was where (thanks to our existing research into Product Hunt) we knew we needed to be careful. Product Hunt does not want makers encouraging people to upvote. It's even been suggested it may be a bad idea to link users directly to your feature.
Why? Product Hunt's algorithm is rumored to take engagement and page views into consideration, assigning lower value to users landing directly on a feature, up voting, and leaving. Product Hunt, for good reason, wants to prevent makers from flooding their features with upvotes. Just because a product may have millions of users doesn't mean they should be able to leverage that into countless scores of upvotes and dominate the product rankings any time they choose.
So instead, we experimented with a variety of versions landing people on the homepage, listing, and even a pre-defined search for our product. Unfortunately, without access to Product Hunt page analytics, there was no way to see if a particular strategy was better than the others, but at least we didn't risk putting all our eggs in one basket.
With everything set up, we took the rest of the day to interact on the feature, respond to engagements with our tweets and Facebook posts, and generally handled things until our other team members began waking up to take over.
In the end, we enjoyed alot of positive comments and constructive feedback on our feature. Most users we were interacting with seemed pleased to find some more Windows tech being featured.
We also saw an ongoing boost to our traffic that has settled to an additional 20 or so users a day discovering Mailbird through Product Hunt. Even more important, we saw an increase in mentions and features in other sources that we attribute to our increased exposure from Product Hunt that generated even more visits and downloads.
Most importantly, we gained some valuable experience with Product Hunt that we can use to make our next feature (planned one, hopefully) even better. That said, we are still enjoying new users, mentions, and feedback every day thanks to our being hunted. Although it was a scramble, I think we pulled it off nicely.
Thank you Product Hunt, and your amazing community who were nothing but positive and supportive of Mailbird. We can't wait to do it again soon with our next major release!
---