Ultimate Guide to Business Email
Email addresses are conveniences that just about everyone uses, but few appreciate. As a result, it's even likely that when you see "get a business email" on a starting-a-business guide you roll your eyes. We know we used to.
What we want to make clear with this guide is that having a business email is important for the success of your enterprise. The benefits it provides lay the groundwork in ways you might not expect.
Even speaking broadly, a dedicated email for your company allows you to:
Better brand your efforts
Create a dedicated channel with which to interact with your customers
Secure your business communications
And give your web traffic a boost, as your address will be the same as your domain
The best part is, unlike a lot of other essential business technologies, creating a professional email doesn't have to cost you an arm and a leg. Actually, it can cost you nothing.
Join us for this deep-dive into everything business-email-related. We'll cover what it is, how it can benefit your business, getting started, a breakdown of the most popular providers, and much more.
What Is a Business Email?
A business or professional email account is created solely for a specific company. They are typically paid for and maintained by the company itself and used for business communications.
Most of them contain the name of the company in the domain. For example, if I worked at company ABC my business email could be isaac@abc.com.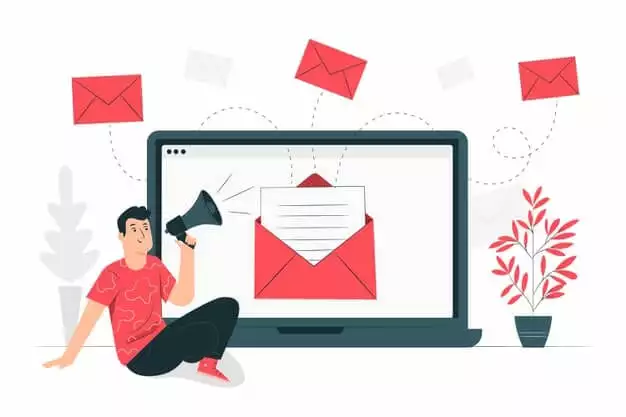 Differences Between Business and Personal Email
Business and personal emails are both used for online communications. However, the former has several distinct features.
Unique domain name. Most personal email addresses have the domain name of the email provider. For example, everyone who has ever registered an email through Outlook will have @outlook.com after their usernames. Business email addresses instead have the names of the companies as their domain names.
More uniform and professional looking. Because there are so many people registering email addresses with free providers, it can be hard to find a unique username. You'll likely see many personal email addresses with numbers or creative misspellings. Most companies only have between one and 100 employees, so their usernames tend to just be their own names or initials, allowing them to appear more uniform.
Easier to look up. Professional emails tend to be used for career-related purposes. This means that if you wanted to see the career history of a sender, you could type their business email into Google for a rough summary of their professional history.
Usually have an associated cost. Most free email providers are severely limited in what you can do. So, although it is possible to register a free business email, most companies opt for a premium or paid version.
Why Register a Business Email? How Does It Benefit Me?
The benefits of registering a business email go beyond looking nice. There are many advantages that can impact your business. Here are a few:
Branding opportunity. Your domain name is an integral part of your company's brand. Therefore, opportunities to display it should be taken whenever possible. Every email sent from you or your employees through a company email is an opportunity to put your business at the top of your receiver's mind.
Generally stronger passwords. The damage a hacker can do by getting access to a corporate email account is great. That's why many business email clients allow you to set strict security policies concerning the type of passwords and authentication protocols employees are to follow.
Greater storage capacity. The number of daily communications employees receive is much higher than someone at home. Therefore, the need for storage is higher as well with a company email. The amount of additional storage varies depending on the email client and service package, but it is almost always greater than what free email services like Gmail provide.
More likely to pass through spam filters. Although still not universal, DMARC is being adopted by more and more companies. That means that if you send cold emails from your personal email instead of a company email, there's a good chance it'll land in the recipient's spam folder.
Better record keeping. Most business email clients allow the main account holder to archive communications sent from the company domain. This provides more accountability of what is being sent out and to whom.
Easier to scale. Adding another person to a company email is simple. Simply register their name @companyname.com. However, having to create new personal emails for new employees can become a nightmare as your company grows. The communications won't be centralized, so you create openings for security risks.
Clearer who is sending the email. Do you work at Google or Verizon? Most people assume that the person sending a business-related email works at the company in the domain name. So sending a sales pitch to a prospect will be much clearer if you send it from an address that has your company's name in the domain rather than something like andrewj@comcast.net.
Needed to avoid CAN-SPAM violations (if you are a US-based marketer). If you plan on sending cold emails to potential leads, you need to provide a way for your recipients to opt-out. Personal email addresses don't have this feature; only customized email addresses do. Violating this act could lead to fines.
These are just some of the general benefits that come from having and using a professional email over a personal one.
Do You Need a Business or a Personal Email?
We've written in length about why a business email is more beneficial than a personal account. However, it technically isn't a strict requirement. To clarify, it will depend on your business needs but if you're unsure then go through the checklist below.
Does your company employ or plan to hire more than three people?
The more people there are in your company, the greater the likelihood that someone will get hacked. Most business email providers let you standardize security protocols, and if someone does get hacked, see where the breach came from.
Do you plan on engaging in email marketing?
Although the CAN-SPAM Act is only really enforceable in the US, it's a good practice to always have an unsubscribe button because email clients like Gmail WILL penalize you if your communications are reported as spam too often.
Will you be sending or receiving sensitive data or information via email?
Legal due diligence requires that you do everything in your power to ensure the safety of your clients' information. As most personal email accounts lack enhanced security features, they do not count.
Is accountability important to your business?
Business email clients let you easily archive and keep track of important communications between employees and clients. Personal accounts have this feature as well, but you'll be unable to archive en masse.
Will email be the main communication between you and your clients?
If so, then we strongly recommend switching to a company email. Most business email clients allow you to send emails to hundreds of people at once. Plus, you're less likely to end up in a spam folder.
Are you actively working to increase your brand presence?
Having your domain name appear in every communication is an easy (and cheap) way to get your name out there.
Do you plan on engaging in content marketing?
Some providers have an email tracking feature. With it, you can get a good idea of your content's open rates.
Are you trying to build trust with your audience?
If you are in a competitive market, you require any and all opportunities to build customer trust. Often, the only factor keeping a customer from going to your competitor is a slight bit of trust. And guess what, according to a GoDaddy survey, 75% of consumers say professional email addresses are key to trust.
Having a company email is not a requirement. However, it is almost always beneficial to use one over a personal email for business-related purposes. With that said, let's go over the steps to follow if you want to set up an account.
How to Create a Business Email
It isn't hard and can be broken down into a three-step process:
Decide on an email service provider. There are many free and paid options. Each offers a different blend of security, storage, and advanced features.

Create a custom address for your business.

You should typically stick to your company name. But, if it's too long or already taken, then it might be best for you to include an additional word or acronym. Just make sure anyone receiving an email from you can tell which company you're from.
Set up and connect your business address. After deciding on an email provider and domain name, it's time to put everything together. Most email providers have instructions on how to set up your new business email address. A tour of the features is usually also provided. Afterward, start integrating all your supported productivity apps. It's better to do it now at the beginning of the account to ensure nothing gets left out.
To learn more about what a business email account is and how it compares to a personal account, read our Complete Guide to Creating a Business Email Account.
Now that we know the steps needed to create your new business email, it's time to look at the options to choose from.
Which Email Provider Is Best for Business?
The definitive answer to this question really comes down to your business needs and whether you're talking about free versus paid. Generally speaking, however, there are some important considerations to take into account.
We've written an in-depth blog post on how to choose an email provider, so we won't go as deep here. Instead, we'll touch on what to look out for.
Most email service providers offer most of the above. It's the degree to which each is supported that is the main difference between them. What you need to determine is what mix best fits your needs.
Overview of Top Free and Paid Business Email Providers
Most email providers have both free and premium plans. Although the core services are usually the same, there are some important differences:
Comparing Free vs. Paid Plans
| | | |
| --- | --- | --- |
| Feature | Free Plan | Paid Plan |
| Privacy | Little to none for most providers; selling your data is typically how these providers make their money. | Most paid plans DO NOT harvest your data. |
| Advertisements | Expect to see a lot of ads. | Entirely ad-free |
| Number of users | 1 - 3 users | Can range from an additional 3 users to the entire company |
| Storage | Small total storage limit and attachment limit | Greater overall storage plus access to cloud storage |
| Integration & customization | Few to no integration and customization options | Generally a much higher degree of integration and customization possibilities |
| Cost | Costs nothing | Premium plans usually require monthly or annual subscriptions. |
| Support | Most free plans, at best, offer support via email only on workdays. Replies usually take 24+ hours. | Much higher degree of support, usually with a live representative and at any time of day/any day |
Top 5 Free Business Email Providers
If you are on a tight budget or are unsure of your exact business needs when it comes to email, it might be best to go for a free option. Many of the options mentioned do have a premium plan. So, if you find yourself really liking a certain option, you could always choose to switch plans at a later time.
G
Needing little introduction, Gmail remains the king of email platforms with its 1.5 billion active users and 43% ownership of the market share. It receives regular updates, comes with two-factor authentication, and can pretty much integrate with everything.
You can connect your domain to Gmail for free, though it is limited to one account and requires a little technical know-how on your part. Just be aware that, beyond the first account, it will cost $6 per month/per user on Google Workspace.
Main Feature

Pricing

- Intelligent search suggestions

- Automatic email filtering

- Two-factor authentication

- 30 GB storage limit. 50 MB attachment limit

- Integrates with pretty much everything
- Free, as long as you limit yourself to one account

- $6 monthly per account for every user after the first
Pros

Cons

- Regular updates

- Smart spam and malware filters

- Two-factor authentication

- Easy integration with other Google devices and applications

- Domain name can be changed if linked
- Costs can add up quickly if you plan to have a large staff
- Limited storage

- Be prepared to receive a lot of targeted ads

- Can be hard to set up your free custom domain
AOL Mail
Likely the first email provider for many early internet users, AOL Mail has been around since the early 90s. Despite its age, it never really caught on like some of the others on this list. At last count in 2015, AOL had roughly 174 million users worldwide.
Like Gmail, AOL Mail provides users with intelligent spam filters that reduce the risk of malware infection. It used to be a popular choice with businesses, as it allowed for a custom domain name for free. However, this service was canceled in 2016.
Main Feature

Pricing

- Virus and spam protection

- Auto-spell check

- 250 GB storage limit, 25 MB attachment limit

- Can be linked to other email service providers like Hotmail and Gmail

- Free, if you have an AOL license. If you don't, it'll cost $4.49 per month per user
Pros

Cons

- Large storage limit

- Simple-to-use interface

- Embedded links need to be activated by the user, adding an extra layer of protection against phishing and malware attacks

- Every time you receive a message, you'll get the nostalgic "You've got mail!" notification
- You'll have ads appear regularly

- If you take an extended break from your account (90 days), you risk it being permanently deleted

- Limited domain customization (can only choose @aol.com, @love.com, @ygm.com, @games.com, and @wow.com)

- Features are fairly basic
Yahoo Mail
Another old favorite, Yahoo Mail has been around for nearly 30 years. Like AOL Mail, features are continuously being added to improve its stability, efficiency, and performance. In 2021, the company made a controversial decision to remove email forwarding from free accounts.
Main Feature

Pricing

- Clean interface

- Good level of security

- Incredible storage capacity, 25 MB file attachment limit

- Plenty of additional features
- Free, but if you want to do something basic
like forward emails you'll need Yahoo Mail Pro
or to pay $12 per year for the "Access + Forwarding" option.
Pros

Cons

- 1 TB storage capacity

- Built-in access to tools like a calendar, notepad, and search bar

- Items in Trash will auto-delete after 90 days

- Spam filters and SSL encryption
- Features are fairly basic compared to other options

- Cannot customize your domain

- Cannot forward emails (only for Yahoo Mail Pro)

- Will regularly see ads
Zoho Mail Lite
Zoho Mail Lite is unique in this list because it doesn't follow the pattern of trading your attention for service. Unlike the previously mentioned options, you won't see any ads when using it. Also, it allows up to five users. It costs $1 per user beyond the five. Several premium options exist, but this is still an excellent choice if you have a small business.
Main Features

Pricing
- An entire small team can use the free tier

- 5 GB storage limit per person

- 20 MB attachment limit

- Comes with spam and antivirus protection

- Email hosting for one domain
- Free forever for the first five users and $1 per month for every additional user with 5 GB of storage space
- It's $1.25/month and a 10 GB storage limit per additional user
Pros

Cons
- Up to five people can use the account

- Completely ad-free

- Integrates with other Zoho productivity tools (calendar, notes, and tasks)

- Easy to configure
- Limited storage
ProtonMail
Despite the limited features it offers, the free version of ProtonMail still continues to make the list for top business email provider. Unlike other free options on this list, even its free plan offers users full privacy. This is an excellent starter for someone looking to upgrade from the basic Google, Yahoo, or AOL offerings.
Main Features

Pricing
- A special you receive encryption key ensures only your recipients can read the content of the emails you send out

- 500 MB storage limit

- Zero access to user data
- Free, but can be upgraded to ProtonMailPlus, which increases storage capacity to 5 GB for $5/month
Pros

Cons
- No ads

- No sale or harvesting of your data
- Custom domains not supported unless you upgrade

- Tiny storage space

- Both labels and folders limited to three each
Top 4 Paid Business Email Providers
If you are looking for something more robust in terms of features and functionality, consider a paid email service provider option. The following are some of our favorites.
Google Workspace
The former Google G Suite is a popular choice for many small businesses, and for good reason. It allows team members to effortlessly communicate with one another with cloud-based tools and lightning-quick syncing. And because most people have used Google Docs, Sheets, and other similar Google-owned tools at one time or another, the learning curve is virtually non-existent.
Main Features

Pricing
- Comes with Google Docs, Sheets, Calendar, Meet, Chat, and around two dozen other cloud-based applications

- Incredibly secure, so much so that Google Workspace received an ISO/IEC 27701 certification

- Highly advanced filtering that blocks out 99% of all spam, malware, and phishing attempts
Google Workplace comes in four plans:
-

Business Starter:

$6 per user/month and 30 GB of storage
- Business Standard: $12 per user/month, also 30 GB of storage and added security/admin features
-

Business Plus:

$18 per user/month, 5 TB of storage, and enhanced security features
- Enterprise: Unlimited storage and advanced controls; however, you'll need to contact their sales department for a quote
Pros

Cons
- Access to many simple-to-use tools your team is likely already familiar with

- Access to real-time email/analytics

- Extensive support system and regular updates

- Syncs with pretty much everything

- Account admins enable email auto-forwarding for users
- No desktop apps

- The tools themselves can be lackluster compared to dedicated alternatives (i.e., Google Meet vs. Zoom)

- The constant roll-out of updates, name changes, and new products makes it hard to keep track of what's going on
If you go with this option, check out how to set up a Google Workspace account.
Yahoo Mail Pro
Released in 2017 as a part of the company's overhaul, Yahoo Mail Pro acts as an enhanced version of the free version. The main differences are the ability to create a custom domain address and the removal of ads. One area in which it is seriously lacking is security. Unlike some other popular email service providers, Yahoo Mail Pro doesn't have login warnings. So if someone across the world is attempting to brute-force hack your account, you'd never be notified.
Main Features

Pricing
- 24/7 customer support
- Faster loading compared to Yahoo Mail

- No more account deletion after 90 days of inactivity

- No ads

- 1 TB storage limit, 25 MB attachment limit
- $3.49 per month for one user
Pros

Cons
- Customer support easily available, day or night, any time of the week

- No more intrusive ads

- Emails now open faster, as there are no ads

- Surprisingly good at identifying spam, even more so than Gmail
- Very barebones compared to other paid options

- Frequent crashes of calendar and contacts on mobile

- Like the free version, you cannot create subfolders, which can quickly lead to a messy inbox.

- No login attempt warnings
Zoho Mail Premi
As the name implies, Zoho Mail Premium gives you everything the free version does, only better. There are three tiers you could opt for with additional storage ranging from 30 to 100 GB. Attachment limits also drastically increase from 500 MB up to 1 GB. More importantly, both the Premium and Workplace plans come with a bunch of additional features.
Main Features

Pricing
- Spam filters, mail filters, and mobile apps

- Interface includes a calendar, notes, task manager, and contact portal

- Several different types of collaboration tools included

- Admins can manage who uses which accounts and set permissions for what they can do
- Mail Premium: $4/month per user, comes with email backup and allows for larger attachments

- Workplace: Starts at $3/month and has access to the complete communications suite with business email and online office apps
Pros

Cons
- Very reliable and clean interface

- Emails can be easily tagged and sorted

- Encrypted email security, advanced spam filtering, and malware detection

- Two-factor authentication

- 24/7 phone support
- No live chat

- Limited software integrations
ProtonMail Professional
ProtonMail is an easy recommendation for those concerned about their online privacy. Unlike most of the options listed, it doesn't require that you provide any personal information to sign up. It's completely anonymous. ProtonMail also uses end-to-end encryption, so wherever you send an email to someone, no one outside the two of you will be able to access the contents. This includes ProtonMail itself.
Main Features

Pricing
- 5 GB of storage per user

- Two custom domains

- Unlimited custom folders and filters

- Above-and-beyond levels of security and privacy
- Professional Plan: $8/month per user

- Enterprise Plan: Will need to contact ProtonMail's sales department for a quote
Pros

Cons
- Can see all sessions logged into your account and has two-factor authentication

- Sent a special encryption key that ensures only your recipients are able to read your emails

- Access ProtonVPN upon request for greater security over internet traffic (with Enterprise Plan)

- Custom integrations (with Enterprise Plan)
- Small storage limit
Comparison Table of Free and Paid Business Email Options
Storage

Number of Accounts

Security

Price

Gmail

30 GB Storage

50 MB attachment limit
1, but can add more
2F authentication

Login attempt warnings

Intelligent spam filtering
$0 for one user

$6/month per user beyond that
Google Workspace
Business Starter - 30 GB storage

Business Standard - 2 TB of storage

Business Plus - 5 TB of storage
1 - 300
2F authentication

Alert center: Notifications for potential security issues

Password monitoring and strength control

SSL encryption
Business Starter

Business Standard

Business Plus

Yahoo Mail

1 TB storage

25 MB attachment limit
1
Spam filters

SSL encryption
$0, but will need to upgrade to Pro or pay $12/year for email forwarding
Yahoo Mail Pro
1 TB storage25 MB attachment limit
1
Great spam filtering
$3.49/month per user

Zoho Mail Lite

5 GB of storage per user

250 MB attachment limit
5
2F authentication

Intelligent spam filters

Malware protection

Encrypted email security
Free
Zoho Mail Premium
50 GB of storage per user

500 MB attachment limit
Unlimited
2F authentication

Intelligent spam filters

Malware protection

Encrypted email security
$4/month per user for Premium plan

$3/month per user for Workplace plan

ProtonMail

500 MB storage limit (can be increased with ProtonMail Plus)
1
2F authentication

End-to-end email encryption
Free, but can be upgraded to ProtonMailPlus for $5/month
ProtonMail Professional
5 GB storage limit/per user
Unlimited
Oversight of sessions logged2F authentication

End-to-end email encryption
$8/month per user
Something important to keep in mind when selecting a package: your decision doesn't have to be forever. If what you are receiving isn't what you expected or your business needs change, you could always go with a different provider in the future. Having made your decision on a provider, effective management of the account is critical to get the most value out of it.
How to Manage a Business Email Effectively: Best Practices You Should Employ
Selecting which email provider to go with was the easy part. Learning to effectively manage your business email will be a bit harder. That's because, depending on your industry, role, and company size, your everyday email needs may look very different from someone else's.
There are, however, some best practices we can share so your business communications can go smoother. Let's start with the most important one of them all:
Invest in a Good Desktop Email Client
You're likely someone who regularly uses multiple email addresses (professional and personal). Travel is something you do constantly for work, meeting clients and investors all over. Important emails and documents will be sent out and received every day. You don't have time to try to figure out an unintuitive user interface.
Most importantly, your business and personal reputation will live and die by your ability to ensure the safety of sensitive information.
Regardless of the email provider you have, the Mailbird email client can remove any weaknesses.
For example, you'll be able to:
Organize email accounts.

Mailbird lets you consolidate inboxes, folders, calendars, and contact lists across different email accounts, all in one clean interface.
Customize your layout. You can choose from a light or dark color scheme, in-built and custom backgrounds, custom sounds, and it even features multi-language support.

Perform faster tasks with shortcuts.

The client has keyboard shortcuts with commands identical to G Suite applications.
Spend less time on your inbox. You can easily set up custom filters and rules. The client will then move incoming emails into the appropriate folders for you.

Integrate with all the popular productivity apps.

Some examples include Asana, Slack, Dropbox, pretty much everything Google, and much more.
Unsubscribe from newsletters easily. The unsubscribe option is moved to the top of the email, removing the danger of clicking a misleading link.

Retract emails you've accidentally sent.

With Mailbird's "Undo Send" button, your mistakes can be undone.
See who's read your emails. The email tracking feature lets you see exactly who opened your emails and when.

Enjoy your complete privacy.

Mailbird respects the privacy of your data and emails, meaning it will never read, collect, or share the contents of your emails.
As good as some of the email provider options are, Mailbird's added tools provide you with an incredible amount of control over your email management.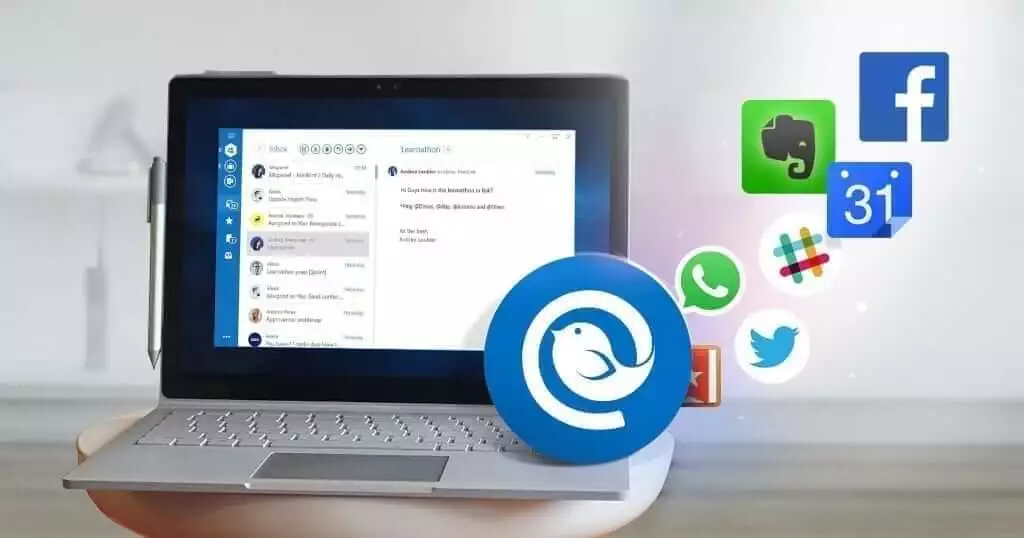 For a longer breakdown of how an email client such as Mailbird can enhance your email experience, read our blog post on the best email services for businesses.
Designate a Specific Email Time
All the hours you spend checking your inbox is the time taken from productive activities like growing your business. There's a good chance many of those emails won't need your attention at all. What's more likely is that the constant sound of notifications is likely nothing but a distraction as well.
To better make use of your time, pick specific blocks of time to check your inbox. It can be 15-minute intervals every couple of hours or a three-hour window every day after lunch. Just make sure you stick with it. Make sure your team also knows what you are planning. For example, if they need your approval on something minor, they can expect a reply from you during the designated time frames. If there's an emergency that absolutely needs your attention, then they can call you directly.
Regularly Update Your Whitelist and Blacklist
Your business email account will be an attractive target for many online scammers and hackers. Setting up multi-factor authentication, strong passwords, and constantly updated employee security protocols are both great ways to prevent a security breach.
An additional measure you can take is setting a whitelist and blacklist. A whitelist is for safe senders or sites, while a blacklist is for spammy or suspicious sender accounts and websites.
Read our article on whitelisting for more information on this topic.
Make Liberal Use
If you are managing more than one email account, setting up smart folders and filters is a must. Doing so will save you hours of time a week, as email will be automatically sent to the correct corresponding folders. How you accomplish this will depend on the email provider or client you are using, but they are one of many tools you need to properly manage your inbox.
Use Templates Whenever You Can
Realistically, most emails you and your team will be sending out will fall into one of four categories: reaching out to someone, asking for clarification, making an announcement, or a response to a question.
The details of an email may change, but the format likely won't. So instead of writing a custom email for each reply, why not create a few templates instead? That way, you save yourself time by only changing the specifics of the communications. Better yet, it can help your team provide a more unified brand voice to customers or third parties they are interacting with online.
Conclusion
Having a business email is a fundamental part of a business plan. The benefits it can provide go beyond the immediate and may end up shaping your future growth potential.
Creating a business email isn't hard, but there are many free and paid options available. What matters when deciding what to go for is that the provider you choose aligns with what your business needs at this stage of its growth.
Once you have chosen an email service provider and have set up your account, what's left is to optimize it. Some of the best practices we've covered for this are dedicating a block of time every day to deal with emails, creating whitelists and blacklists, using filters, and having templates ready for you and your team.
The strongest recommendation we can make is to invest in an email client. This is because doing so grants you full control over your business email, both in what comes in (filters, information, and ease of management) and what comes out (how and when emails are sent, tracking, and oversight on all communications).
Go beyond creating a simple communication tool for your business. Bring balance, reliability, and a positive experience to your email management.
Check out what else
FAQ
How do I get a business email?

Plenty of email service providers exist offering all sorts of options, some of which are free. You can type "get business email" into a search bar, and you'll find several walkthroughs on getting one. The real trick comes in determining what you need your business email to do. Even something as simple as needing your own branded domain name in the email address eliminates at least half of your options.What's recommended is to make a detailed list of everything you think your business will need. Pay special attention to storage requirements, the number of users, level and ease of app integration, and security features. Once you have your list, you can shop around to see which one best fits your current and future business needs.
Is there a way to get a free business email?

Yes there is. Several paid email service providers offer a free tier. With it, you can change the domain name to that of your business. Features like two-factor authentication and integrated calendars, shared drives, and other features may also be included. The catch is that the number of users for a business account is usually very low for free accounts. Total storage and attachment limits are also very low, meaning it won't be long until you hit the cap.
How do I write a business email?

Writing a business or professional email is all about communicating the value of your business or services as succinctly as you can. You won't have a second chance at making an impression, so it's important you set the right tone with that first email.Actually, writing the copy can be broken into five steps:1. Creating the body. Ensure you're clear on why you are sending the email and what you are expecting from the reader.2. Edit the body. Reread what you've written. Try to find ways to make it shorter if possible while remaining clear in your messaging. Remember, no one wants a novel in their inbox.3. Add a signature. Personalizing business emails will improve the likelihood that your message will stick out in the mind of your readers. Most people receive dozens of emails a day, so it is important that yours sticks out.4. Add the recipient(s). The reason this is number four is that you don't want to accidentally send an incomplete or unedited email. That's just asking for the person to think of you and your brand as unprofessional. Some email clients like Mailbird do have an Undo Send tool, but it's good not to rely on it too often.5. Send or schedule your email. The schedules of your readers, clients, and even team members may not always match yours. If you want to increase the chance of a reply, it's best to have an email sent at a time when you know your audience is most likely to see it.We've written a guide on how to send a professional email in five steps. Check it out!
How do I end a business email?

This really depends on who the email is intended for, why it's being sent, and your own personal brand.This excellent guide on ending business emails by Grammarly gives a comprehensive breakdown of what sort of sign-off works best in different scenarios.