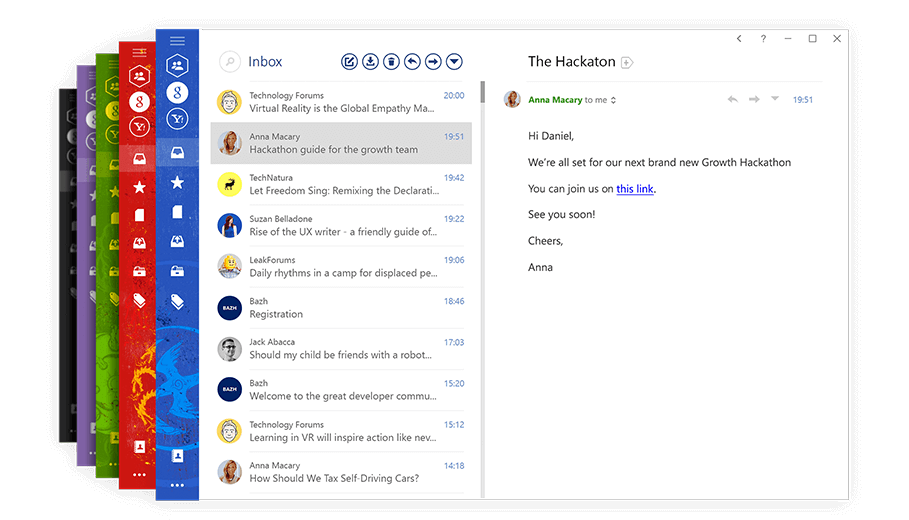 Enter your email to get the link and install in your desktop
High Performer

2023

Easiest Admin

2022

Best Email Client

2021

Most popular
Mail alternative

2020

Editor's Choice

2019

Best Email Client

2018
Sync all your emails

Manage all your emails and contacts from multiple accounts easily in one unified Inbox.

Customize your layout

Choose from tons of free color themes. Transform your Mailbird email client into a work of art.

Simple Migration

Migration from Thunderbird to Mailbird is super easy using the Import feature.
Integrate your favorite apps
Connect all your favorite email, calendar, task, and messaging apps into one
Google Calendar

Whatsapp

Dropbox

Twitter

Evernote

Facebook

To Do

Slack

Google Docs

WeChat

Weibo

And more!
Join over 2,000,000 people using Mailbird
Here's what a few of them have to say

Otelo Magalhães
Using Mailbird has made Smartlaunch more successful overall as a company when it comes to our team communication.

Edwin Krisnha
After trying Windows 10 Mail, I still prefer Mailbird over Mail 🙂 Mailbird feels more minimalist, lightweight, and has better shortcuts. Also, Mailbird shows all mail in the same thread on the same page, which Mail doesn't.

Debayan Kar Mohapatra
Mailbird is undoubtedly the best form of desktop email for Windows users. I have become a punctual manager because Mailbird helps me organise all my work in one place.

Rob Roosen
Mailbird has a solid design so I decided to install it and it feels like I have never used a different e-mail client. Mailbird is very user-friendly. According to this I have bought immediately a pro license for one year. I hope that Outlook knows where to find the recycle bin because that is exactly where it belongs!

Wieland Brendel
Dear Mailbird-Support, first of all: thanks for this great application! I have been searching for a good email client on Windows for a long time and finally Mailbird changes the game!

Velimir Saban
You guys ROCK! Mailbird is the best thing that happened to email since gmail.

Baruch M. Barash
Good job, nice app. You make Windows a little better.

Hanif Widyanto
I can happily report that Mailbird is working seamlessly. I'm going to use it as my primary messaging client for the next few days (and hopefully for good!) But for now, congrats to you and the team on the job well done!
Get Mailbird Now.
14 Day Money Back Guarantee
Mailbird Personal

Pay Once

Last sold 1 min ago

Mailbird Personal

Yearly

Last sold 39 min ago

Mailbird Business

Pay Once

Last sold 3 min ago

Recommended for Business

Mailbird Business

Yearly

Last sold 29 min ago

Recommended for Business

Mailbird Personal

Yearly

Last sold 16 min ago

Mailbird Personal

Yearly

Last sold 27 min ago
Mailbird is available for Windows only
On a team of 10 or more?

Let's get you and the crew set up properly.
Contact us