Mailbird is celebrating the Windows 10 launch
Posted by Christin on July 24, 2015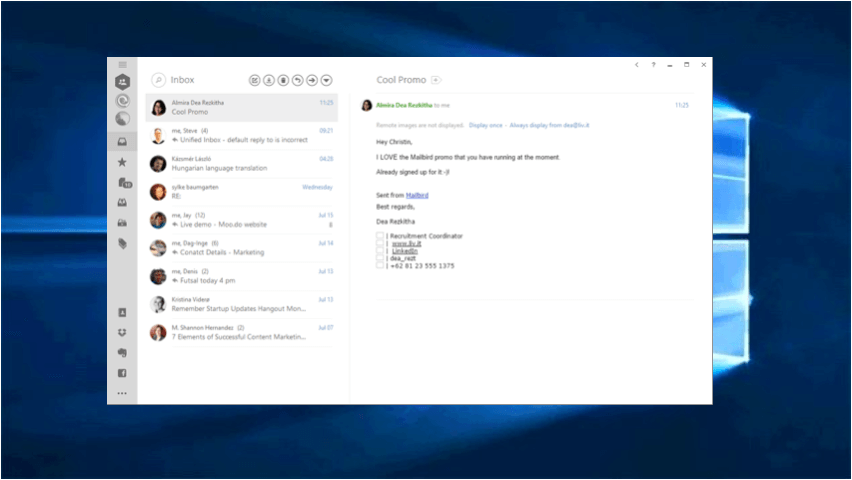 At Mailbird we are preparing everything for the big Windows 10 launch next Wednesday, July 29th.
Mailbird will launch on Windows 10 with some great improvements that we will share with you in our next post, coming next week. There are a lot of improvements in this updated version of Mailbird that make it the best gmail app for windows 10.
Now leading up to the launch, we have a great promotion running to celebrate the upcoming launch with you.
We give you 50% off Mailbird Lifetime
"How?" You might be asking.
Simply go to our Windows 10 sign up page here. Fill in your email and wait for the great day July, 29th to come. You will receive an email with your personal discount code, that you can use to get Mailbird Lifetime for only $24.50!
The signup page will close July 29th, so sign up for it as soon as you can.
Help share the joy
Give everyone the chance to celebrate the upcoming Windows 10 launch with your favourite email client, by sharing the promotion.
You can copy&paste this Tweet below if you want (please edit it the way it suits you best:-)..):
Our friends at #Mailbird are celebrating #Windows10 launch giving 50% off Lifetime license. Join them: getmailbird.com/windows10/
Thanks for your support, it does mean a lot to every one of us at Mailbird!
---