How to Send Emails to Undisclosed Recipients in 2020
Écrit par Christin le janvier 9, 2020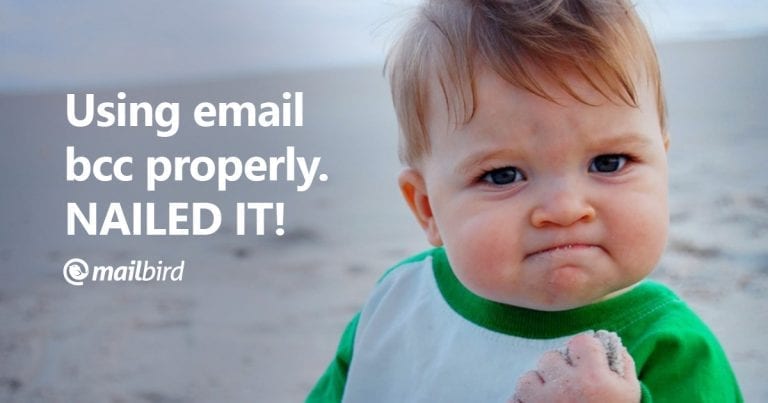 Sending mass email requires a few points of etiquette one being to keep email addresses private. There are a number of reasons why employees prefer to keep their email IDs private. Sending an email to undisclosed recipients ensures that you can do so in a professional manner.
Mailbird aims to make your professional endeavours easier by integrating a variety of intuitive functions into one friendly email interface – organize, search and find information with a click of a button. 
The Benefits
The best way to do send an email to multiple people is to use an undisclosed recipients feature that can be integrated into Gmail or Outlook with Mailbird.
Some main benefits of sending email to undisclosed recipients are:
Professionalism
Concealing email addresses is a thoughtful and professional way of sending mass emails. This protects the privacy of your recipients' responses too and ensures that other people don't get a build up of email responses stemmed from replies to your mass email that does not concern anyone but the original sender.
Reduce junk email
Sending email to undisclosed recipients helps to ensure that people actually get your email and that it isn't filtered out as chain emails to the junk folder.
Spam protection
Truthfully, when you send mass emails with exposed email addresses, it subjects other people to spammers, malware and viruses. Furthermore, it makes it easier for spammers get a hold of information, in extreme cases cause a breach in security through hacking.
Send personalized email 
Instead of seeing a list of emails, names can show up in place or a general title can be given such as "To the Content Department." This allows you to send email to multiple parties with none of them knowing the other recipients.
How to send an email to undisclosed recipients using Gmail
Start a new message -> click « compose« .
Type Undisclosed recipients in the To field < followed by your Gmail address and a closing >. For example, if your Gmail address is [email protected]

gmail.com

, you'd type Undisclosed recipients < [email protected]

gmail.com

>.
Click the BCC field.
Type the email addresses of all intended recipients in the Bcc field. Separate the names with commas.
Write the email in the body and the subject of your email as you always do.
Once it is all written and formatted click Send.
Sending emails to undisclosed recipients using Mailbird varies only a little bit from sending them from your webmail client as described for gmail above. Below is a simple step by step explanation on how to send emails to undisclosed recipients using Mailbird.
Send out emails in a professional manner.
How to send an email to undisclosed recipients using Mailbird
Make sure the contacts app is enabled in Mailbird

Go to Apps in the left sidebar and select ON under contacts
Hit the add contacts button
Type "Undisclosed" in the first name field
Type "Recipients" in the last name field
Click Add email and type in your email address
Make sure you have an address book entry that is set up for undisclosed recipients. Follow the steps above to set up your contact list to send an email to undisclosed recipients.
Next, send an email by completing the following steps:
Formulate a new message and type "undisclosed" in the To: field to select undisclosed recipients (with a contact email) from the auto-complete list.
Click the pointed triangle in front of To:

(

▶

) to

add all the recipients to Bcc

Separate each recipients' email with a comma

Compose your message and send it off!
Send out emails to undisclosed recipients using Mailbird.
Privacy protection
After sending an email to undisclosed recipients' only you, the sender, has access to the recipients' list and their responses. This is a much cleaner and effective way of sending mail to mass groups – especially ones who may not know each other and may not want to have their information exposed.
Save undisclosed recipients lists
Do you send out weekly meeting minutes? Order lunch on Fridays at the office? Are you a professor who sends out weekly emails to students? Do you rely on email marketing? No matter the case, creating a regular list of undisclosed email recipients is a far more convenient way to manage and execute mass emails. You can also create and save your undisclosed recipients for recurring email lists with Mailbird.
Read Mailbird's testimonials to learn more about what our users think and try Mailbird for free today!
Editor's Note: This post was originally published in June 2017 and has been updated for accuracy and comprehensiveness.
---
Subscribe to our newsletter
Ebooks gratuits
Conseils de productivité
Articles IT