5 Email Features to Help Alleviate Your Business
Posted by Andrea Loubier on August 12, 2015
It's Definitely Time for Change
Outlook is one of the most widely used email clients in the business world. The integration with the Microsoft Office suite means that this mail client has been entrenched in the business environment. With the many different sizes and shapes of today's businesses, we investigate if one size truly fits all with the great number of other mail clients and multiple new mail features which are available today.
Many people use Outlook because it is the email client provided on their PC or Windows machine – and often required as the default email tool to use by their workplace. Even with Outlook being the main Windows mail client for businesses, that alone does not suffice as a reason to choose Outlook or the native Windows 10 Mail.
A number of email clients offer a variety of features; some features work perfectly with Outlook, others do not. Some email clients offer productivity optimization features, some stick with just the basics. In the end, you should opt for the email client which offers the features you need that are also within your budget. What many businesses are missing out on today is adjusting to the rapid changes in how millennials entering the professional work force communicate and get things done. There are an abundance of apps to choose from, so why not choose the ones that innovate at the same pace as the culture of online communication that the new generation of professional workers are using?
The List
To help you out, we are revealing our top 6 innovative productivity email features which helps companies become more efficient in handling email and other tools for productivity and communication. This list helps employees reach that magic inbox zero goal, using current technology and communication channels, so they can say farewell to email stress and old school email clients, that do nothing more than just email.
1) Speed Reader
This feature is new to email. It was integrated into email after the success of various speed reading apps by the likes of companies such as Spritz and Spreeder.
Have you tried Mailbird's email speed reading feature? Mailbird was the first to bring speed reading technology to email. This particular feature allows you to speed read through your emails at a pace you can easily adjust to your liking. The speed reading feature ensures that that everyone in your company gets through their emails much faster. Users are able to double the reading speed without effecting the comprehension of the email content.

2) In-line Reply
When you reply to email messages, you might sometimes find it faster and clearer to type your responses next to the statements within the body of the original message. In-line replies help you to keep track that you have answered all questions and commented on necessary information in your replies.
However, In-line replies can get confusing. Sometimes they blend in too well with the rest of the email and you end up either having to hunt through the messages to find them or else color code them. If you have more than just one person using in-line replies, it can quickly get confusing.
For clarity, make sure you choose an email client who's in-line reply automatically color codes "Your Name:" right in front of all the inline replies you make.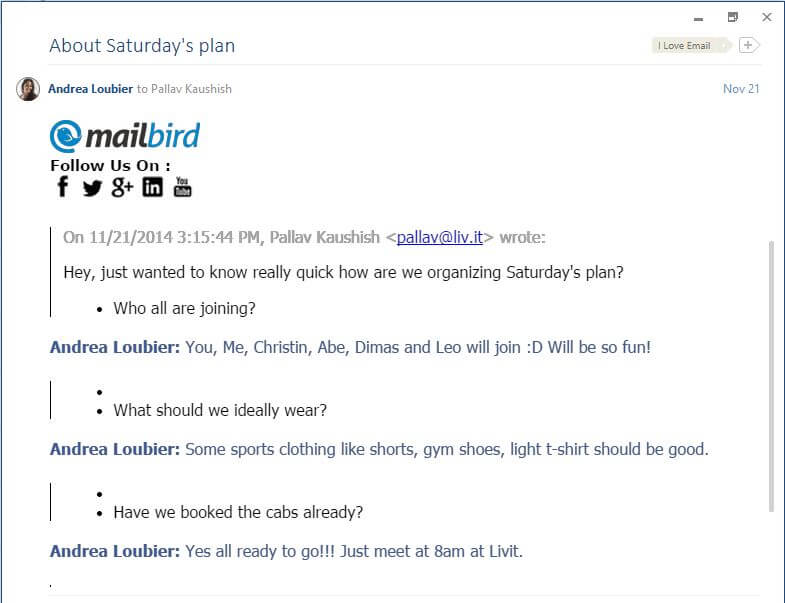 3) Productivity Apps
Here's the gold. What most ancient email clients aren't doing is innovating with the evolving ways in which we communicate and get things done, especially at work. When you think of all the tools we are using today, they include:
– Calendars
– Email and effective information management add-ons
– Messaging or Chat
– Task Management
– Video Meetings
– Cloud storage and file sharing
– Social Media
So at work, email is not the only technology and channel used anymore. Business correspond with partners via tools like WhatsApp, LinkedIn, Facebook and Skype. This is precisely why we invite businesses today to re-evaluate the communication and productivity tools offered to employees and to offer them a modern, fast all-in-one hub that integrates all of these channels together. We are no longer subject to using email alone today for work related communication and productivity, but instead what businesses need is one inbox to rule them all. One app that integrates calendars, emails, messaging, task management, video meetings, cloud storage and file sharing and social media all into one uniquely modern experience.
In the end, the ultimate goal is to ensure companies and teams are able to be agile and part of that means unifying the growing number of tools needed to get things done today. It's about providing the next generation of professionals the tools they are familiar with and that they actually want to use, so you can build your army of amazing workers and help your business grow.
4) Multiple Account and Identity with Unified Inbox Plus
If you live in this decade, not having multiple account support is an atrocity. The average email user has at least 2 email accounts and there are two types of email protocols used which include IMAP and POP3. When choosing the right communication suite for your company, make sure you have access to multiple account support with multiple identities so you can save your team time from needing to switch between business accounts. Even better, if you have a way to funnel all accounts into one Unified Inbox like Mailbird's Unified Inbox Plus feature. The demand for this for the new generation of online workers is critical given the steady increase of email accounts used in the workplace, in addition to personal use. They key is time saving, resulting in improving team effectiveness and agility.
5) Keyboard Shortcuts
Too few of us actually use keyboard shortcuts available by most email clients.They are one of the smallest adjustments you can make to your email habits. Once you get a hang of using keyboard shortcuts, you will soon find that email management becomes much smoother and faster. Trust us, we know. In Mailbird, you can view keyboard shortcuts by going to the Mailbird menu in the top left of the Mailbird window, select "Shortcuts". Many Gmail users will be happy that these are the same shortcuts already used in Gmail.
Some keyboard shortcuts for frequent use we recommend in Mailbird include:
– "R" to reply
– "A" to reply to all
– "F" to forward
– "V" to move an email to a folder
– "E" to archive
– "Ctrl" or "Shift" to multi select emails and take bulk actions
– *BONUS* in Mailbird, use the Quick Compose keyboard shortcut. So even when Mailbrd is minimized you can launch a new compose windows without having to go back to the Mailbird window. This is by far one of our team's favorites!
*BONUS*
Quick Attachment Preview + Cloud Storage File Sharing
Accessing email attachments is often a multi-step process with no easy way to get a quick preview or insight of what the attachment consists of. We recommend that businesses choose an email client that offers a quick view of attachments, to eliminate multiple unnecessary clicks when dealing with your email attachments.
Sharing files as attachments is one of the core activities of email ussage for many businesses – but the actual act of sending, receiving and viewing those file attachments needs some optimization. We highly suggest using cloud storage file sharing with either Degoo or Dropbox, both of which are conveniently integrated into Mailbird. Why? Because you can securely share files, even with large file sizes and its faster than regular old attachment of files. Best of all, if you are on Mailbird drag and drop of files into the body of the email or as an attachment is a bonus time saver.
It Doesn't Come Naturally
Email, information and task management is not something that comes naturally to most of us. This is a major reason why at Mailbird, we want to help educate people and work forces on best practices and tools to alleviate businesses. What do we mean by alleviating businesses? It's a matter of saving more time, increasing company productivity, agility and speed, because that's what drives businesses forward. It's simply about helping businesses get things done faster.
Since Mailbird has launched the latest Windows 10 version – it's our number one priority to deliver the fastest and most well-designed, all-in-one communication and productivity hub. We invite businesses and teams to challenge the status quo and try Mailbird for Windows, because as the best email client for Windows 10 that offers so much more than just email, you and your colleagues have to try it to understand. We have great offers for teams of five or more too, just check out the bulk Mailbird Pro offers on our pricing page.
Question For You…
Do you work for a business? If so, what tools are you using to manage communication, information and tasks productively?
---
Subscribe to our newsletter
Free e-books
Productivity tips
Technology articles